Program offers alternatives to surrendering pets to the shelter
The Pet Shelter Net program in Jacksonville, Florida, provides alternatives for people looking to surrender their dog or cat to the shelter.
By Denise LeBeau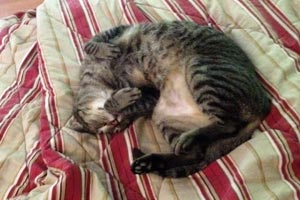 For 22-year Navy veteran John Ballard, getting reassigned from Jacksonville, Florida, to Washington, D.C., came as a bit of a surprise. He was at sea along the Gulf Coast when he learned he'd be relocating almost immediately. Preparing for shore duty, he started looking for a new living arrangement that would include his two cats, Diesel and Snowball. "Diesel and Snowball are my family," says John. "They've been with me through two marriages, and I've had Diesel since he was small enough to fit into my shirt pocket."
While exploring his new housing options he was discouraged to find that boarding would cost upwards of $60 per day, an amount that would add up quickly, especially for an indefinite stay. After exhausting every avenue, he called a fellow pet lover who recommended that he call Jacksonville Humane Society about a program that might help.
Offering alternatives to pet surrender
Best Friends Animal Society helps fund the Pet Safety Net program, which is part of a larger grant to help save more homeless pets in Jacksonville. The program is run through Jacksonville Humane Society, with the support and interaction of two Jacksonville animal welfare partners — Animal Care and Protective Services (ACPS) and First Coast No More Homeless Pets (FCNMHP). It's designed to provide alternatives to surrendering pets to the shelter, such as support for those who want to keep their pets in their homes, as well as those who find it necessary to find new homes for their pets. Best Friends pays the salary of one program employee, who offers resources to people thinking about relinquishing their pet to the shelter system.
"It's exciting to help fund a program that really targets keeping pets in the homes they already have," says Liz Finch, senior manager of Best Friends' national programs. "So often people feel they just don't have the resources or the knowledge to keep their cherished cat or dog. The Pet Safety Net is there to give them hope that they can remain a whole family."
The program is keeping a remarkable number of animals out of shelters and families together, says Denise Deisler, executive director at Jacksonville Humane Society. "People facing serious life issues often don't want to give up their animals, but they don't think they have any choice. This program gives them options to help see them through a crisis and keep their family together."
Two cats kept out of the shelter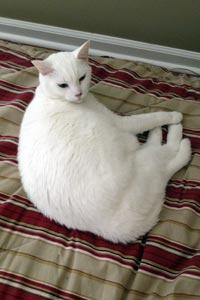 John was able to have Diesel and Snowball boarded at no charge, giving him time to find a place to live where his cats would be welcome. "This program has a 60 to 70 percent success rate," says Denise. "Our community is caring, and once people understand there are alternatives to giving up their pet, they're delighted to be part of the solution."
Diesel and Snowball are just two of more than 2,200 animals who, because of the program, have not entered the shelter in 2014. As soon as John secured cat-friendly housing in D.C., he traveled back to Jacksonville to pick them up. "I am very thankful to the Pet Safety Net Program for keeping my family together," he said. "These cats mean the world to me. I couldn't make the 700-mile drive back fast enough."
Get involved in animal welfare
Keep the successes coming by joining Best Friends.
Find out more about Best Friends local programs.
Photos courtesy of John Ballard