Pulling an all-nighter to welcome newborn puppies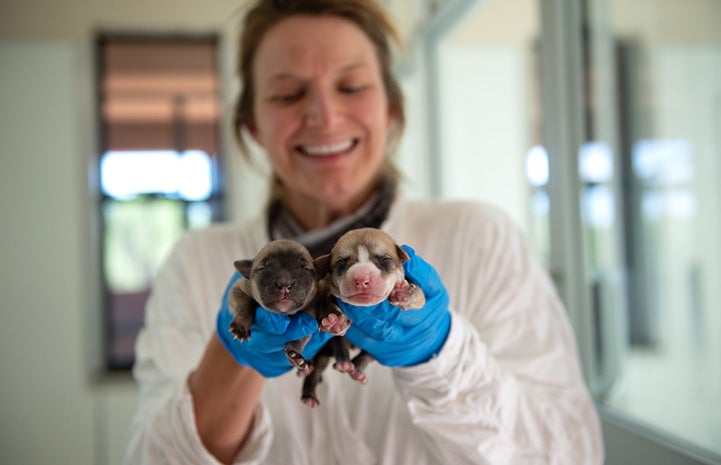 When pregnant Laverne arrived at Best Friends, she was really waddling, but within hours there were 11 squirmy new arrivals at Dogtown.
By Sarah Thornton
When a pregnant dog arrived at Best Friends Animal Sanctuary just hours before giving birth, it was time to prepare for something that rarely happens at Dogtown. Normally, a pregnant mama dog would have gone to an experienced foster home to have her puppies. But it was going to be Laverne's first litter (which is always a little riskier) and staff members wanted to keep a close eye on her. They prepared to stay up all night with the new mom.
No one knew how many puppies Laverne would have, but she was, shall we say, very large. "She looked like she had two basketballs in her stomach when she first got here," says Haylee Heisel, training and behavior specialist. She could barely fit through the dog door.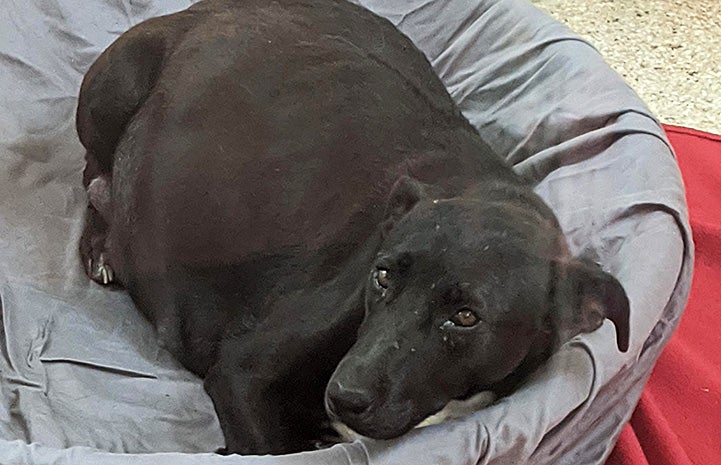 "She was huge," says Kaity Moody, one of the lifesaving and care specialists who helped overnight, "When I first saw her I was like, 'That dog's going to pop any minute.' And then five minutes later her first water broke."
At 2:20 p.m., four hours after she arrived, Laverne's first puppy was born.
11 new pups
Veterinary technician Jennifer Mount was there to help the new mama. With the first puppy, Jennifer had to help show Laverne what to do: open the amniotic sack, clean the puppy and take care of everything else. But after that, Laverne took over. Her second puppy arrived just before 5 p.m. and they just kept coming. Even though their regular shifts were over, Laverne's helpers wouldn't leave her alone until the last pup was born, no matter how long it took.
"It was pretty interesting," Kaity says. "There were times when she was pushing, panting and clearly making an effort to deliver a puppy. And other times it was like: 'Oops, there's a puppy … Oh, here's another one … OK I should get going … Oh, here's another one. I don't want to miss it.'"
[32 puppies adopted in one day]
Kaity and Haylee, along with Dogtown team lead Erin Schmitz took turns staying with Laverne throughout the night. By 11:30 p.m. she had 11 healthy, wiggling puppies tucked against her stomach.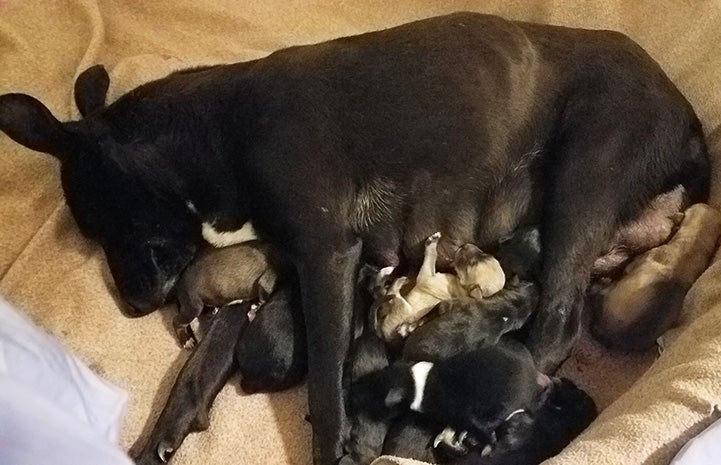 A loving new mama dog
With caregivers struggling to stay awake in the wee hours of the morning (just in case there were any extra surprises), Laverne settled into her role as a new mother — grooming the 11 fuzzy little puppies, making sure they were all going to the bathroom, and finally sleeping after her eight-hour birth.
"She did really well, she's a great mom and she's really attentive to the babies," says Kaity.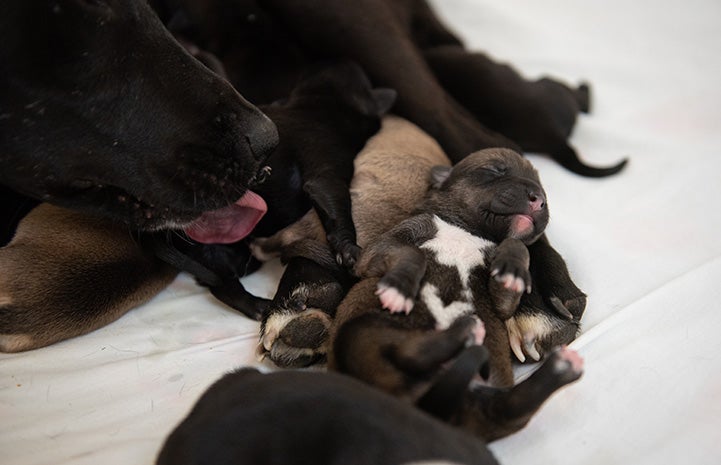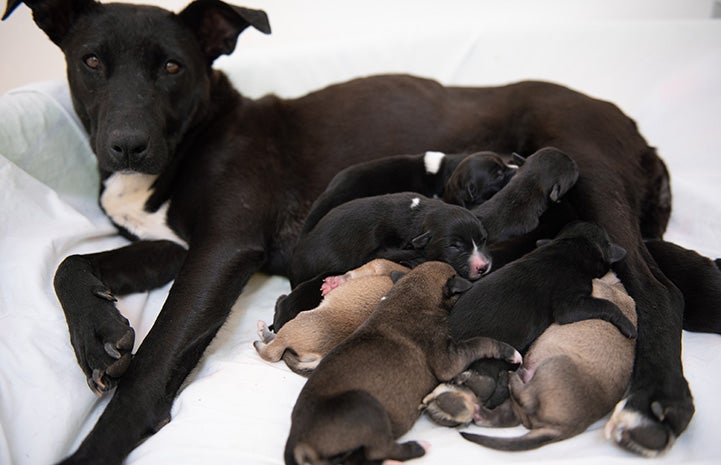 For a new mom in a new place, everyone was impressed that Laverne had allowed so much hands-on help during the birthing process. She was comfortable with the human friends who were with her overnight. She's a bit shy now when someone she doesn't know looks at her puppies a little bit too long, but that's normal for a good mama dog.
Laverne could be naturally a little shy, or it could all be motherly instinct. Haylee says that once the puppies are weaned, they'll have a better idea of whether she's shy in general or just shy when she's looking out for her pups.
[What's cuter than a preschool for puppies? Nothing!]
A nest camera was set up for people who want to check in on the puppies' progress without disturbing them and their doting mother. At just over three weeks old, they've more than doubled in size and their cloudy little eyes are opening. They're getting more mobile. Sometimes, one will even sneak out of bed and howl until Laverne or a trusted caregiver returns the escapee to the sibling snuggle pile.
And oh, what a snuggle pile it is: tiny pink and black noses, tiny feet poking out from tiny bodies, big yawns and little dream-twitches — all watched over by dedicated Laverne and the people who helped them all come into the world.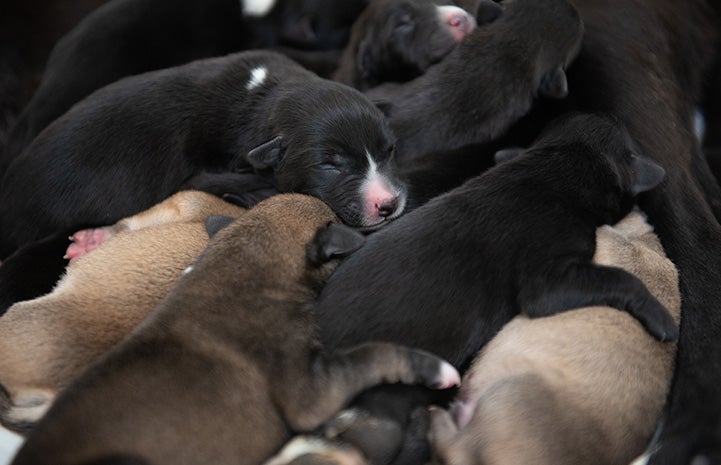 Are you looking for puppy love?
Laverne and her puppies have their whole lives ahead of them, and there are mama dogs and pups in need near you, too.
Read more
Long search leads to puppy love at first sight
Mama dog was sad when her puppies grew up, so she took on eight more
Parvo nearly took this puppy's life, but the county shelter stepped in to save her
Photos by Molly Wald, Haylee Heise and Kaity Moody