Puppy mill survivor wins volunteer's heart
True story of a puppy mill survivor, a senior Yorkie rescued from a pet mill, who gets the love and care she needs to be adopted into a real home.
By Christelle L. Del Prete
When the Sanctuary tour van arrived in Dogtown, Samantha wasn't one of the dogs rushing up to greet visitors as they stepped into the building. Instead, she hung back in her room, waiting for the treat she knew her caregiver would produce as a reward for not barking at the small group of people.
Although Samantha was afraid, she was also curious. With her doggie friend, Pepe, by her side, she peered out at the small crowd. Patiently, she waited for some of the larger dogs she lived with to move aside so she could step forward to get a treat. Seeing her chance, she scrabbled up to the front, grabbed her treat and returned to her safe zone at the back of the room.
The tour group moved on, but those brief moments when she watched and waited changed Samantha's life forever.
Scared senior Yorkie stands out in the crowd
Cathy Calure, who was just beginning a month-long visit to the Sanctuary from South Carolina, was in the tour group that day. Though Samantha had been a wallflower for most of the time Cathy was there, she had caught Cathy's eye. "I spotted her little face in the back of the pack," Cathy says. "She had such intelligence in her eyes. All I could see was her face. I didn't know what breed she was. I just saw the life in her eyes."
By the time Cathy spotted her, Samantha — a Yorkshire terrier or "Yorkie" — had been at Best Friends for about 10 months. She was eight years old but was only just beginning to understand what it could mean to be a companion animal. Before coming to the Sanctuary, she'd spent her entire life in a puppy mill, having litter after litter of puppies. Once she was rescued, the world opened up to her. It was exciting, but also scary.
Helping a puppy mill dog
Cathy saw beyond Samantha's fear. "She may have been in a puppy mill for eight years, but her spirit was alive and well," Cathy says. The day after her tour, Cathy inquired about adopting a dog from the Sanctuary. She was particularly interested in senior dogs with special needs. And she wanted to meet Samantha.
But there were some bridges to build before Samantha and Cathy could have their happily-ever-after. Samantha wasn't a dog who could go home with a perfect stranger. She needed to establish a certain level of trust before she could take the next big step in her life. And she needed Pepe, her best friend, by her side.
Cathy didn't hesitate. She decided to adopt both dogs, and then spent her entire one-month vacation working hard to gain their trust. Like Samantha, Pepe was also nine years old, but unlike Samantha, he was outgoing and social. He bonded quickly with Cathy, paving the way for Samantha to do the same ― but at her own pace.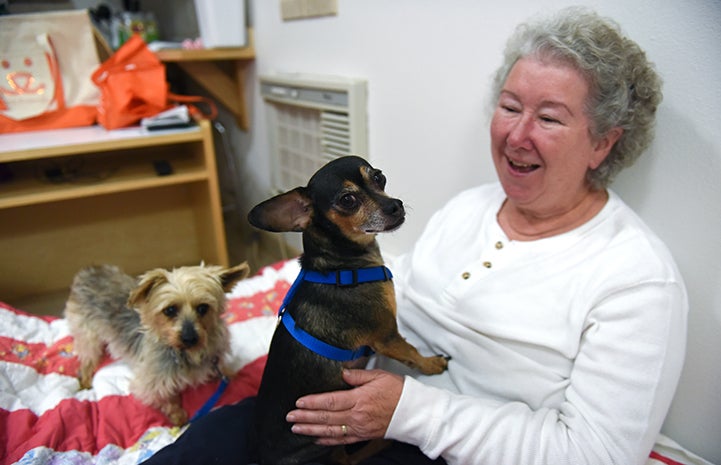 Socializing dogs from puppy mills
Dogs from puppy mills require time and patience. Samantha's caregivers had been working with her since her arrival in Dogtown — helping her feel more comfortable taking treats from people, going for car rides, getting leashed up, playing with toys and going for walks. Cathy jumped in with both feet and joined the effort.
On every volunteer shift, Cathy would spend time in the dogs' room, helping their caregivers with cleaning, feeding and working on Samantha's housetraining. She hand-fed Samantha to build trust, and practiced leashing and unleashing her. She took the dogs for car rides and on sleepovers.
It wasn't easy. "You had to have lots of treats in hand to get Samantha close and be fast to grab the lead," Cathy says. "I worked with her every day trying to build trust, and by the end of my four weeks of volunteering, I could touch her chin and chest."
Then the two dogs were on their way to the next big adventure with Cathy: home to South Carolina.
A big success
Samantha and Pepe have now been home for about a month. As they've settled in, Samantha's gotten comfortable enough to explore her new territory and to enjoy fun things, like food puzzles and chew bones. Every day, she's getting braver about the world and more receptive to love and affection.
Just recently, she had a big success. Cathy placed a dog bed out on her deck and sat down for some quiet time with the dogs. Pepe hopped in the bed and fell asleep immediately. Meanwhile, "Sami," as Cathy lovingly calls her, crept closer and closer until Cathy could scratch her chin and chest. After a few minutes, Cathy started scratching her belly, too.
Then came Samantha's sweetest moment yet. "She put her front paws up on my leg, which took my breath away because she had never done that before," Cathy says. "So I lifted her hind legs onto my lap and she stayed there. I wasn't holding her, just scratching all over (even her back, which she never lets me touch). After a few minutes, she put her front legs on my shoulder, turned her head and gave me a kiss. Is that an 'ahh' moment or what?"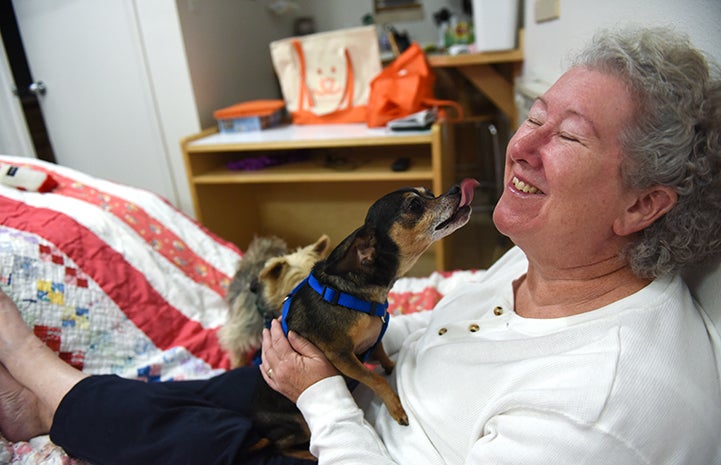 Twice the love with rescue dogs for adoption
Sami is no longer afraid to get up on Cathy's chair with Pepe to watch TV or when Cathy is reading. Pepe has become a real cuddle bug, sleeping under the covers with Cathy every night. Sami is welcome, too, if she's one day brave enough to try it.
When Cathy opened her heart and decided to adopt a rescue pet, she got twice the love. "I won the lottery with these two," Cathy says. "They are amazing doggies. And I am so blessed."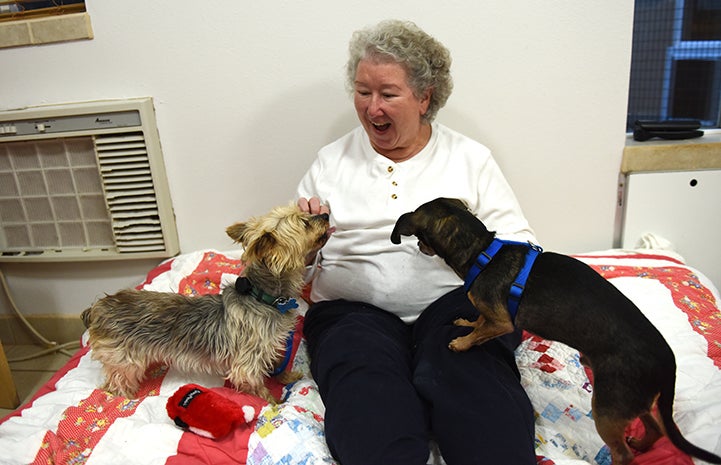 Photos by Molly Wald