Quirky dog brings joy to adopter coping with PTSD
A difficult and dangerous job left Gray with PTSD, but she found a kindred spirit in Ralph, a dog who needed her just as much as she needed him.
By Sarah Thornton
Regal, gentlemanly and full of love and affection for the people he's comfortable with, Ralph is the perfect companion. Yet, because he doesn't get along with other animals, it took a long time for someone to choose him to be their one-and-only pet. That quirk was the biggest obstacle for Ralph, because most adopters already have a pet in the house or might want that option in the future.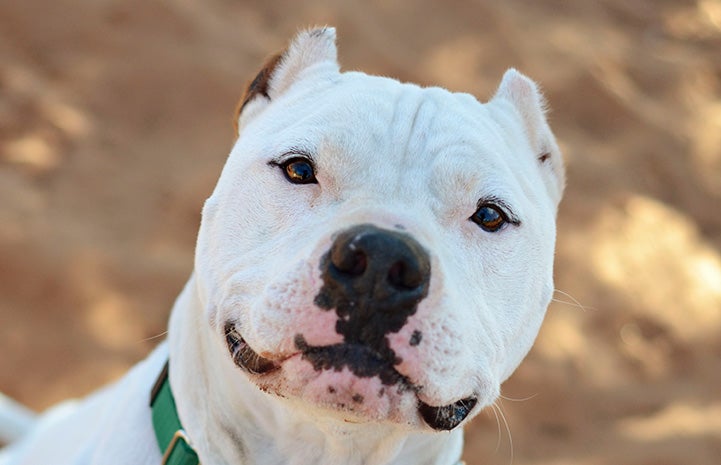 Ten-year-old Ralph also takes a while to warm up to new people, another issue that for years stood between him and a home ― that is, until Gray Mitchell came along.
When Gray found Ralph's photo and bio online, she saw a kindred spirit. He, too, had been through some difficult things in life. And people often didn't understand the personal challenges she faced every day, either. "I just found myself going back and looking at his page," she says.
For Gray, after years of coping with post-traumatic stress disorder (PTSD), finding Ralph helped her discover a much-needed new source of light and joy. As things turned out, she's become a source of light and joy for him, too.
Dogs can help people with PTSD
After returning from nearly 10 years overseas as an aid worker on elections in post-conflict countries, Gray rarely left her home due to debilitating PTSD flashbacks and hyper-alertness. For five years, the only times she would leave the house would be for essential shopping trips, therapy and visiting nearby family.
"PTSD sucks the joy out of life," Gray says. "You just have zero interest in life. That couldn't be more true for me. Things I loved … I had no interest."
She wanted to adopt a dog and was looking at local shelters, but there too, she found no joy or excitement. But one day while scrolling through the Best Friends website, she saw Ralph. For the first time since she entertained the idea of adopting a dog, she felt something. In Ralph, she saw a soul who needed a specific kind of someone.
Gray kept going back to his page and looking at his picture, but was still wary about taking the next step. She kept telling herself that she couldn't have a dog because she wanted to return to her work. When she decided to sponsor Ralph, she found excitement again. She was excited about this dog and would talk about him with her sister whenever the chance arose.
Thinking about adopting Ralph was a welcome distraction. "I wasn't thinking about my past and my work," she says. Instead, she was thinking about everything she could do with Ralph if he lived with her, where they could go for walks and how she could make the senior dog's life comfortable and happy.
After talking with Dogtown staff in more detail about Ralph and his quirks, she made up her mind: She'd drive to the Sanctuary to meet Ralph in person. It would be an 11-hour trip from Colorado, across the mountains in the middle of winter, but she couldn't wait to go.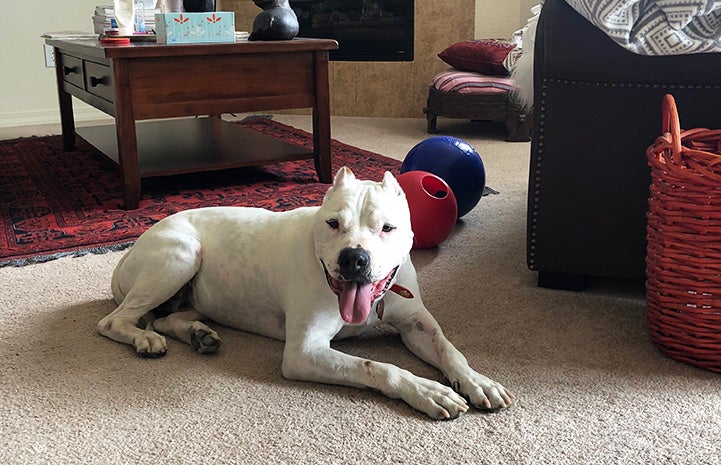 Ralph gives his adopter a sense of purpose
Setting out on the long drive, Gray was completely prepared for the idea that Ralph might not be comfortable with her. She had three days to spend in the area and was ready to go home without him if it didn't work out. The way she looked at it: "I got in the car, had a cool drive, listened to some cool tunes, saw the mountains, visited the Sanctuary and had some great food in Kanab." It was already a big step for her.
All the worries, as it turns out, were for nothing because Gray and Ralph hit it off. So, together the two of them made the long drive back home. And where before Gray had stuck to a basic schedule of very few trips out of the house, having Ralph changed things. Now, her schedule includes five walks every day, and taking care of Ralph is the welcome distraction.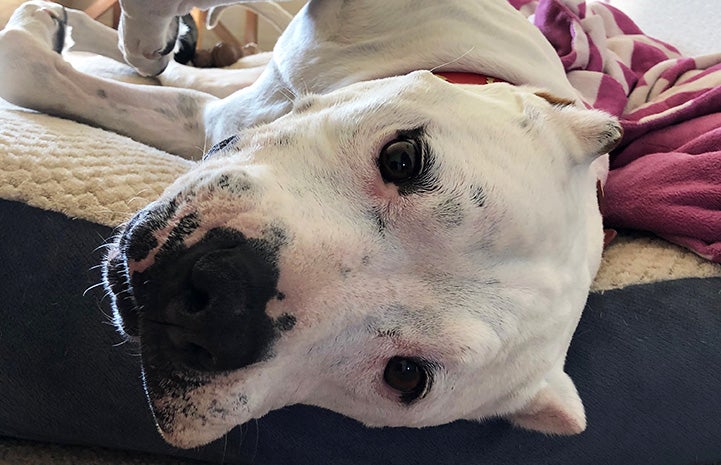 Gray says that as Ralph has become relaxed in his new home, he shows his stubborn side on those walks. His quirks include knowing exactly where he wants to go and not settling for shortened walks. Ralph will lie down and refuse to budge unless he receives enough coaxing and his favorite cheddar dog treats. To Gray, it's endearing and hilarious when his stubborn side comes out.
At home, Gray describes Ralph as funny, yet dignified and always at her side. "He is reserved, as if it would be uncool to wiggle his whole body or get too excitable," she says. "He will, however, do a little tap dance when we get ready to go for walks. He'll be passed out on the floor, but his tail will go thump, thump, thump. He communicates clearly with his tail."
Every word Gray says about Ralph is full of happiness. She even caved and got a smartphone for the first time ― just for taking pictures of the dog she loves so much.
After so many years of feeling listless, restless and searching for that joy and sense of purpose, she's found it in Ralph, who brings her joy every day. And he needs her just as much as she needs him. Gray says she's entirely sold on her decision to get a senior dog: "The purpose of giving an older dog a good last season of life," she says. "I don't think I'll ever not get a senior dog again. Period."
Bring light to your life, adopt a pet near you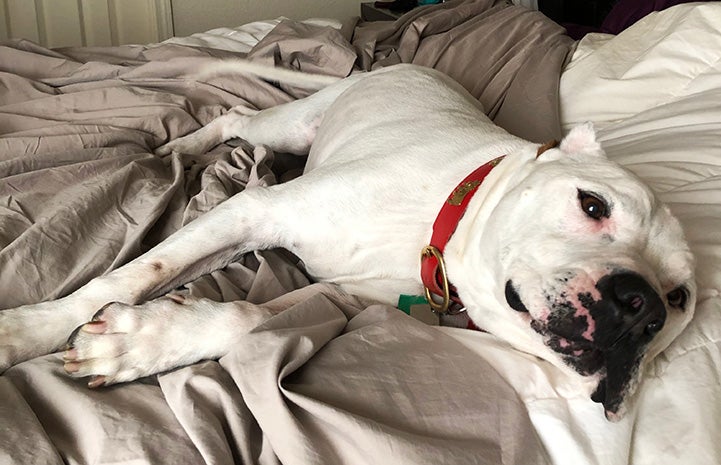 Photos courtesy of Gray Mitchell