Ray the Vicktory dog inspires even after his death
Vicktory dog Ray from Michael Vick's dogfighting ring bust leaves behind the many people who loved him.
By Kelli Harmon
Another legend has left us. Ray, with his larger than life smile and graying face, passed away Friday night after a final attempt to get him healthy after his long battle with babesia, a tick-borne blood disease.
Ray was one of 22 dogs who came to Best Friends after being rescued from the property of NFL player Michael Vick in 2007. The dogs were dubbed the Vicktory dogs, because they'd suffered the worst possible abuse, and once they were saved and brought to safety at Best Friends, they came out on top — survivors. Many of the dogs have gone on to homes, but they're no longer young. And just ten days after Vicktory dog Lance's passing, the people who know and love these dogs have had to say goodbye again.
Best year ever for Ray the Vicktory dog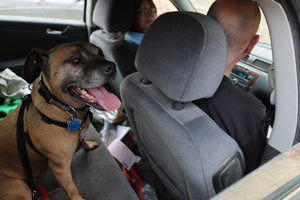 The last year of Ray's life was by far the best, because he landed the best home he could possibly hope for, with Best Friends staff person Jacque Johnson and her husband Kevin. The couple has helped several Vicktory dogs over the years, taking them on one at a time for intensive training and socialization that ultimately made it possible for the dogs to pass their court-ordered Canine Good Citizen tests before they could be adopted. But when Jacque and Kevin took on Ray for the same project, this time, it was for keeps.
They were legally able allowed to adopt him on Valentine's Day 2014. And every minute of the one year and three months with Ray as part of the family was something special. But Ray's family was much bigger than Jacque and Kevin.
Dog on a mission to inspire
Jacque writes in Ray's blog, "I never, ever felt as if Ray were just our dog…. It was as if he felt he had a mission to meet and touch as many people as he could." So it's not just Jacque and Kevin, and other Best Friends staff who are missing Ray, it's hundreds more people who met him — maybe even just for a few minutes at lunch, or who felt like they knew him through reading about him online.
Jacque and Kevin kept a blog and Facebook page for Ray, and that's where his fans have turned after hearing of his passing. Jacque says, "There aren't enough words in the world to describe how amazing he was." But that hasn't stopped many, many who knew and loved Ray from sharing — quite beautifully — their memories of Ray, and even more than that, what he meant.
Remembering Ray the rescued dog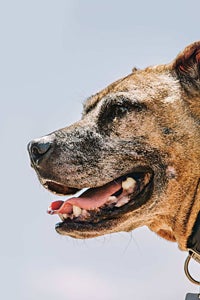 "We are overwhelmingly broken-hearted to hear the news of Ray's passing. It was an absolute joy to meet your incredible boy, and watch his life through your words." –Traci Nicole, on Facebook
"It's because of Ray that I got Willow from the pound. You all changed my life and made it so much richer. I'm so sorry he's gone but his memory will live on forever." –Jackie Turner, on Facebook
"He was very very special to all of us; he represented all that was good. Thank you for allowing us to be a part of his life as well as yours." –Cate Clark, on Facebook
"He was a teacher. He was a student. He was a lover. Many people all over the world loved him and will miss him deeply." –Ellen Kessler, on Facebook
"The day Ray came home was one of the happiest of my life. That little brown dog changed me in so many ways. He enjoyed meeting new people, something that is difficult for me. But his insistence on being social meant I had to learn to talk to strangers. He helped teach me that some things are just not important. Ray would never deem to play fetch…that is totally not his style. But just spending time together is all we really needed to be happy." –Jacque Johnson on Ray's blog
For more information about the Vicktory dogs, visit the Dogtown section of our website.
Photos by Molly Wald and courtesy of Ray the Vicktory dog Facebook page