Remembering Vicktory dog Meryl's incredible life and legacy
Meryl, who came to Best Friends Animal Sanctuary with the other Vicktory dogs rescued from Michael Vick's dogfighting ring, has died. Read her story.
By Kelli Harmon
Meryl was the Vicktory dog with the best red freckles and underbite. Over the years, she was a friend to many other dogs and to even more people. And after more than a decade of living her best life and coasting comfortably into her senior years, we recently said goodbye to this one-of-a-kind dog.
Why was Meryl so special? It's difficult to choose just one reason. She mattered as an individual, just as much as any other dog in need. She mattered because of what happened to her and who she was. And she mattered because of how her legacy changed the fate of thousands of others like her.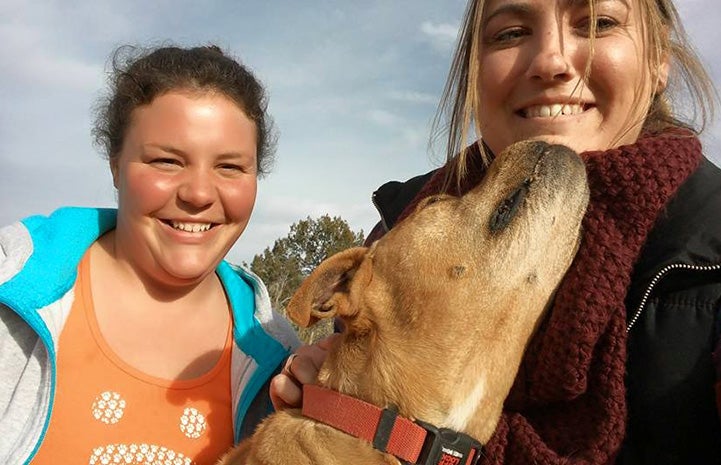 Michael Vick dogfighting case
Meryl came to Best Friends as a result of the Michael Vick dogfighting case. Her first few years in life were terrible, but everything changed for her after that. Out of the 22 so-dubbed Vicktory dogs, the court ordered that Meryl and one other dog live out the remainder of their lives at the Sanctuary. The Sanctuary was her home, and her caregivers were her family.
Meryl fell ill recently, and despite all efforts to keep her comfortable, her age and medical challenges began to take over. So, last week, veterinary staff and Meryl's caregivers came together to let her go, peacefully, surrounded by those she loved. Since her passing, we've been celebrating Meryl's life. What a life it was.
Read more about Meryl's legacy on the Best Friends blog

Getting to know Meryl
If you didn't follow Meryl or the other Vicktory dog stories, you can get a crash course from a video starring Meryl that was filmed less than two months ago. She sat in on a Facebook live stream with CEO Julie Castle and employee John Garcia. John first met Meryl in Washington D.C., where she and all the dogs from the Michael Vick dogfighting case were being held as evidence.
John remembers Meryl's reputation at the kennel where the dogs were held while the courts determined their fates. It was her unfriendly reaction to people that caused the court to decide that, if she were to come to Best Friends, she must live there for good. It turned out that Meryl's initial assessment wasn't a reflection of her true personality.
Since she settled in at the Sanctuary all those years ago, she's made so many friends.
Meryl is the reason we do what we do
Over the years, many people knew and loved Meryl. Betsy Kidder was one of her caregivers in Dogtown when the Vicktory dogs first arrived at Best Friends. She shared this about Meryl.
"Meryl was the embodiment of everything the Sanctuary stands for. She's the reason we do what we do. She and so many like her are why we continue to fight for what is right and just. She is more than a Victory dog. She is every dog.
"I had the pleasure of knowing Meryl early on in her life at Best Friends. My most treasured memory will always be her play dates. Watching her meet someone new or an old friend with her playful antics will always be my most favorite vision of her. She was the absolute silliest, wiggliest girl ever.
"She had many a 'boyfriend' dog, but none hold a candle to her love for her Buddy Arnold. I take immense pride in being one of the people to help her and Buddy Arnold find each other, and I take even more solace in knowing that they are reunited again. Thank you, Meryl, for allowing me to care for you. It was truly my honor. I hope we served you well."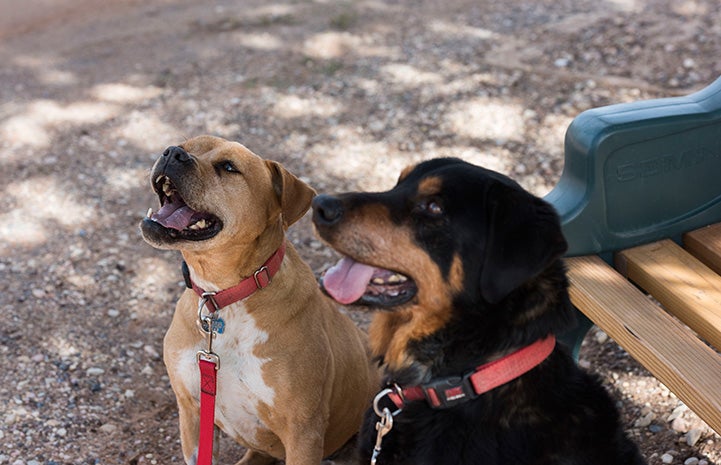 Mama Meryl
Dogtown lead Tierney Sain, who spent more time with Meryl in recent years, remembers what made her one of a kind.
"I've known Meryl for close to seven years and during that time she's shown and taught me so much. It's hard to come up with words to express how much Meryl meant to so many people. Having the privilege to know and love Meryl was a special gift and I am truly grateful for it.
"She went through a lot in her past but she still welcomed people into her circle, loved them and even enjoyed the company of other dogs. She was smart and connected to her people. She always knew how you were feeling and was the best dog to go to if you were having a rough day. She was down for any and all activities, so long as it involved one of her human or dog friends. We often called her Mama and Mama Meryl. She was a true teacher to other dogs on appropriate dog skills.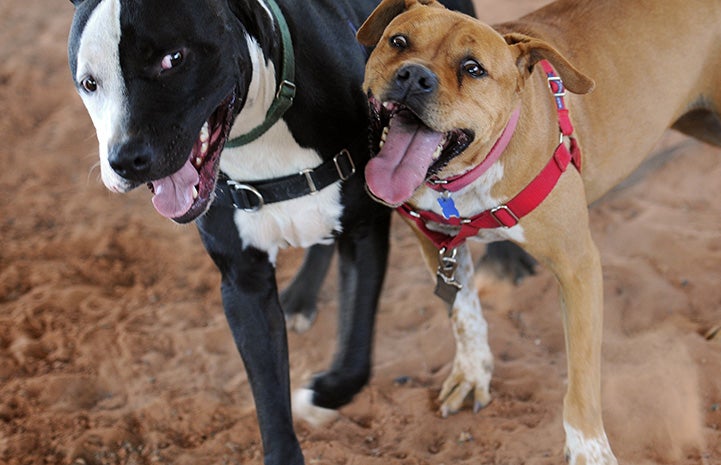 "For many years she lived with Buddy Arnold, a Hurricane Katrina survivor. They had a special relationship. He allowed her to be boss lady, but when the weather was stormy she turned into a mush and wanted nothing but his company and cuddles. It warms my heart to think that Buddy Arnold welcomed her on the other side of the Rainbow Bridge with open paws.
Meryl will be so greatly missed by those of us at the Sanctuary and everyone who knew her, but the lessons she taught us during her time here will last for a lifetime."
Photos by Best Friends staff