Retired woman now working for pets in need
Image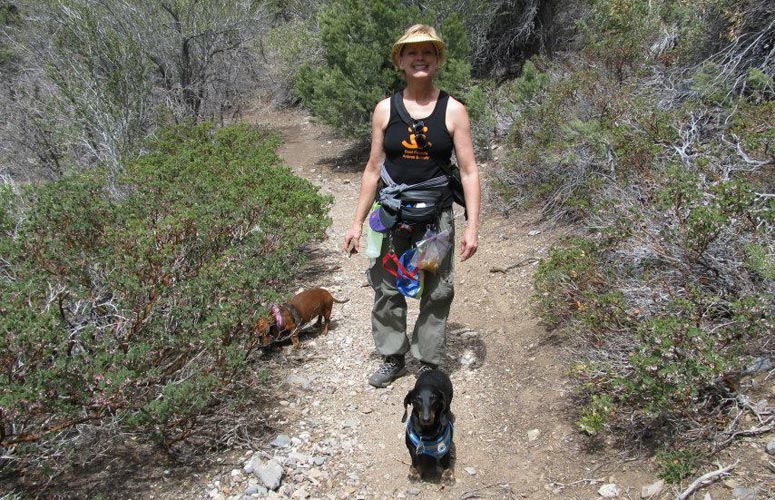 Retiree Sue Haynes is no longer working at a 9 to 5 job, but she is now volunteering with pets in need and is involved in animal welfare.
By Jennifer Hayes
When Hurricane Katrina hit the Gulf Coast area nine years ago, Sue Haynes watched the newscasts, heartbroken at the pets left behind. She vowed that when she retired, she would help animals. True to her word after 33 years of federal service, she's been busy volunteering for animals.
Active in animal welfare
A resident of Oklahoma City where she is active in animal welfare, Sue purchased a second home a few years ago in Las Vegas where she now lives during the spring and fall, and where she also has integrated herself into local animal welfare efforts.
Since Oklahoma is in the middle of Tornado Alley, Sue has had multiple opportunities to help after storms. She assisted the local humane society after the 2011 Joplin tornado and in May 2013, she volunteered for weeks with the Animal Resource Center, where each day she cared for the roughly 120 overflow dogs from the Moore Animal Shelter. Since all those dogs all have found homes, she currently networks on behalf of homeless animals at the municipal shelter.
Volunteering with Best Friends
When in Vegas, Sue's back at work on behalf of homeless pets. Though she is not connected with any local organization, she regularly networks at-risk dogs, connecting them with adopters or rescue groups. "People know that if they want a dog, they come to me," she says happily.
She also takes every opportunity to support Best Friends in Las Vegas by helping with pet food drives and volunteering at the Best Friends No More Homeless Pets Conference. This year, she again plans to help with this year's conference in October.
Plus, her proximity to Best Friends Animal Sanctuary makes it possible for her to volunteer with the animals there.
Volunteering with the dogs
During her most recent visit, Sue spent her entire five days volunteering in Dogtown, where her mornings consisted of walking as many dogs as possible, and each afternoon she took one lucky dog on an outing.
Her first outing companion was Michael, a pointer mix living in the Old Friends area. Though a senior, Michael sure put Sue through her paces. They hiked down, then up, then back down and then back up to a ridge with a gorgeous view. When they reached the edge, Sue said "Michael, I think we've come to the end."
After admiring the view, the pair turned around and headed back. According to Sue's pedometer, between her volunteer duties in the morning and the hike with Michael, that day she walked an astounding 20 miles.
Though Sue's everyday activities might not include 20-mile walks, one thing is for sure. She will keep helping animals – wherever she may be.
"The more that I can do to contribute, and the more people I can get involved in contributing, maybe in my lifetime we really can Save Them All," says Sue. "How glorious would that be!"
Learn more about volunteering at Best Friends.
Photos courtesy of Sue Haynes and Pat Guerrero