Saving cats at Palm Valley Animal Society in Texas
This shelter completely turned around the way it handles stray cats, and thousands of lives have been saved because of it
By Christelle Del Prete
Star is the light of Mayra's life. The snowy-white cat has lived more than 10 years in her Texas home, but one day someone in the neighborhood saw Star outside, scooped her up and brought her to the nearest shelter. Not only was it scary for sweet Star, but it could have meant the end of her otherwise happy life. She was lucky though, because a brand-new program at the shelter saved her life.
The shelter is Palm Valley Animal Society (PVAS) and the program is the recently launched community cat program (CCP). Best Friends has been working tirelessly alongside the PVAS staff to help transform it from one of the most under-resourced shelters in the country to a place where lives are saved.
Saving more cats has become a priority. Not long ago the shelter was taking in more than 10,000 cats a year but only saving about 19% of them. The community cat program is already turning that around, and Star is just one of many cats saved so far because of it.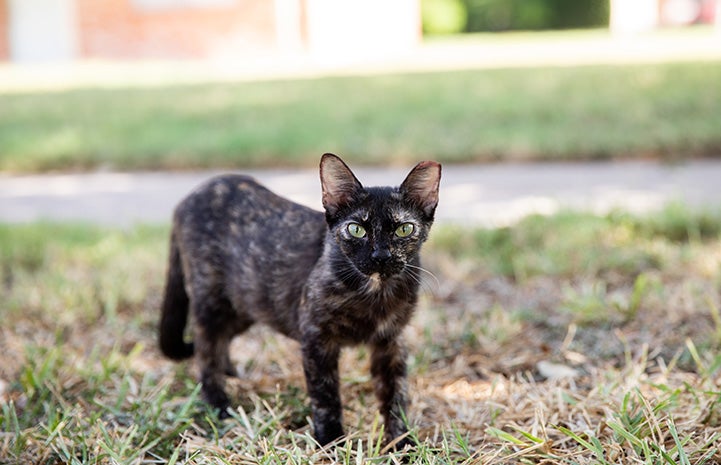 Big help for cats at Palm Valley Animal Society
Best Friends has been working with Palm Valley Animal Society in Edinburg, Texas, as part of our goal to make the entire country no-kill by 2025. Palm Valley is a key shelter because our work is centered around the five states where more than 50% of the total number of animals are killed each year in the country. Texas tops the list with more than 100,000 dogs and cats killed each year, and Palm Valley was the Texas shelter that needed the most help.
PVAS, which provides animal services for around 750,000 people in Hidalgo County on the Texas-Mexico border, takes in around 30,000 animals each year. Best Friends staff members have been embedded at the shelter since 2018 to work alongside the shelter's staff to change things and help them save more lives. From day one, it was clear that the shelter needed a good community cat program.
More about Best Friends' no-kill 2025 goal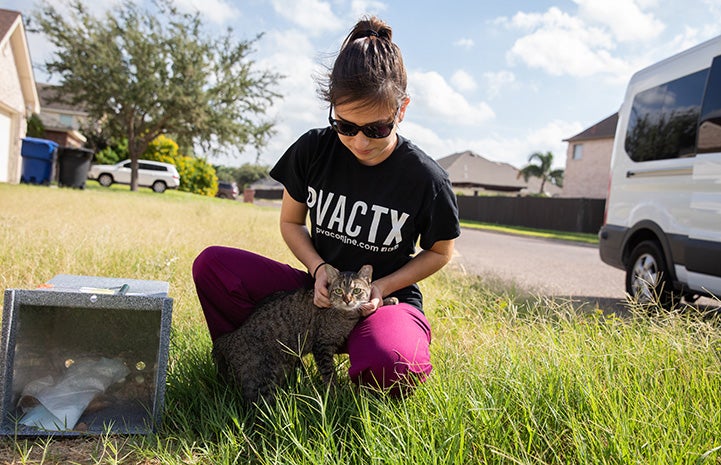 What is a community cat program?
A community cat program (CCP) helps solve the problem of perfectly healthy, happy free-roaming cats ending up in a shelter where they die needlessly. Some of them are people's pets living outdoors at least some of the time, while others are born to free-roaming kitties who call the great outdoors their home. Without a community cat program, the only option for cats ending up in the shelter was adoption. But with many more cats in the shelter than adopters (as was the case at Palm Valley), a good CCP provides another option.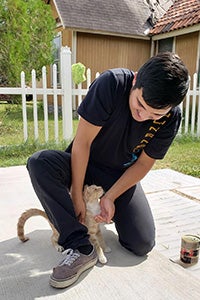 Best Friends CCPs use a combined approach of targeted trap-neuter-return (TNR) and return-to-field (RTF). Return-to-field is for those stray or free-roaming cats brought to the shelter, either by animal control officers or members of the community. If cats appear healthy and well-fed, they are spayed or neutered, ear-tipped (to indicate that they've been spayed or neutered), vaccinated and returned to their original locations.
CCPs also utilize targeted trap-neuter-return in communities based on shelter intake data. Staff and volunteers set humane traps in areas where a lot of free-roaming cats live. Then they take them to be examined, spayed or neutered, ear-tipped, vaccinated, treated for fleas and ticks, and returned to where they were originally trapped. Cats are free to continue living where and how they always have, but the difference is that over time they stop reproducing.
Building a program at Palm Valley Animal Society
Best Friends and Palm Valley Animal Society personnel began building the community cat program in June of 2019 and had it up and running by October. It's a three-year program aimed at spaying and neutering 17,500 cats, in addition to the 795 cats fixed during the program's pilot phase.
Marla Browne, community cat program manager for Best Friends, was in Edinburg for several months working with Sarah Kowalski, a dedicated local CCP coordinator, to get things started. It wasn't easy, and it took help from all staff levels at both PVAS and Best Friends to make the program a reality. The path to saving lives was littered with bumps, but the team navigated them one at a time.
First, the program needed approval from the Edinburg City Council. So, the team worked with Edinburg, the nearby city of McAllen, and other people living in these areas to meet with city officials, seeking seek the required agreements and approvals. In July, the Edinburg City Council passed a resolution to allow the CCP, which was a step toward success.
The next challenge was the fact that the World Birding Center (WBC) is located in Edinburg. The WBC's position is that cats near the center hunt birds; so, if cats aren't removed altogether, the birds are at risk. The agreed-upon solution was that all cats coming through the program would be microchipped. That way, if ear-tipped cats ever showed up at the WBC, shelter staff could pick up the cats and scan them to find out where they came from.
Another part of the agreement was that the program would not return cats trapped at the WBC, but would relocate them to an appropriate place — another step in the right direction.
Then there was the problem of having enough capacity for spay/neuter, the keystone of the program. With everything else falling into place, the only thing standing between returning a cat to the community or being killed in the shelter was a spay/neuter surgery. PVAS only had one vet on staff, not enough to handle the medical needs of 30,000 animals a year. While some spay/neuter surgeries could be done at PVAS, it didn't have the capacity to do thousands more per year, so the CCP would have to rely on outside veterinary help to be successful.
The team got to work coordinating and negotiating with local veterinarians who were willing to perform low-cost or no-cost spay/neuter surgeries. Although local vet clinics are limited by their own caseloads, the team was able to secure additional vets. Things were coming together.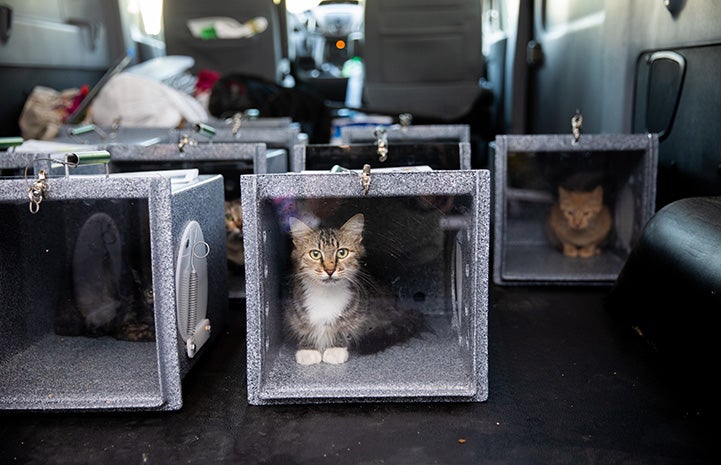 Meeting people in the community
Star, the pretty white cat, was among the first to benefit from the program. She was brought to Palm Valley by someone in the neighborhood who saw her outside. Her person, Mayra, had no idea where her much-loved kitty was or that she had been picked up.
Prior to the CCP, Star would have joined hundreds of other cats sitting in cages at the shelter, waiting for her family to find her. If she wasn't picked up, she'd be put up for adoption, and if she didn't get adopted, she'd be at risk of being killed.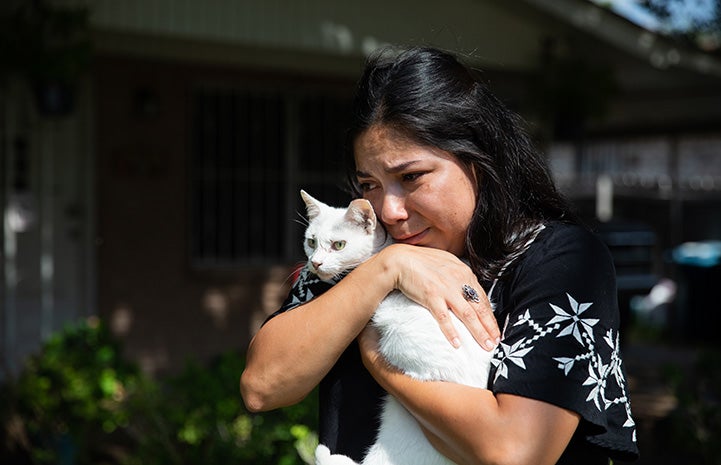 Instead, thanks to the community cat program, Star was examined by veterinary staff, vaccinated and spayed. After recovering from surgery overnight and the next day, Sarah and Marla loaded Star into the CCP van and returned her back to the address where she was originally found.
That's when Mayra found out that Star wasn't gone for good, but she was right there and happy to be home. Bursting into tears when Star was handed to her, Mayra was not only overjoyed to have her 11-year-old cat back safe at home, but she wanted to help other cats.
As the program got underway, Marla was touched by how much kindness the community extended to her and Sarah when they returned cats. Some people invited them into their homes and offered them a place to sit and water to drink — a brief but delightful reprieve from the Texas heat. "People were incredibly sweet and so grateful," Marla says. "We even received a text that said, 'Finally someone is doing something about this!'"
Marla says cats are everywhere in the area and that it's not surprising that people have been overwhelmingly receptive to a program that helps stabilize and eventually decrease the number of free-roaming cats.
125 spay/neuter surgeries in three days
The program was fully operational by October 2019: Cats were getting out of the shelter through the program's RTF component, and others were coming in through TNR. What better way to celebrate a successful launch than with even more spay/neuter surgeries? So, in mid-October, veterinary staff from Animal Balance, an international animal welfare organization that provides vet care to animals around the world, arrived to help with a three-day spay/neuter extravaganza.
Marla and the team got to work trapping cats. They visited a huge mobile home park, a CVS pharmacy and a Dollar Store — all hot spots for community cats. They also loaned out traps to people caring for colony cats. And they also identified shelter cats eligible for RTF. By the end of the three days, they didn't just complete 100 surgeries. They did 125 — even better than they'd hoped.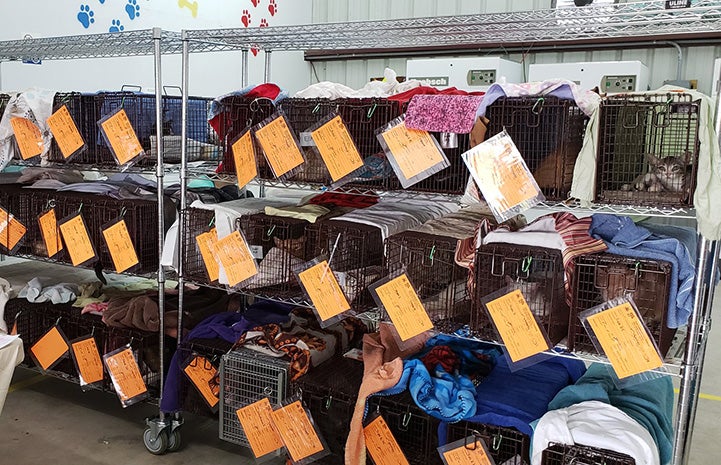 Palm Valley Animal Society reaches no-kill for first time
In the first eight months of the program, more than 2,000 cats have been spayed or neutered and returned to where they were already happily living. The cat save rate at PVAS has skyrocketed. In fact, in January the shelter reached a milestone that wouldn't have been possible without the CCP — a 90% save rate, the benchmark for no-kill.
For years, the shelter was overflowing with cats every day and when it ran out of space for new arrivals, those already there were killed. Today, it's easy to see the impact of a CCP just by walking through the shelter. There used to be four rooms housing cats and now they only need three (and those aren't always full). And there's an overstock of cat food.
"Now PVAS staff can work with and socialize kittens who can't be returned to the community," says Marla. "They are providing cats with enrichment. There's been so much progress so quickly. It's really helped to pick up staff morale and increase support of the program."
True to her word, since learning about the CCP at Palm Valley, Mayra (Star's person) has been bringing in other free-roaming cats to be fixed. More people than ever before are getting involved to help the animals in the community, and that's ultimately how Palm Valley Animal Society reached the no-kill milestone. If it can happen at Palm Valley, it can happen anywhere.
Learn more about Best Friends CCPs
Best Friends' work at this shelter is possible thanks to generous support from Maddie's Fund®, as part of the Maddie's® Shelter Embed Project in the Rio Grande Valley.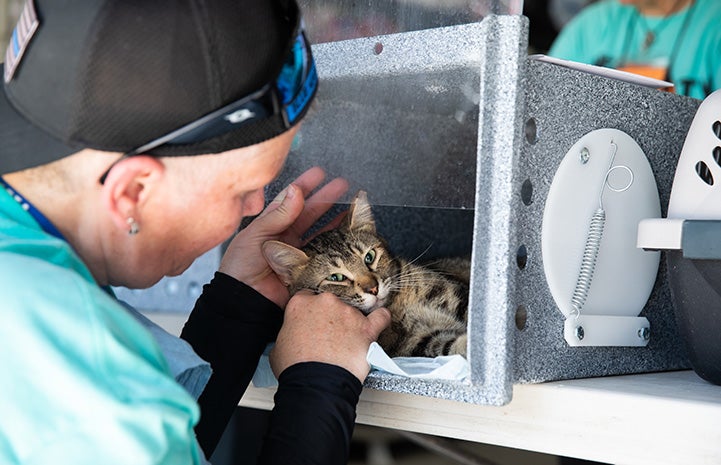 Photos by Sarah Ause Kichas and courtesy of Kirstie James, Marla Browne and Adriana Cantu