Saving former racing greyhounds
Greyhound Adoption Center of El Cajon, California, saves more former racing greyhounds with grant from Best Friends Animal Society.
By Denise LeBeau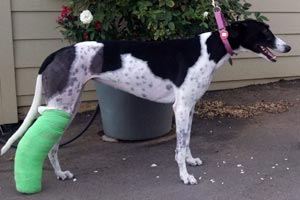 The message, which came in on a Friday, was typical of the calls that come into the Greyhound Adoption Center (GAC) in El Cajon, California. Party, a beautiful black and white greyhound, had severe leg injuries. Within hours, GAC was en route to the racetrack to rescue Party and possibly other greyhounds to keep them from being killed. Greyhounds no longer able to race and make money for the for-profit dog racing industry often are killed or dropped off at municipal shelters if they aren't taken in by a rescue group.
Saving greyhounds who can no longer race
Darren Rigg, founder of GAC,  grew up in England where there was a greyhound racing track in his hometown. Dogs were brought to the track by their pet parents for racing, but win or lose, the dogs at the end of the day would always return home. But Darren was in for a shock when he moved to the U.S. The racing dogs in North America aren't personal pets who also race. They are a commodity, and if a dog goes missing, it's more about losing a source of income than a pet. So, when a friend found a greyhound running down the road and returned the dog to the local racetrack, there wasn't the heartfelt reunion Darren was used to back home.
That incident led to the founding of GAC, which was formed with a specific purpose. "We wound up saving dogs who wouldn't be racing anymore," says Darren. For stateside racing greyhounds, there is no professional retirement plan. GAC, which grew out of the relationships Darren cultivates with racetracks and other greyhound rescue groups, takes in dogs from municipal shelters around California.
Inspired years ago by a visit to Best Friends Animal Sanctuary in Utah, Darren says he saw "what an ideal rescue organization could be: the dogs come first." To obtain more resources and networking opportunities, GAC joined the Best Friends No More Homeless Pets Network, a program that works with rescue organizations and municipal shelters across the country to end the killing of dogs and cats in our nation's shelters.
Grant funds save more dogs
To help GAC provide care for more dogs, Best Friends presented the California rescue organization with a grant for $6,669. Since Party's condition required extensive medical care, part of the grant funding helped defray the costs of her two surgeries. The funds also enable GAC to give the dogs the training and socialization they need. "Rescued racing greyhounds only know kennel life," says Darren. "They have never seen traffic, or stairs or even children. We give each dog the attention he or she needs to be able to go into a home."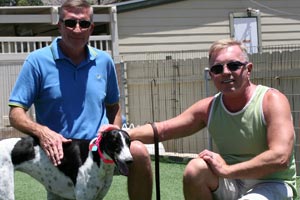 With Party fully recovered, it was time to find her "love match." GAC uses placement representatives, highly trained individuals who provide the service in California, to help find the right homes for its dogs. They work directly with adopters to find just the right greyhound for their families.
"The grant was important to increase the number of dogs that could be rescued," says Diane Young, the network specialist who facilitated the grant. "The more dogs who can be rescued and the more adoptions can be publicized, the more the public becomes aware of racetrack problems and wants to get involved to help save greyhounds."
Treating each dog as an individual takes time and money, and the funds are helping even more dogs go home. Thanks to the Best Friends grant, GAC reported that 58 percent more dogs were rescued during the first half of 2014, compared to last year. That's more than 80 dogs now safe and living as family members.
By the way, the grant also helped Party find her "happily-ever-after." She's now doted on by her two dads in Palm Springs.
Learn more about how Best Friends helps shelters and rescue groups across the country.
Photos courtesy of Greyhound Adoption Center