Saving more cats and kittens in Salt Lake County
Overview of Cat Crusaders program that helps shelter cats and kittens in Salt Lake County, Utah.
By Denise LeBeau
Cats and kittens are the most at-risk animals entering the shelter system across our country. Best Friends has partnered with Salt Lake County Animal Services (SLCoAS) to create the Cat Crusaders program to increase the feline save rate by 10 percent in the county.
Volunteers make lifesaving difference for Utah cats
Launched March 29, 2012, the volunteer-driven Cat Crusaders program had 50 people in attendance.
Franci DeLong, a dedicated animal advocate, has spent the last six years helping the cats of Salt Lake. Franci says, "The Cat Crusaders program is the most efficient way to deal with the homeless cat problem, and it's a great way to engage the community. There are many different ways that volunteers can help out using their skill sets."
Volunteers are a crucial element of the Cat Crusaders' program. They take photos, do data entry, make cat toys, and serve as on-call kitten fosters. There are also Cat Crusaders' Adoptions Ambassadors, who help adopters find the right cat for them and provide socialization for the cats in between adoptions.
Model cat program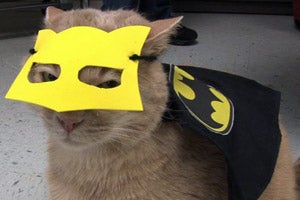 Catman is ready for action.
Amber Randall, shelter outreach coordinator for Best Friends, is in charge of the Cat Crusaders program. She says the program was modeled after the successful Salt Lake County Pit Crew, which ramped up pit bull terrier adoptions at SLCoAS.
"The redemption rate for cats is pitiful," says Amber. "And there are more cats at Salt Lake County Animal Services than any of the other regional shelters. Our mission is to find responsible adopters, educate and engage the public, and expand the active volunteer network to significantly decrease the number of cats in the shelter."
In particular, she mentions kittens will benefit greatly from the Cat Crusaders. The neonatal team will get the kittens out of the shelter, where they are extremely susceptible to disease, and give them proper care right away, while a longer term foster home is secured.
Carrie Sibert, foster and rescue coordinator for SLCoAS, looks forward to a successful partnership overall: "It's going to increase exposure for our kittens and cats, and Best Friends is known throughout the country for sharing lifesaving resources. So far we're promoting more adoptions and getting more and more animals out of the shelter. The Cat Crusaders isn't just good for the cats; our staff morale is way up, too."
Photo by Best Friends staff