Scared cat lets go of her fears and lands a forever home
Abandoned, unhealthy kitty, with aggressive behavior issues, receives help and training and is now on her way to living a happy life.
By Nicole Hamilton
Sparkle couldn't have known this a few months ago, but the best days of her life were still to come. The young brown-and-white tabby was stuck in a cage when she was spotted by a person walking by. It's hard to say how long she'd been in there, but when she arrived at a Los Angeles Animal Services (LAAS) shelter, she was emaciated, flea-ridden, and understandably wary of the world around her.
Shelter staff quickly went to work helping Sparkle get healthy again. But as her body grew stronger, her fear and distrust of people remained. Luckily, Sparkle was about to meet people who saw past her frightened exterior, and straight to her vibrant, fighting spirit. Working together, they helped this little cat learn that the world isn't such a scary place after all.
Learn how we're working toward a no-kill Los Angeles

Feline behavior problems put cat at risk
When Kristen Larson, a volunteer with both LAAS and Best Friends, spotted Sparkle hissing and cowering in a corner, she was worried the little cat wouldn't get the chance she needed to find her forever home. LAAS doesn't always have the space or resources to help cats like Sparkle, who would need quite a bit of time, care and attention before she'd come around.
When Samantha Bell, cat behavior and enrichment lead at Best Friends–Los Angeles, paid a visit to the shelter, Kristen led her to Sparkle. And it took Samantha about a minute to decide to bring the young cat back with her to Best Friends, so that she and her team could get to work helping the little three-year-old cat trust people again.
Cat behavior modification gets underway
Samantha started slowly. When Sparkle arrived at the Best Friends Pet Adoption and Spay/Neuter Center she was given a quiet space and plenty of alone time so she could relax in a warm, quiet place. Samantha visited Sparkle a couple times a day and left a treat for her. "I let her come to me," says Samantha. "Cats gain confidence faster when they are able to make their own decisions."
Soon, Sparkle learned she could trust Samantha. The hissing subsided, and when Sparkle let Samantha touch her forehead, Samantha knew they had turned a very important corner.
Sparkle was moved to a room with a large tower, where sitting up high would help her gain confidence. When she began to feel more comfortable, the staff and team encouraged her to play with a wand toy, which also helped her build confidence.
One day, Samantha noticed Sparkle watching free-roaming cats in another room with great interest. She decided to let Sparkle join them, unsure of what would happen next. To her relief, Sparkle began to play. It was clear she'd come a long way since being found flea-ridden and hungry.
In fact, no one would have expected Sparkle to be a natural athlete, considering how she looked and felt when she first arrived at LAAS. But she leapt into the air and climbed up the scratching posts and perches in her room. And when potential adopters came in, Sparkle greeted them affectionately.
Living up to her name
When Shannon Bellamy came to the Best Friends Pet Adoption Center in July to adopt two cats, she was instantly drawn to Sparkle's gentle personality. And when she learned about Sparkle's difficult past and how far she had come learning how to trust others, she knew this was Sparkle's moment to shine. She was about to finally go home.
Shannon also left that day with the perfect companion for Sparkle, an outgoing white cat with a magnetic personality named Spike. Spike would help Sparkle continue to gain confidence in the world and his presence would be a comfort as she adjusted to her brand new life. Soon the two cats were settling into their new home with Shannon.
Help Save Them All. Sponsor a cat like Sparkle.
A fearful cat finally feels safe and secure
Now, Sparkle and Spike love to play with toys and wrestle with each other. And Shannon's heart has melted more than a few times at sight of them napping with their paws joined.
"When I look at Sparkle, I see a survivor," says Shannon. "To think that so many people came together to help her heal, and so that she could get adopted, it's amazing. They saw what I see ― a sweet cat who just needed a second chance."
Donate and help save homeless pets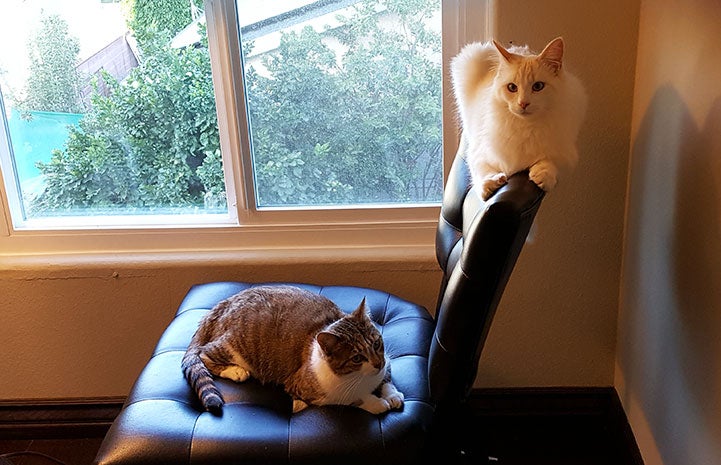 Photos by Lori Fusaro and Shannon Bellamy