Scared mama cat goes from stressed to spotlight
With a quiet place and the right medicine, a terrified mama cat comes out of hiding to stretch out and soak up love and attention.
By Sarah Thornton
Raising kittens is hard work, especially when you're a mama cat trying to keep them fed and safe, and then someone comes along and scoops up the whole family and takes you all to a shelter. It's no wonder Andorra was scared and stressed. Even after the little family left the shelter and came to Best Friends Animal Sanctuary, everything was strange and new, and the mama cat was still trying to protect her tiny bundles of fur.
While the kittens played happily with people, Andorra kept herself tucked away in a hiding spot, trying to sooth her nerves by grooming herself to the point that she was losing fur. It took a little extra quiet time and the right medicine to get her to relax and come out of hiding on her own. And then, she was ready for the spotlight.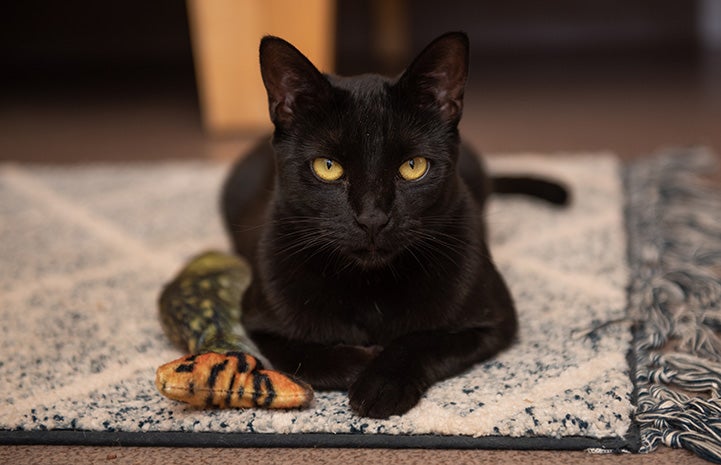 Scared mama cat stays hidden
A lifesaving transport from a shelter in Los Angeles brought Andorra, her kittens other moms and kittens, orphaned kittens and bottle babies to the Sanctuary. She didn't want to come out of her carrier, and even when she was carefully pulled out, she immediately looked for somewhere else to hide.
She had no problem letting her kittens entertain human visitors, but she just wanted to stay out of sight — curled up where her dark fur kept her almost invisible. "She wasn't hissy or anything like that, but you had to go in and get her," explains Brittany Nataro, a supervisor at Best Friends Cat World. "Once you had her out, though, she was like, 'Oh, this is cool.'"
[Scared cat who lost everything just needed time]
Even after her kittens had grown and been adopted, Andorra still showed no signs on her own of stepping out of her comfort zone. Realizing that Andorra needed a little more time to unwind and adjust to her new surroundings, Brittany made sure she moved into a quiet room, where she would have more one-on-one time with caregivers and volunteers to learn it wasn't all that scary out in the open.
The shy black cat had no appetite, and she started overgrooming to the point where her back was covered in bald spots. So, veterinarians decided to start her on a trial of CBD oil for her anxiety. It turned out to be just what she needed, and with the combination of medicine and space, she finally started opening up.
"She completely turned around," Brittany says. "She started eating, she was coming out for attention, and all of her fur grew back in."
Once Andorra was out of hiding, there was no turning back. There were sunbeams to stretch out in, toys to play with and kind people to pet her. A world of possibility awaited.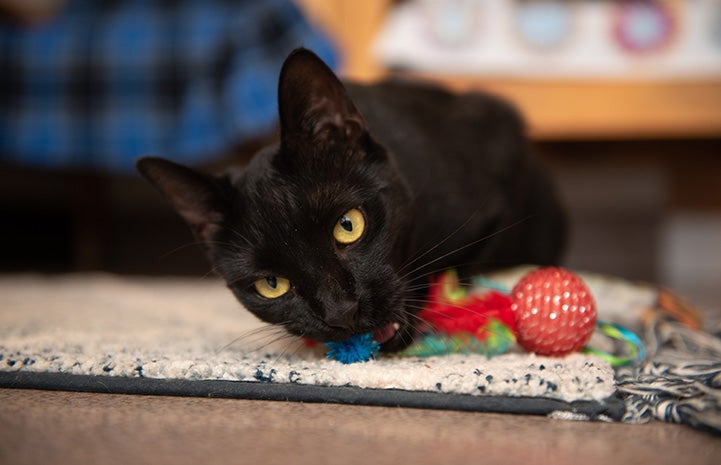 Seizing the day and making new friends
With her nerves settled and her focus shifted from fear to fun, Andorra could finally start making friends, and soon she made a very important one. When she met scraggly orange boy Delano, they immediately hit it off, began rubbing noses and spent all their time together.
Delano, who arrived at the Sanctuary a little bit after Andorra, was dealing with the same shyness issue as she was, plus he had a broken pelvis. He was scared of the new surroundings and in pain from his injury, so hiding seemed like the safest thing to do. But once Delano started feeling better and learned that people could scratch in all the best spots, he turned into a full-blown lap cat.
He became Andorra's guide to the human world, showing her all the best sunbathing spots, as well as how to get the most out of someone's empty lap. With her new friend leading the way, Andorra spent less and less time in hiding and more time socializing with the people and cats around her. Of course, she had no problem winning people over when she started flopping into their laps.
"She's a total goofball," says Brittany of the newly confident Andorra. "You just have to take the time to sit with her. She's not one of those cats who runs to you at the door, but she's so wonderful, it's ridiculous."
Andorra went from a stressed, scared cat hiding in the shadows to a slowly-but-surely blossoming social butterfly.
[Shy kitty finds her happy place in a new home]
Her favorite place to be is out on the catio in the sun. She rolls over onto her back and stretches out her legs as far as possible before relaxing completely. Brittany says that when Andorra feels playful, her go-to toy is a pop-up tunnel. "Not the ball that hangs on the front of it — just the tunnel part," she says with a laugh.
When Andorra really likes someone, she's so forward about it that she'll go straight into love-nibbles. "Not hard, she doesn't latch on," says Brittany, "but she just does this grab, and then she rubs all over you. She's a total showoff when you really get her going."
Andorra's so welcoming and friendly that Brittany suggests to caregivers that they go play with her for a "mental health break." It's certainly a far cry from where the soft black cat started her journey.
"It's always nice to see shy cats turn around, because they have so much potential," Brittany says. "Just giving them a chance, trying options for them and doing what's best for them … I think that we gave her the right opportunities to really shine."
And shine she does. Whether it's the sun bouncing off her smooth, well-kept fur or the sparkle in her eye when she approaches a new person, Andorra's no longer afraid to be the star of the show.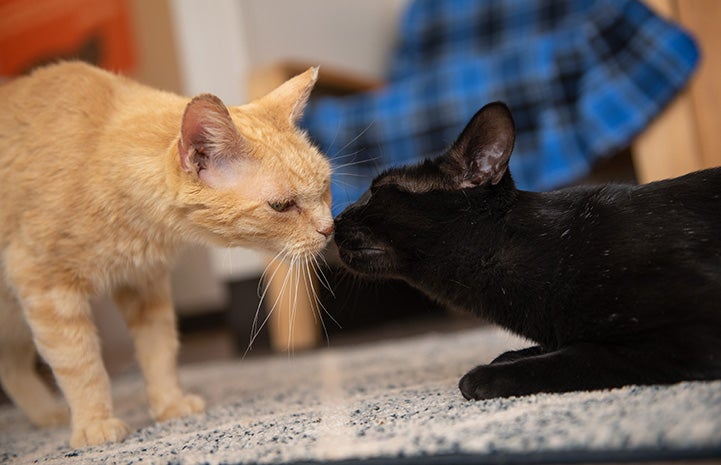 Help pets near you
There are so many ways to help homeless pets near you — even if it's just sitting quietly with them. Find out how you can help.
Read more:
Pandemic pets: Where are they now?
The story behind the famous high-flying, almond-loving cat
Shy cat loses his home in a fire but keeps his newfound confidence
Photos by Molly Wald