Scenes from a kitten nursery
Image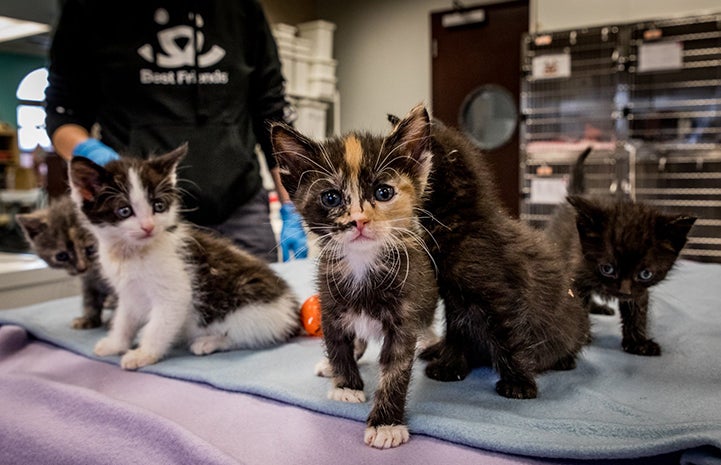 See photos from the Best Friends kitten nursery in Los Angeles, where 3,000 kittens will receive around-the-clock care this year.
By Nicole Hamilton
Spring has only just begun, and already the kitten nursery at the Best Friends Lifesaving Center in Los Angeles is filled with newborn kittens from Los Angeles Animal Services.
This year, it's expected that nearly 3,000 kittens will come to the nursery for around-the-clock care until they're ready to be adopted or they go to foster homes. They'll be cuddled and kept warm, bottle-fed until they're ready for gruel, and they'll have a little fun, too.
But kitten nurseries aren't just headquarters for all things adorable. They're also playing a huge role in taking the country no-kill. That's because neonatal kittens are some of the most vulnerable animals in shelters. To grow up healthy and strong, they need the special kind of care found in kitten nurseries or foster homes.
Recently, volunteer photographer Todd Roisman captured scenes from the Best Friends kitten nursery in Los Angeles. Yes, it's every bit as messy (and fun) as it looks, but it's also incredibly inspiring. Few things can warm your heart like seeing a kitten's ears twitch in contentment as they're bottle fed, or watching their first wobbly steps give way to playful leaps.
More about Best Friends in L.A.
Best Friends in Los Angeles works collaboratively with animal rescue groups, city shelters and passionate individuals who are all dedicated to the mission of making Los Angeles a no-kill city. As part of this mission, Best Friends hosts adoption and fundraising events, manages two pet adoption centers, and leads the No-Kill Los Angeles (NKLA) initiative. Together, we will Save Them All.
Photos by Todd Roisman