Senior Chihuahua gets well-deserved second chance after ending up in a city shelter
Pint-sized senior Chihuahua proves great things come in little packages. Read how this canine gem was fostered then adopted.
By Younjee Kim
Who wants a puppy when you can have Butters? People often pass over older shelter pets in favor of young dogs and puppies, but a sweet, senior Chihuahua named Butters is here to show the world what people are missing out on. For one thing, older dogs often already know basic cues like sit, stay and come, and their size and temperament are certain (no surprises, what you see is what you get). What you get with Butters is an easygoing, adorable little guy. His vision isn't perfect, but hey, no one's perfect.
It's anyone's guess how the senior, partially blind, pint-size Butters ended up at a Los Angeles Animal Services city shelter. From there, he was brought to the Best Friends Lifesaving Center in Los Angeles, where the admissions team wanted to make sure he got a well-deserved second chance at a new home for his golden years. The staff wanted to get to know him better and find out how he was handling his vision impairment, so they could set him up for a successful adoption. And they didn't have to look far for the perfect foster. Alyss Tsukayama, Best Friends' transport manager in L.A., is the "hostess with the mostest" when it comes to fostering.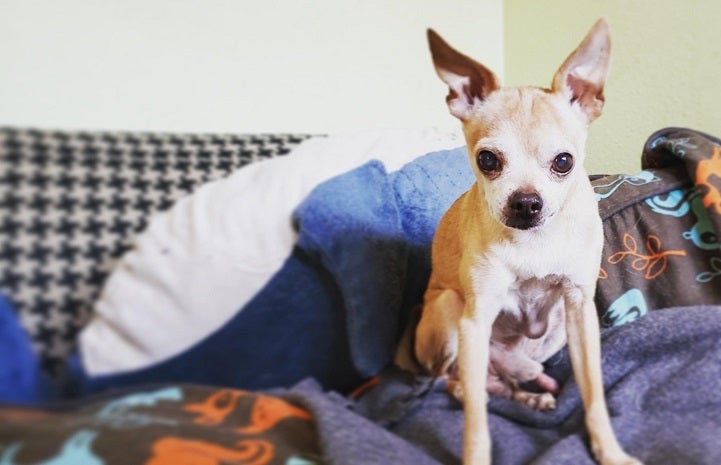 Foster pup feels right at home
With years of experience fostering senior dogs and dogs with special needs, including hospice care, Alyss agreed without hesitation when the admissions team asked her to foster Butters. A frequent foster mom to small, aging dogs, she had a hunch that he would enjoy being carried around in a pouch-like pet sling, and her instincts were spot-on. When Alyss picked Butters up from the center to bring him home, she placed him in her kangaroo pouch for the first time and he fell asleep right away.
Senior dog care: Caring for older dogs
At his new foster home, Butters took a little time to warm up to his foster parents. But he hit it off immediately with his four-legged foster siblings and was cool as a cucumber with the family's three large dogs, Theresa, Dozer and Mandy. "Butters moved in and was comfortable right away," Alyss says. "He wasn't fazed being surrounded by dogs so much bigger than him."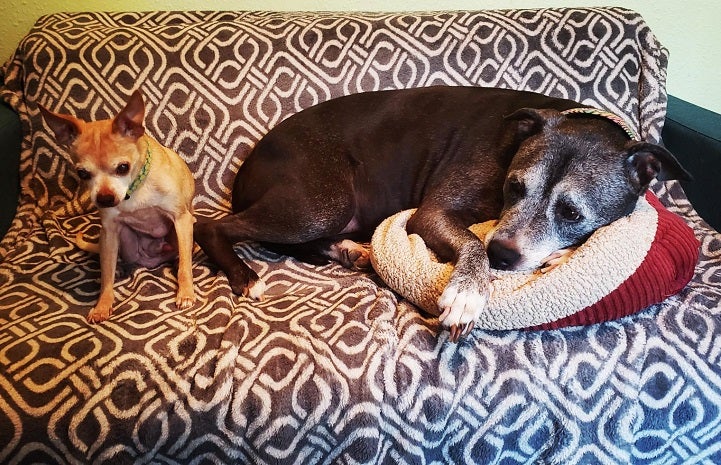 Despite his initial reservations with Alyss and her husband, it wasn't long before Butters changed his mind about them. "It was like he had to figure us out, but after a few weeks he was all tail-wags and always excited to see us when we got home," she says. "He was a perfect gentleman. It was very apparent that he was familiar with being in a home."
When Butters first arrived at Best Friends, it was unclear how much his impaired vision affected his day-to-day life. Observing his behavior during his stay, Alyss noticed that he was a bit unsure finding his water bowl and maneuvering the steps to head out the door. But with some guidance from his patient foster mom, who kept his water bowl in a familiar spot and showed him the steps to the door, Butters navigated his way around the house and yard just like the family's other dogs.
Butters goes home for good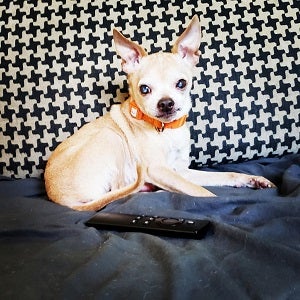 Butters' story is a reminder of how rewarding it can be to give a home — temporary or permanent — to an older pet. Just like Butters, well-mannered senior dogs often find themselves in shelters through no fault of their own. All they need is a soft place to land and lots of love in their remaining years. "Butters has been one of the sweetest houseguests we've ever fostered," says Alyss. "Fostering a senior pet is one of the most rewarding things we've ever done."  
After Butters had spent a few months settling in and thriving with his foster family, Alyss and the Best Friends adoption team felt he was ready to find a new permanent home. They knew from experience that it usually takes senior dogs longer to be adopted than puppies and younger dogs, so they came up with a strategy to showcase the sweet, special little guy online.
Back at the center, staff made sure to keep Butters happy in his kennel with extra attention and warm blankets. And on a particularly slow night, two young women walked in and asked to meet none other than Butters. They didn't even look at any other dogs. It turns out that they had seen him online and thought he would be the perfect pet for them.
The adoption staff spent time talking with them about Butters and making sure they were prepared for an older pet. Butters didn't need anything extensive other than regular veterinary checkups, with special attention to maintaining good dental health. The adopters were looking for a small, mellow dog — not a rambunctious puppy. Butters was, in fact, just perfect for them. Soon, he was on his way to his new home, where he'd be carried around and spoiled, just like he deserves.
Best Friends in Los Angeles works collaboratively with animal rescue groups, city shelters and passionate individuals, all dedicated to the mission of making Los Angeles a no-kill city. As part of this mission, Best Friends hosts adoption and fundraising events, manages two pet adoption centers, and leads the No-Kill Los Angeles (NKLA) initiative. Together, we will Save Them All.
Photos by Alyss Tsukayama