Senior dog finds calling as kitten dad
When Gary's people brought home a tiny, sick foster kitten the senior dog fell in love, and he hasn't let Roger out of his sight since.
By Sarah Thornton
Gary was already a graying older dog when Melanie Marks met him for the very first time. She had just moved to town near Best Friends Animal Sanctuary and didn't have any pets, but was thinking about fostering. When a caregiver asked how she would feel about a hospice foster, Melanie was introduced to Gary, who had an enlarged heart from an old case of heartworm, a cyst on his neck and a chronic ear infection. Everyone just wanted him to be able to spend his final, good months in a warm home, surrounded by love.
Now more than two years later, nearly 11-year-old Gary has just taken on a new role as the proud papa of his most recent family member: a little gray kitten named Roger.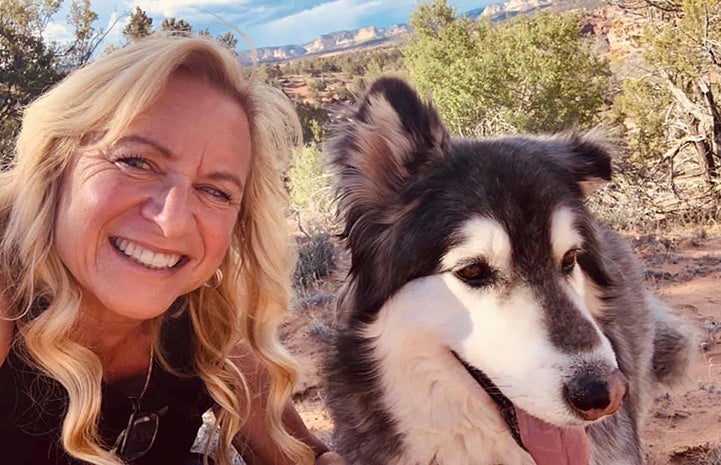 Senior dog's family starts to grow
Melanie still remembers meeting Gary. "He was adorable," she says. "He brought his toy in from outside to show me. He was so cute." She'd always wanted a big, fluffy dog, and Gary certainly fit the bill. It wasn't hard to fall in love with him.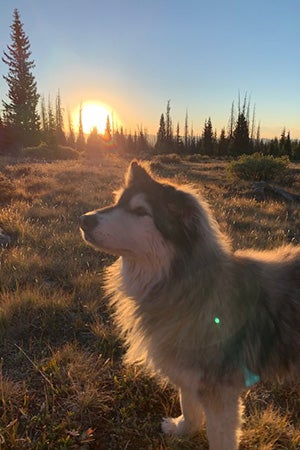 Because of his age and health issues, she knew their time together might not be very long. She brought him home knowing that the veterinary staff estimated he had around three months, but that didn't change anything. Gary didn't stay a foster dog for long before Melanie adopted him as a permanent member of the family. That's when their family started growing. Melanie met someone, and soon he moved in with his own dog and cat. Gary welcomed all three of them without question — the more, the merrier, as far as he was concerned.
[Foster sees beyond dog's heartworm status and adopts her]
"The dog my boyfriend brought needed to run all the time," says Melanie, "so he would take them out, and Gary would trot along behind, and his dog would be running down the road. He was just as happy as could be. Watching him go downhill was hilarious. He's not very coordinated.
"I think that getting him outside and getting him involved (he just loves adventures) — I think that helped prolong things," she says.
The growing family didn't stop there, either. They adopted Kehlani, a young cat who only took a day to get comfortable sharing her home with a couple of dogs. And then came Roger.
Sick kitten cuddles up to his new papa pooch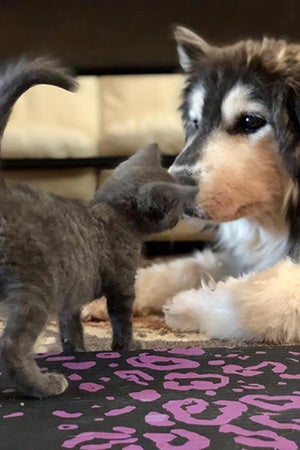 Roger arrived at the Sanctuary with his mom and three siblings, and the whole family went into a foster home. But Roger was the runt of the litter and his siblings crowded him out at mealtimes. As he grew weaker, his mother rejected him, and then it was up to his foster family to bottle-feed him.
[Meet a foster volunteer whose determination helped save a tiny kitten's life]
When Roger's foster family had to leave town for a few days, they needed someone to help look after him while they were gone, and that's when Melanie stepped up again for a sick pet in need.
"We brought him home," she recalls, "and he wanted nothing to do with the bottle. You tried to get it in his mouth, and he wouldn't suck, and it would drool out." Roger wasn't looking well, but a trip to the clinic and a vitamin injection finally helped get him back on the right track; however, his biggest comfort would come from one much larger, fluffier family member.
Melanie explains that Gary is not a fan of having his front feet touched. He'll quickly tuck them away when he thinks someone's coming to poke at his giant toes. But try telling that to Roger, who wanted nothing more than to turn one of those fluffy feet into his own personal pillow.
"Roger would get close, and Gary would kind of lean away," Melanie says. "Roger would just get closer … and finally he just worked his way up over Gary's paw. Gary looked at him and gave a big sigh, and then he just rolled over and let him lie there."
That's how it began, with Gary conceding his foot to the kitten, and then they were inseparable. As Roger got bigger and healthier, Gary started following him around and kept a close eye on his new kitten. And he really was Gary's kitten, once Melanie made the adoption official.
[Chocolate Lab is doting foster mom to tiny kittens]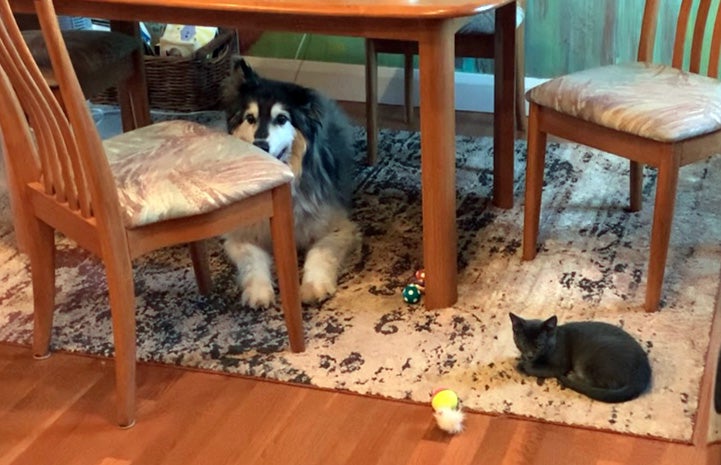 When Gary drags his toys out to the backyard, he always brings out a couple of Roger's toys, too. And when Gary's getting a treat or a meal, Roger's right between his feet to check out and taste-test everything.
"Gary is never more than maybe four to five feet away from Roger," says Melanie. "He always knows where he is. If people come over to visit and Roger goes to say hi, Gary's right there … It's benefitted both of them, I think."
They snuggle up to sleep together, stretch out in the sun together and eat together. Kehlani does her part, too, by grooming Roger's fur and keeping him looking neat and tidy in a way a pooch simply can't. But in the end, the kitten always goes back to his doggy dad.
Roger, the kitten rejected by his mom, has found a new family. Gary has what everyone's always wanted for him: a life of warmth and love in a home all his own. And Melanie's certainly happy with her foster wins.
"You love them all," she says with a smile, "and they're all amazing. But every now and then, there are special connections."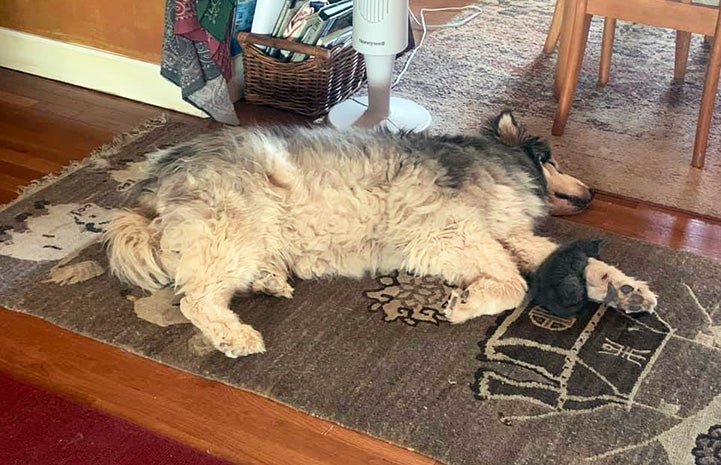 From foster to family
Homeless pets all over the country are just looking for a safe, warm home. And you can help them find that by fostering or adopting.
Read more:
5 feel-good pet stories to make you smile
Kitten lends a helping paw to her blind brother
Photos courtesy of Melanie Marks