Senior dog finds a home for her "100th" birthday
Kenya had some challenges in her past, but just before she turned 14, this senior dog found a family.
By Sarah Thornton
At nearly 14 years old, Kenya had finally gotten over her strong dislike for other dogs. After a lot of work and a very slow introduction, the dog who used to lunge and growl whenever she saw another dog finally had her very first roommate at Best Friends. In fact, she got so much better with other dogs that she even helped a shy newcomer to the Sanctuary by playing with her and helping her get comfortable enough to start coming out of her shell. Now, all she needed was a home.
It can be hard for senior pets to get adopted. People, of course, want to spend as much time with their furry family members as possible, and senior dogs and cats often have less time to offer, so they sometimes get skipped for adoption. But when Eric Hutchinson saw Kenya's picture online, he kept thinking about her. And soon, the two of them would be celebrating Kenya's birthday together — as a new family.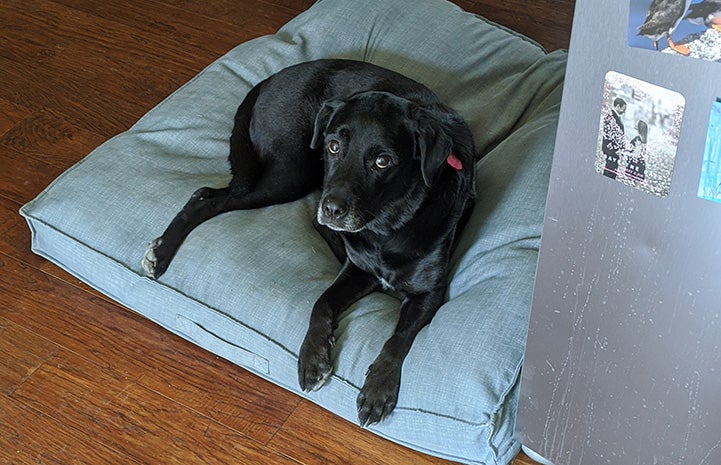 New home at the right time
Eric knew he wanted a dog in his life. Growing up, his family had two well-loved Labs, both great childhood companions. But as an adult, it kept feeling like it was never the right time to bring a new dog home.
"I didn't think the time was right really ever," he says, "because I like traveling and seeing friends … And working for long days and everything, it just didn't seem right." But that didn't stop him from just looking ― searching through the websites of local shelters to see if the right match would ever show up.
"I saw Kenya's picture right at the start of the pandemic," Eric recalls, "and for some reason she stuck with me, and I thought about her a little bit more. And then a couple weeks later I went to see if she was still available, and she was."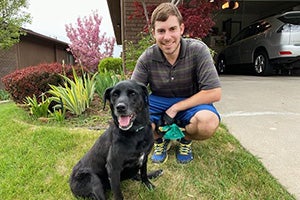 Because of the COVID-19 pandemic, Eric started working from home. The timing seemed like it was finally right, and Kenya was still on his mind. He says it felt like a sign (almost) that he couldn't forget about the senior Lab he'd seen on the Best Friends website. With an upcoming trip planned to see his father in southern Utah, Eric had the perfect opportunity to stop by the Sanctuary before its temporary pandemic closure, meet Kenya and take her home. And so, he did.
"It's been fantastic ― probably the best decision I've made this year by far," he says.
[Senior pittie mix finds a fan club and (finally) a home]
Kenya settled quickly into her new home, where the peace, quiet, comfort (and, of course, the couch) were just what this old dog needed. And she never left her new human's side, following Eric from room to room, tail wagging contentedly.
"She's not fully confident yet," Eric explains, "but she knows it's her place, and she loves that it's her place."
A month after Kenya arrived in her new home on her birthday (her 100th in dog years), Eric celebrated with her. For such a big birthday, Kenya was granted her wish just a little bit early. She finally had a home.
New chapter in senior dog's life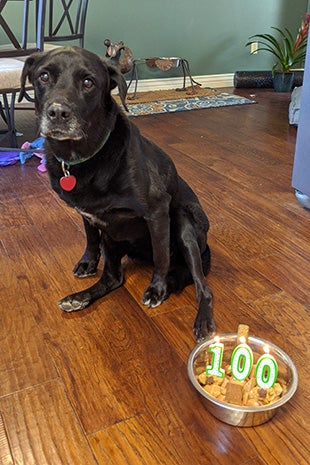 She may be a doggy centenarian, but Eric says she's as youthful as ever. People are always expressing their disbelief when they find out how old she is (and they are) surprised that such an energetic pooch could be 14 years old.
"She does have a lot of puppy energy and still looks pretty good," Eric says. "When she's walking around, she kind of has this prance to her and she looks very regal, I think. So she still seems pretty young."
Kenya is healthy, happy and still wants to go adventuring on their walks. Eric lets her pick their daily route, whether it be to the right, across the street, down this road or around that corner. It's all up to Kenya, as long as she doesn't try to go somewhere they shouldn't. And it's rarely the same path twice.
"She does a pretty good job of getting variety, which is nice," says Eric with a smile. "I don't want to do the same walk every day, either, so it works out that way. It's fun."
[Senior dog is queen of happiness despite old age and kidney disease]
In addition to exploring the neighborhood, relaxing on the couch and intently searching the back yard for a rat she's seen only once, Kenya has quite the packed schedule these days. But she always makes time for family, and she's especially excited when Eric's mom comes to visit.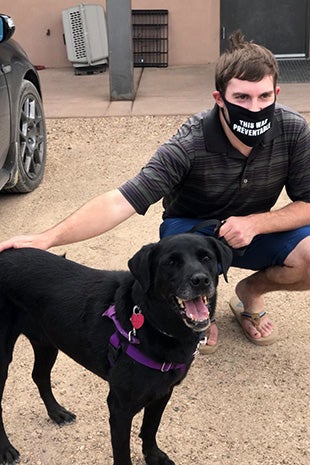 Even just seeing his mom's car parked in her usual spot is enough for Kenya's tail to start wagging ― like the day Eric borrowed his mom's car. "Kenya saw it through the door and was super excited," he says. "When I finally let her out, she went and tried to sniff around the door for my mom."
It was just as adorable as it sounds, Eric says. "It made my mom happy, too, to know that Kenya was looking for her."
There's even a familiar face from the Sanctuary still in Kenya's life. When Eric has to leave the house overnight, one of Kenya's former caregivers comes to pet sit. He says it seems to help ease the separation a little bit, though Kenya will still go through rooms looking for him.
It's safe to say Kenya has grown very attached to her new human and her new family. And everyone loves her back just as much. With her time as a homeless dog behind her and a future full of pets and snuggles, this senior dog truly has a lot to look forward to.
Open a new chapter for a homeless dog
Whether it's a brand-new puppy or a sleepy senior, there are homeless dogs near you looking for love.
Read more:
Teaching a dog new tricks can be hard, but this incredible dog is learning them in American Sign Language
Online adoption extravaganza helps more than 1,700 pets find homes
Shelter transformation inspired by one incredible dog
Photos courtesy of Eric Hutchinson