Senior Lab mentors shy dog who just needed a friend
Senior Lab, who received help and training for her reactivity towards other dogs, mentors a shy dog and becomes her best friend.
By Sarah Thornton
When Kenya first came to Best Friends Animal Sanctuary, she was not a dog's dog. In fact, she couldn't stand other dogs and would lunge and bark if she even saw another dog.
People at Kenya's former shelter recommended that she be kept away from other dogs. She needed to be a solo dog. But even with her own space in Dogtown, she'd still be surrounded by other dogs.
She deserved to live with a family one day, but having to be the only dog in the home would make it harder for her to get adopted. Most people who like dogs already have at least one or would like the option to have more than one. Kenya's intense dislike of other dogs was a problem for her, and for that she needed help.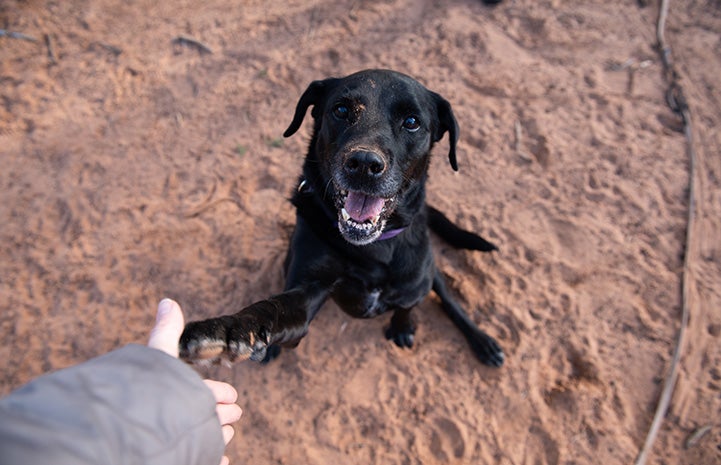 Training help for a reactive dog
Kenya's arrival at the Sanctuary meant a fresh start and space to call her own, but there were still other dogs all around her. Once she settled in, caregivers and trainers began working to set her up for success. Occupying her mind with something other than the surrounding dogs would help her feel more comfortable and confident.
Caregivers worked with Kenya on a variety of new skills and her fondness for treats helped her learn fast. From "sit" to "spin," Kenya was happy to learn new tricks. The fact that she passed the Canine Good Citizen test just five months after her arrival was proof of her good manners and willingness to learn.
She loved nose work (finding snacks hidden around her space) and was happy to try new activities with her caregivers. She loved car rides, golf cart rides and even  hydrotherapy appointments (if there were enough treats).
As time passed, Kenya gained a bit of a staff-volunteer fan club, and when she saw her people she exploded into happy, full-body wiggles. Of course, Kenya still had her biggest hurdles to overcome — her reactivity toward other dogs and the stress that consumed her when she saw one.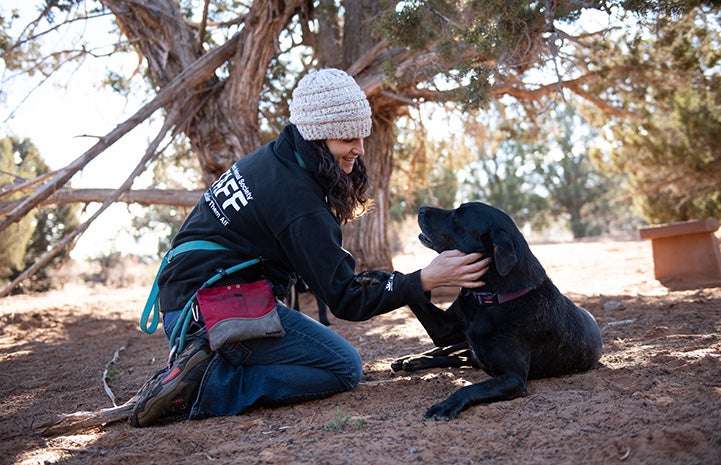 Getting to know other dogs
Dogtown staff started working on the next phase of Kenya's training, which would get her one step closer to a home. With "look-at-that training," Kenya was rewarded when she could look at another dog without reacting (no barking or charging) and then look back to her caregiver. This helped her make a new connection and seeing another dog meant getting a delicious snack. Things weren't so scary anymore.
Building from this, the staff began walking her in the vicinity of other Dogtown residents. Kenya was walked on one side of the road while another dog was walked on the other side. They could see each other without actually meeting, all while getting plenty of treats and praise. Kenya went on lots of these walks and got better and more comfortable every day.
Then came the day when her trainers felt she was ready to actually meet another dog. They started taking Kenya on a number of parallel walks with a confident dog, well-known for his social skills. They continued these walks until caregivers were comfortable letting them meet. It turned out that they were right: Kenya was ready to start seeing other dogs differently than she ever had before.
Soon she was able to have play dates with her new friend, and things went so well that what was previously unthinkable was now possible. She and her new canine friend shared a room and a yard — full time. It was Kenya's first time living with another dog, and she soon got the hang of cohabiting.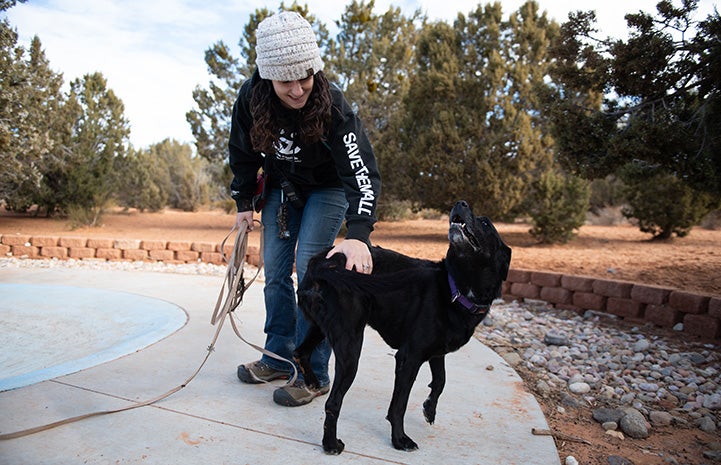 Kenya makes a second friend who needs her help
Then last September as Kenya adjusted to living with a roommate, a shy dog named Lindy arrived at the Sanctuary. She had a long, fluffy black coat and was terribly matted because she was too scared to be brushed. She couldn't walk on a leash without trying to chew through it and escape. Dogtown caregivers wanted to introduce her to Kenya's run mate (because of his good dog skills), but that would mean also introducing her to Kenya and none of them were quite ready for that. They'd have to try another way.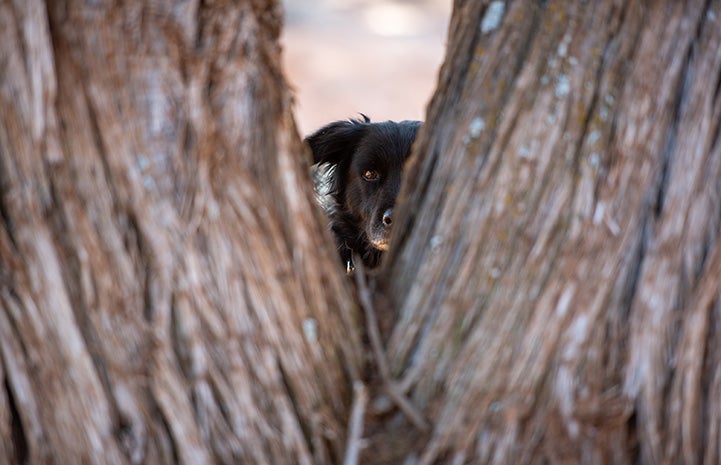 Staff brought Lindy over to where Kenya and her friend live and put her in the yard for several hours while the other two waited indoors. Then caregivers opened the doors and the dogs met each other for the first time. At first, Lindy was scared, defensive and showed her teeth. But Kenya and her friend gave Lindy plenty of space. Kenya was interested in the newcomer and wanted to be near her, but respected her personal bubble until Lindy finally let her come close to sniff.
By the end of the day, wherever Lindy went, Kenya went as well. If Lindy went to the back of the yard, Kenya was there with her. If she came in, so too did Kenya. While there had been a question about how Kenya would respond to Lindy, it turned out that she became her new best friend.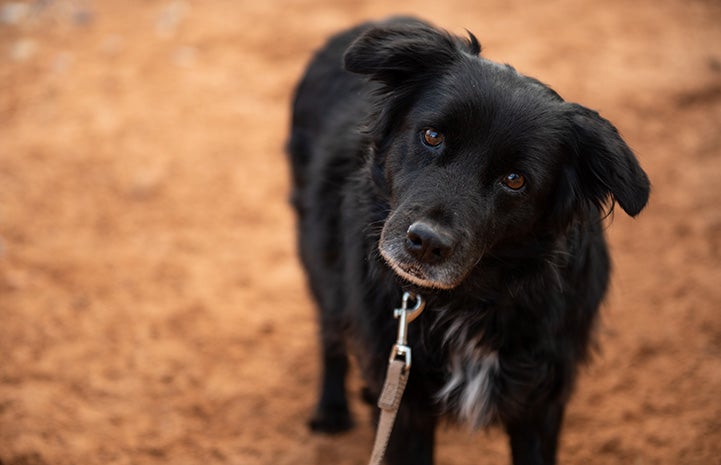 Kenya helps her shy friend Lindy
It took a while for the three dogs to start playing, and Kenya proved just how understanding she was of the needs and comfort of other dogs. While she would horse around and play-wrestle with her first buddy, shy Lindy preferred gentle games like chase, and Kenya was happy to oblige.
With her confident new friends, Lindy soon came out of her shell. She had a spa day (getting brushed, washed and having her nails trimmed) that transformed her into a soft, silky long-haired beauty. With her new friends by her side (plus extra encouragement from plenty of hot dogs and cheese), she was even able to go on her first walk.
The walks were slow and methodical, as Lindy went from spot to spot each time, taking in every interesting smell. "It's like she's got to make up for all the time lost by not walking on the leash," said Megan Boemeke, a caregiver. Now Lindy is even able to walk with a stranger as long as Kenya is by her side.
Lindy went to her first shy dog class at the beginning of the year. During the class, several people sit in a circle and hand out treats to any dog brave enough to approach them — with no expectation for the dogs to do anything in return. There were a few other shy dogs in class, as well as a couple of confident ones to show them the way. Lindy, who had already learned by living with two confident dogs that people aren't so scary, happily jumped up for treats from everyone.
Much like how she had learned to live and play with other dogs, Kenya helped Lindy see that people aren't so bad. She also helped her get comfortable in a new place by teaching her the joys of treats and long walks. Kenya has come such a long way from when she first arrived at Best Friends, and now that she's expanded her world to include other dogs, her next adventure might just be a home of her own.
Join Best Friends and help more dogs like Kenya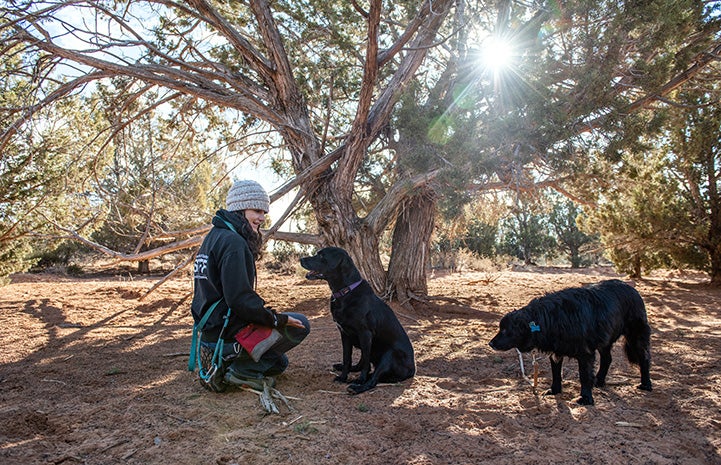 Photos by Molly Wald