Service dog helps little boy explore the world
Adopted Great Pyrenees is now a service dog for an autistic boy with elopement behavior who has a tendency to wander into dangerous situations.
By Christelle L. Del Prete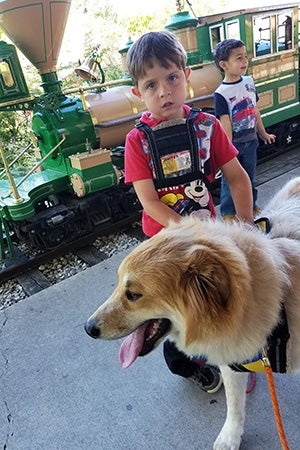 For Angie Excell, it's hard to articulate exactly how much it means to her and the rest of the family to have Wash, a Great Pyrenees mix, as a service dog for her son.
"It's incomprehensible to some," says Angie, "but Wash is such an essential member of our family. He has been a literal lifesaver. I could not go back to what it was like before having a service dog."
Elopement disorder: A tendency to wander away
Wash, adopted from Best Friends, is saving the life of Angie's seven-year-old son, Dalton. Dalton was diagnosed with autism spectrum disorder when he was only two. On the heels of the autism diagnosis came another one: elopement disorder. What this means is that Dalton has a strong tendency to wander away from safe places toward dangerous, even life-threatening situations.
The Excell family is curious and adventurous. They like to travel, to hike, to experience new places and to learn new things. They want to see the world and all it has to offer. By the time the eldest children were walking, they had been to half a dozen national parks, as well as state parks and monuments. But after getting Dalton's diagnosis, a new reality set in. Even something as simple as a leisurely hike could put the young boy at risk.
Turning to Best Friends for help
Angie explains: "There was a day that we were hiking when I stopped being a caregiver for just a few moments. Instead, I was a mom ― a mom with a camera. I let my guard down for a few precious seconds to grab a photo of a smile, and it almost cost my son his life. Dalton came within inches of a 500-foot drop-off. He was running all-out and would not have stopped had I not caught him, a hairsbreadth from the edge."
The Excell family is close-knit. They all look out for Dalton. But Angie realized early on that they needed some backup or, rather, they needed someone on the front lines with them in the never-ending effort to keep Dalton safe. "We needed help," she says. "We turned to Best Friends Animal Sanctuary for that help."  
Careers for former Sanctuary and shelter dogs
In 2014, Angie connected with Sherry Woodard, animal behavior consultant and head of Best Friends' Canines with Careers program. Sherry selects shelter and Sanctuary dogs to be trained as service or therapy animals and matches them up with people who need them.
First, Sherry matched the Excell family with Bart, a former shelter dog who was sweet and steady and who spent his few years helping Dalton enjoy life more safely. He also helped the rest of the family, by relieving some of the stress and worry that inevitably comes with caring for a child with elopement disorder.
Bart even made a family trip to Disneyland possible. But then Bart had to retire as a service dog due to health issues. Though he was loved and cared for by the family for the rest of his days, they needed another dog to step into Bart's lifesaving role.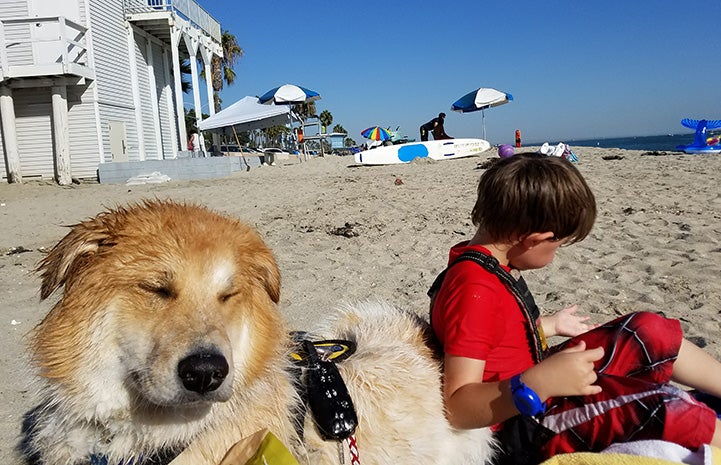 A companionship like no other
"We screened many dogs looking for just the right fit," Angie says. "Sherry is tireless in finding that fit for the family and the dog. The relationship between a service dog and the individual they serve is important. They are a team, and together they not only exist in the world, but they also conquer it. It's a companionship that lets each explore the world in a way that is simply not possible without each other."
Because of Canines with Careers, plus one family's tireless efforts to help their little boy, Dalton has that companionship with Wash, a dog who came to the Sanctuary as a puppy.
"Wash was calm even as a puppy," Sherry says. "He was still a puppy ― don't get me wrong ― but he handled busy stores and tons of playing kids without becoming a wild puppy. He was well-behaved with everyone, and even as a young pup he was able to start focusing ― even in very distracting situations."
Those qualities are part of what make him the perfect service dog for Dalton. Having Wash around allows Dalton to gain the independence that a growing child seeks — safely. For example, when he is tethered to Wash, Dalton can walk without holding a parent's hand. Before he had a service dog, Dalton had to hold a hand for his own safety, even though prolonged touch makes him uncomfortable. "Now Dalton can walk independently, like his siblings, and his family knows he is safe," Angie says.
Before, Dalton's first impulse when he felt overwhelmed by the world was to run toward anything nearby, including cliffs or busy streets. Now, he no longer runs, but instead he sinks his hands into Wash's fur — turning to his service dog for the help and comfort he needs. But if Dalton does happen to bolt, Wash will be there to stop him in his tracks and keep him safe. With Wash's help, Dalton can explore the world and live his life more fully.
Service dog transforms a family
Together, with the whole family in tow, Wash and Dalton have gone to the Pacific Ocean and played in the waves. They've been on many other adventures as well. Wash gets to travel with the Excells ― to see the world, to do a very important job that he enjoys and to be loved. "He has grown into a wonderful young adult," says Sherry. "The Excell family has done a great job of helping him and loving him."
"He changes once the harness goes on," Angie says. "He changes from carefree puppy (with just a little bit of rascal in him) to a caring, watchful companion. He knows his job and does it with satisfaction. It is a really fascinating transformation."
It's not the only transformation that's happened since Wash walked into the Excells' lives. Through the service he provides for Dalton, this once homeless puppy has given the entire family more freedom and peace of mind.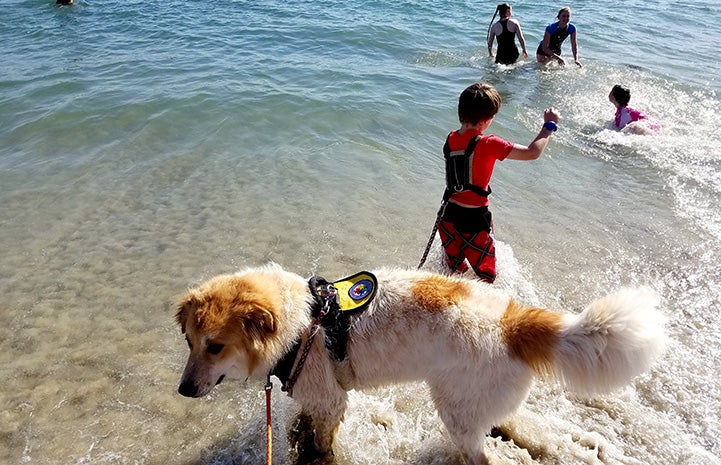 Photos courtesy of Angie Excell