Shy Chihuahua and toy fox terrier mix transformed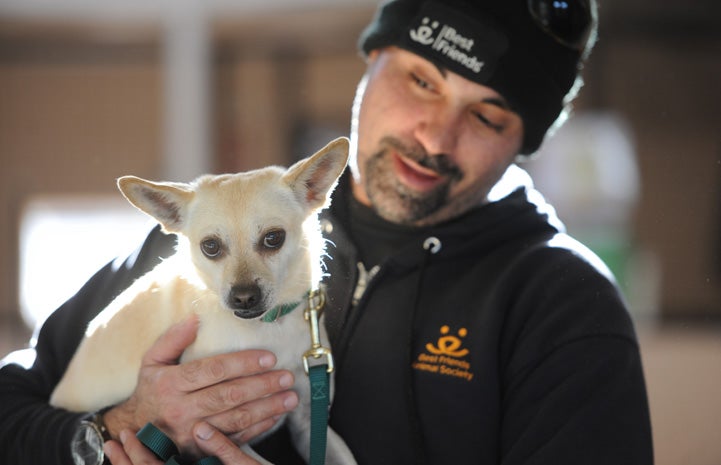 Traumatized Chihuahua and toy fox terrier mix from a hoarding situation where a fire broke out slowly learns to trust again.
By Christelle L. Del Prete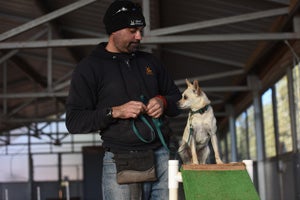 Jazz may be the name of the smallest character in the Transformers movies and television series, but he's a force to be reckoned with when he takes on his foes. And while Best Friends' own Jazz is shy little dog and not a film or television character, she's making an amazing transformation of her own.
Dog hoarding situation and fire
When the little Chihuahua and toy fox terrier mix was brought to the Sanctuary nearly a year ago, she wasn't just apprehensive: She was fearful of everyone and everything. Jazz had been living at a place with far too many dogs, and things went from troubled to worse when disaster struck. A terrible fire broke out and spread quickly through the dogs' living space. While Jazz was one of the lucky ones who made it out alive, the fire changed everything for her. Suddenly, the world was a terrifying place and she no longer felt safe anywhere.
While many of the surviving dogs went to local rescue groups, Jazz and three of her friends came to the Sanctuary. They needed lots of therapy and TLC to recover from their nightmare, and, as it turned out, Jazz needed the most help of all. Though her three friends quickly came out of their shells and found homes, poor Jazz, still shaken from her ordeal, struggled to keep fear in check, even while doing everyday things.
Rebuilding and restoring a small dog's faith
Seeing large groups of people would send Jazz into a panic, and she would shy away from anyone who tried to befriend her by wedging her tiny body into a corner of her room and cowering whenever anyone came in to visit. She was losing the battle against her fears because she didn't know how to fight them.
But with help from Dogtown caregivers and volunteers, Jazz would learn not only how to fight her fears, but also how to triumph over them. To rebuild her shattered self-confidence and help restore her trust in people, she learned basic cues like "sit," "down," "go to your place" and "wait." She also realized she could earn a yummy treat whenever she moved close enough to touch someone's hand with her nervous little nose.
Chihuahua mix loving agility course
Next, Jazz stepped a little further out of her comfort zone by attending classes for shy dogs in Dogtown and visiting busy places around the Sanctuary like Dogtown Headquarters, where there are always lots of visitors and volunteers. But if there's one place in particular where Jazz discovered she can throw caution to the wind, it's on the agility course in Dogtown.
There, the little blond dog becomes more confident with each step she takes. Learning to run up ramps and sail over small jumps showed Jazz that she can do some pretty cool things when she's not too scared to try them. And even though small, tight spaces used to frighten her, she's even getting brave enough to run through tunnels, accepting the challenge instead of shying away.
Vanquishing fear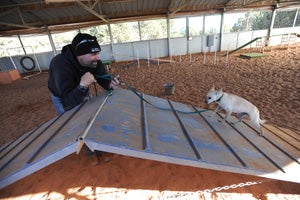 Her success on the agility course has helped Jazz loosen up in a way that will make a big difference in her future happiness. She's also finally feeling better around people. She'll now take treats from people's hands and, if they have enough time and are patient with her, she'll form bonds with new people within days. She even steps outside in Dogtown to greet small tour groups, and she's working her way up to meeting larger groups, too.
Slowly but surely, Jazz is vanquishing fear (her biggest foe) and turning into a friendly dog who knows she's strong enough to handle whatever situation she finds herself in. So, while she may not be an action-adventure hero like Jazz the Transformer, she's morphed into a little warrior with a lot of heart.
Jazz has much to be thankful for this holiday season. Learn how you can help homeless animals:
Photos by Molly Wald