Shy Doberman overcomes her fears to become the best snuggle buddy
Image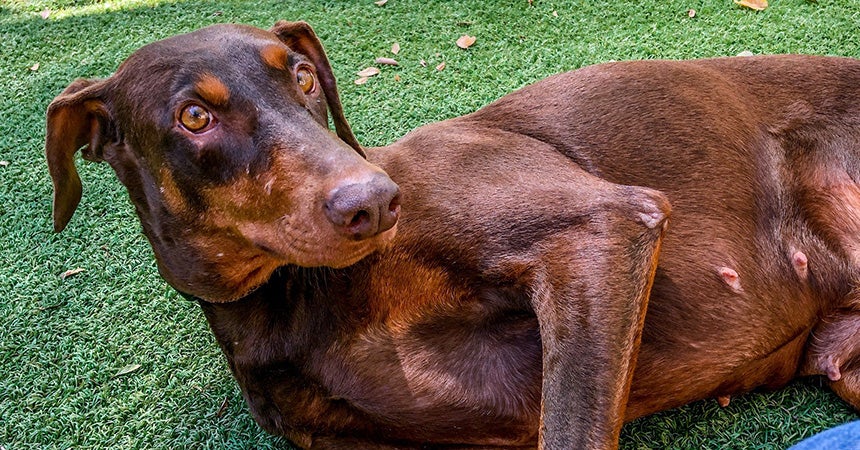 Timid Doberman pinscher receives help overcoming her fears, and extra precautions are taken for her spay surgery since she has Von Willebrand disease.
By Nicole Hamilton
Lisa and Mike Kocicka were heartbroken when their beloved dog of 14 years passed away. After taking some time to grieve, they decided to visit the Best Friends Lifesaving Center in Los Angeles along with their daughter, Molly, to see if there was a dog they might like to adopt.
You could say what happened next was a case of love at first sight. The Kocickas had just arrived when a volunteer walked by with a young Doberman pinscher named Hannah, who made them do a double take. Lisa thought Hannah looked so regal when she walked and noticed that her rich chestnut fur was so beautiful. And she loved the endearing way one of her ears flopped as she put one foot in front of the other.
They followed her back to her kennel and as soon as they met her it was clear that she was very shy. But Hannah's shyness didn't bother them. They wanted to help the sweet, shy dog by giving her a new home — with them.
To help a dog face her fears, give her time
When Hannah first came to Best Friends from Los Angeles Animal Services, she was so timid that the dog behavior staff felt it was better for her to stay in a quiet area where she wouldn't be so overwhelmed.
"We like to give dogs like Hannah time to decompress and settle in," says Janelle Metiva, a dog behavior specialist at the center working closely with Hannah. "It's important not to push dogs too hard or too fast. Forcing them to interact or 'face their fears' can make things worse."
Hannah, Janelle soon learned, was more afraid of her new environment than she was of people. Unexpected sound or fast movement easily startled her, but whenever Janelle arrived at her kennel with a leash in her hand, Hannah would stand up, ready for a walk and to let Janelle slip the leash over her head.
The key to helping Hannah, says Janelle, was to take her out into the play yards, where she'd lean against everyone to be petted. And when it was time to go back to her kennel, Hannah would jump up gently and give hugs. "We all melted," says Janelle.
Von Willebrand disease in Dobermans
Once the family decided to adopt Hannah, there was just one more thing to take care of. She hadn't yet been spayed and the surgery was potentially risky. Because Hannah is a purebred Doberman, veterinarians at the center wanted to do a test to find out if she's a carrier for Von Willebrand disease (VWD), a blood disorder common to the breed. Dogs with VWD are susceptible to bruising and prolonged bleeding after surgery or trauma.
When Hannah's tests confirmed that she indeed is a carrier of VWD, the veterinary team took preparations to keep Hannah safe during and after surgery. That meant ordering plasma in case complications occurred during surgery, as well as keeping Hannah at the clinic longer than usual post-surgery to make sure she was OK.
On Hannah's surgery day, her new family waited eagerly for news and to everyone's relief, she came through just fine. Following the surgery, some observation and a little R & R, she was ready to start her new life.
When it's just meant to be
When Hannah was ready to go home, Lisa made plans to keep a close eye on her while also giving her plenty of space for times when she might feel a little shy. It wasn't long before the sweet, shy Doberman began to relax.
Now Hannah is known as an epic cuddler and lover. But to keep things balanced, she likes to be a bit silly every now and then. "She's got a quirky personality and is so funny. She makes us happy every day," says Lisa, who had tags made for Hannah that indicate she's a carrier for VWD. The tags are for Hannah's safety, in case she gets lost or is injured (which seems pretty unlikely considering that she never wants to leave Lisa's side — or Molly and Mike for the matter). On most days, you can find her playing with her family in a large grassy area across the street from their house or on walks around the neighborhood.
"Everything happens for a reason," says Lisa, who believes she was meant to visit the center on the day she met Hannah. "She needed us." Every day, Lisa thinks back to the first time she saw Hannah and how she knew in that moment that she was the family's new dog. "She still has that stealth little walk and she's still shy," says Lisa. "But she has such a beautiful soul."
Photos courtesy of Todd Roisman