Skoolie cat: Monroe lives large in family's converted school bus
Image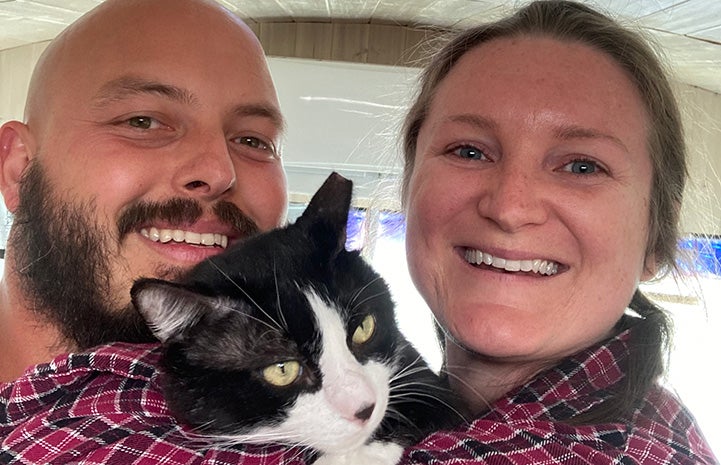 Rescued during Houston's winter ice storms, Monroe has gone from a life on the streets to a life on four wheels.
By Sarah Thornton
From a life on the streets to one on four wheels, Monroe's finally getting to enjoy all the coziest parts of being a beloved furry family member. He might never have gone to school (at least as far as we know), but this tuxedo cat is making himself right at home in a converted school bus.
Originally from Houston, Monroe was brought into a shelter during the winter ice storms that left many southern states without power. Rescue teams were out in force saving animals in distress, and with shelters filling up quickly as they tried to save as many lives as possible, organizations from across the country stepped in to help. That's how Monroe found his way to Best Friends Animal Sanctuary and, eventually, into the lives of Audrey and Paul Chernoch.
Laid-back cat leaves an impression
Looking to adopt a cat, Audrey and Paul visited the Sanctuary and signed up for a tour around Cat World to meet potential new family members. As they were shown around and introduced to feline friends of all sorts, they kept a list of those they needed to come back and meet properly. But there was one cat who stood out.
Audrey remembers the first time she saw Monroe. "One of the (caregivers), when she heard that we were adopting, said, 'You've got to see this one cat.' She was holding him like a baby when she brought him to the catio. He was super laid-back."
[Timid tuxedo cat finally opens up]
It was Monroe's relaxed and confident personality that stuck with them, even as they finished their tour and got ready to meet the cats on their list. Audrey says it was hard to describe, but as they spent hours going back through, none of the other cats felt right.
After taking their lunch to think it over, they made the decision based on what they were feeling: Monroe was the one for them. Now all that was left was to introduce Monroe to his unique new digs — the school bus that Audrey and Paul had spent almost two years converting into a home.
"The cool thing about tiny homes," Audrey says, "is you can make it what you want it to be." And what they wanted it to be was a comfortable home where they could go off-grid or be in town — with a feline friend to join them, of course.
Cat joins family in skoolie
"He's been great," Audrey says. "He's so funny. It's kind of neat to have seen his little personality evolve. When we first got him back, it was sort of like 'what's he going to think of the bus?' It's a small space, so he was able to check it all out quickly and get familiar with it."
From the get-go, says Audrey, he was sleeping in bed with his new family. He had a shelf to go to when he needed alone time, but soon he was stretching out and rolling belly-up while napping, completely relaxed. Even the thing that spooked him the most when he first arrived — the bus doors — quickly became one of his favorite viewing spots.
[Adventure cat discovers the world on hiking trails]
"Now that he's comfortable here, after he eats he gets in this feisty mood," says Audrey with a laugh. "He'll want to play so he'll run to the front, and then he'll run to the back. Our bed is at the very back, and it's kind of high because our water tank is under there, and he'll just launch himself up this wall on top of the bed. We call it his ninja wall, like on American Ninja Warrior."
Because Paul is currently in school, they've had the bus parked, giving Monroe plenty of time to get used to his new home without having it move around underneath him. When it was finally time for a trip, they started up the engine ahead of time and allowed him to acclimate to the noise before setting off on their drive.
Monroe wasn't the biggest fan of the vehicle when it was on the move. "A couple of times when we were driving, he would sit under a blanket with me," says Audrey. "But once the bus stopped and we turned it off, he did fine. He would get out and eat and sit at the top of the stairs looking out the door."
It was certainly a new experience for Monroe, but with his relaxed personality and his people nearby for comfort, he's sure to get the hang of it and be an old pro in no time.
Aside from his unique new home, though, Monroe is a typical happy housecat. His favorite toys are the ones no one bought. A zip tie or a string tied to a stick keeps him entertained for hours rocketing through the bus on his furry little paws and giving Audrey and Paul endless smiles. And he's a wonderful conversationalist, too, says Audrey.
[Spend a day with Catlin the kitten vlogger]
Audrey says she often finds herself wondering what Monroe thinks of his new life and home, and if he dreams about his time wandering the streets of Houston. But beyond his time spent gazing sleepily out of the bus door's windows, he seems quite content in his cozy new home with his new family.
He may have been on the streets before, but now he can take his time getting used to a life occasionally on the road.
Bring a pet home
You can make any house a home by adopting a pet near you.
Read more:
Fluffy cat Fern adjusts to life in the great indoors
Cat's beauty and love of life completely outshine her skin condition
Heart surgery saves a kitten's life
Photos courtesy of Audrey Chernoch