Solving a kitten's mystery illness
Raisin had trouble keeping food down, but once vets figured out that he had megaesophagus, some medicine and mealtime adjustments saved his life.
By Sarah Thornton
"Play hard, sleep hard, love hard — and eat carefully" could be Raisin's motto. He's always up to some sort of kitten shenanigans, whether it's dashing through the room as fast as he can or testing just how high he can jump. He knows the best places to hide and is figuring out which of his adult feline roommates will tolerate his play. And once he's exhausted from a hard day of kitten adventures, good luck trying to rouse him from his deep, deep slumber.
When he was even smaller than he is now, though, Raisin was often sick and couldn't keep food down. It took veterinary sleuthing and special feeding to help him thrive and grow into the adventurer he is today.
Figuring out a kitten's mystery illness
When the Harnichers discovered three orphaned kittens under their deck, they were surprised yet enamored with the little black-and-white fuzz balls. Not sure what to do, they called Best Friends for help, and soon they were set up with all the information and tools they needed to foster the unexpected trio.
While caring for the kittens, the family soon noticed that Raisin wasn't feeling well. He was the slowest eater among his siblings, and not too long after finishing a meal, he would throw up. It wasn't just once or twice, either: It was a regular occurrence.
[Kitten survives a mystery illness and overcomes her fears to get adopted]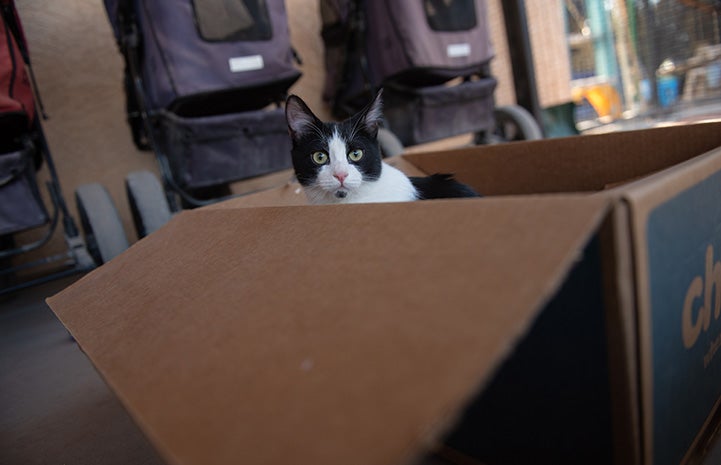 Out of concern that he might have eaten something inappropriate that was lodged and causing the vomiting, Raisin went back to the clinic for another look. After another round of tests and an ultrasound, vets discovered the cause: megaesophagus. His esophagus is dilated and can't contract, making it difficult to keep food down without some extra care around feeding time.
When Raisin returned to his foster home, the Harnichers were able to make adjustments to his mealtime routine. He switched to a liquid diet (kibble could get stuck easily), and they started making sure he was completely upright when eating by holding a plate for him or syringe-feeding him while he held himself up with his front paws on their hands.
The new feeding arrangement and some new medicine did the trick. Raisin was keeping food down and gaining weight again.
[Four kittens survive a severe, contagious illness, thanks to incredible first-time foster mom]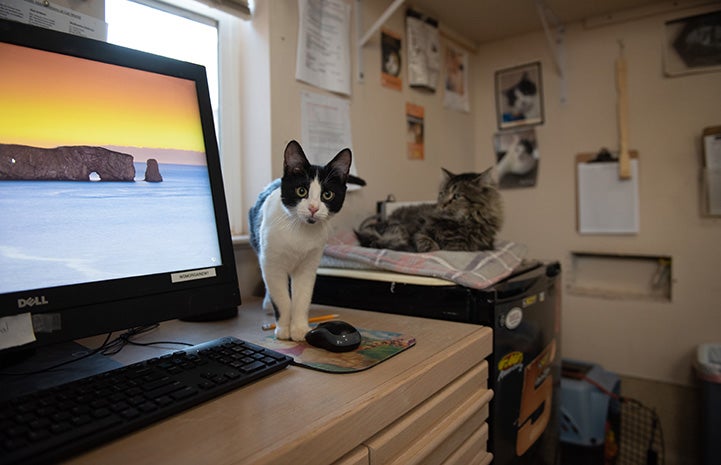 So that he would have ready access to veterinary staff at Best Friends Animal Sanctuary, Raisin was moved to nearby Kanab, Utah, to the residence of Best Friends co-founders Steven and Mariko Hirano. Steven built him a special feeding station to hold his bowls up at just the right height and angle so he can eat more easily. Raisin thrived with this new arrangement and he soon gained enough weight and was old enough to be neutered. He eventually moved to Cat World at the Sanctuary and, of course, brought plenty of energy with him to his latest home-between-homes.
Kitten shenanigans at the Sanctuary
The youngest among his roommates at Cat World, Raisin keeps everyone on their toes. Caregiver Joni Parker says he hasn't quite decided whether he's scared of the older cats or wants to play with them. So, he runs around with his tail fluffed and bops each of them on the nose before scurrying off again. The adult cats, for their part, mostly let him do what he wants. "He's quite a character," Joni says. "He upped the energy a lot."
When he moved away from Steven and Mariko, his two favorite toys went with him. And Raisin still spends a good amount of time wrestling with his floppy fish and mermaid bear and carries them around once he's sure he's defeated them (again).
Raisin has also taken on a role as supervisor by checking in on caregivers and volunteers, plus making sure all the beds are properly fluffed. Joni says he's willing to "help" with anything ― the laundry, sorting the meds or even some computer work if he spots an unattended keyboard. This often results in renamed documents and extra added flourishes. And when deer and turkeys wander up to the catio, Raisin supervises them, too ― quietly, from under a chair.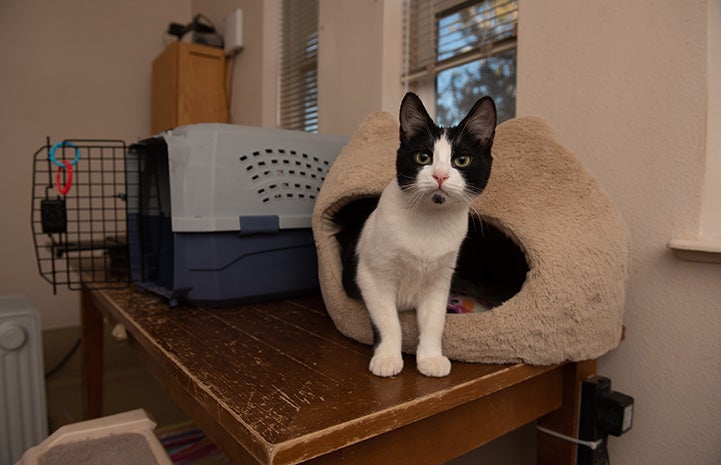 [Treatment gives cat the kittenhood she nearly missed]
Since arriving, he's keeping his food down well with few incidents. He'll probably always need medicine, but he enjoys the taste, so it's easy to give him.
Before anything else, Raisin is an energetic little kitten who wants to play and spend time with his favorite people. He's ready for the next step in his adventure: a family of his own.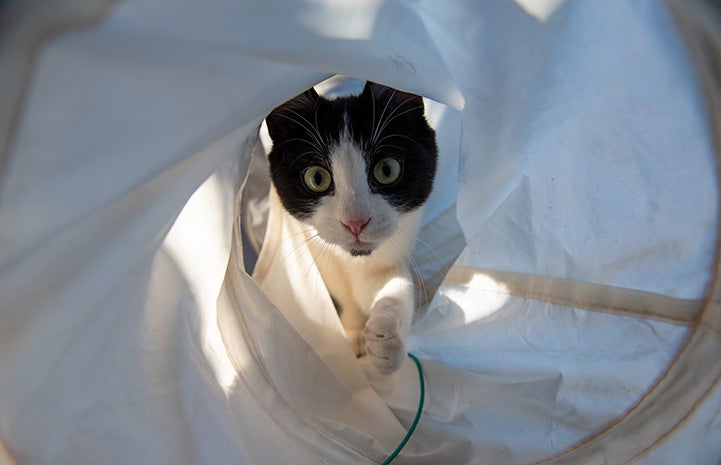 Want to be a foster parent?
When you foster a pet like Raisin, you are helping in more ways than you might imagine. And you get to hang out with a super cute pet.
Read more:
Momma cat and kittens go from cardboard box to homes
Survivor cat Poppy has a knack for helping foster other cats
Florida shelter takes a leap of faith, finds jobs for cats in need
Photos by Molly Wald