Special-needs cats get adopted
Thanking their lucky stars, two special pets find the perfect home.
By  Christelle L. Del Prete
It is always a cause for celebration when a shelter pet or a Sanctuary animal finds a forever home. It is even more significant when that animal has special needs. And finding a home for two special-needs pets - well, that takes things to a whole new level. Alan and Stardust, two very special cats adopted in October during Best Friends' Adopt a Travel Buddy promotion (where featured animals had adoption fees waived), couldn't be more thankful for their new forever home. And their adopter couldn't be more thankful to have them in her life.
Alan and Stardust shared more than friendship and a room in Cat World Headquarters. They also share an incurable medical condition called megacolon. The condition makes it difficult for them to eliminate, or to make it to the litter box in time when they do. Cats with megacolon require close monitoring and medications. A few of them, like Alan, require daily fluid administration to keep things flowing smoothly.
A caring soul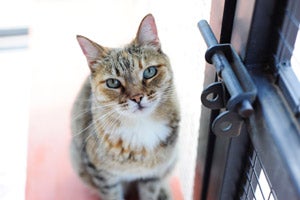 But this was no problem for Rosemary Tikusis-Sharp of the Chicago area. For the past 15 years, Rosemary has volunteered for an organization called Community Animal Rescue Effort (CARE) that works with her local municipal shelter. That was how she met her cat Hercules. He was one of three brothers she fostered in 2001 as young kittens. Because Hercules had megacolon, he required extra care and had trouble finding a home. A caring soul, Rosemary decided to keep him herself. And she became an expert on his condition.
Because of Rosemary's loving care, Hercules lived for 10 years - longer than anyone had predicted. When she saw that Alan and Stardust were available for adoption, she felt she could apply her experience and help them to get the best from their lives. So Alan and Stardust went home in early October.
Continuing traditions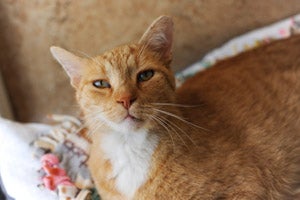 Since then, they have settled in well with Rosemary's other cats. In addition to their basic daily care, the two - now renamed Marlon and Stella - will get exercise too. Rosemary is a walker, and both cats are harness- and leash-trained. In fact, Marlon was a legendary walker when he lived at the Sanctuary. He used to "trick or treat" at various buildings in Cat World, and, if the door wasn't opened right away, he would sit on the doorstep until someone realized he was there and decided to give him a treat. He may have enjoyed the treats the most, but the exercise really helps with his condition. And now he'll be able to continue his walking tradition in his new home, with his best feline friend.
Alan/Marlon and Stardust/Stella may be thanking their lucky stars that Rosemary welcomed them into her heart and home. But Rosemary is every bit as happy to have found them. "I feel privileged to be able to love and care for these cats and give them a forever home," she says.
Looking to bring home your own feline friend? Check out all of our adoptable cats.
Looking for ways to give this holiday season? Volunteer or donate.
Photos by Molly Wald