Special-needs incontinent puppy perfect fit for new family
Image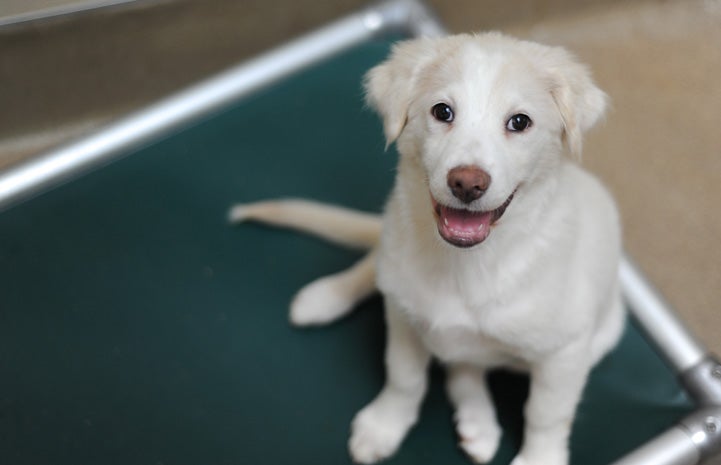 Though border collie mix puppy has incontinence problem, the youngster is irresistible and lands her perfect home for the holidays.
By Christelle L. Del Prete
Few things top the fun and excitement of bringing a new puppy home for the holidays — or at any other time of year. Puppy breath, heart-melting eyes, playful curiosity, sweet "snugglyness" and all-around "awwwness" are just some of the traits that make young pups so irresistible.
Of course, there are things about raising a puppy that we love a little less, such as damaged furniture, chewed shoes and months of diligent potty training. For most puppies, this normal phase ends quickly as they adapt to life in a loving home and respond to consistent training. But Keel isn't a normal puppy. The sweet little border collie mix was only a few weeks old when she was brought to Best Friends, and as she grew, the odds seemed to be stacked against her.
Help for incontinent puppy
No matter how hard she tried, Keel struggled with potty training. It wasn't that she didn't understand what she was being asked to do. Incredibly smart and tuned into people, Keel picks up new training cues quickly and easily. At six months old, she's already mastering sit, down, stay, come, shake, high five, leave it and off. But potty training isn't something she can learn. Keel physically can't "hold it" because she's incontinent.
Keel's accidents aren't her fault, but because her condition can't be cured with surgery, it's likely she'll continue to have them well past the potty training phase. Although Keel is responding well to medication that helps her control her bladder, she may never be completely house-trained in the same way as continent adult dogs. And for many people looking to bring home a new puppy, that's a deal breaker.
Puppy's incontinence doesn't bother adopters
In spite of her luxurious white-and-gold fur, big winning smile and easygoing personality, Keel could easily have been overlooked in a shelter. But at Best Friends, no one was about to let a little incontinence stand between Keel and the one thing every pup wants and deserves — a home of her own. The special-needs puppy just needed to find people who would love her exactly the way she is.
Little did Keel know, the stars were about to align. Katianne Solin happened to be browsing the Best Friends website, looking for the right puppy. Keel "stood out in a big way," says Katianne. "It's as if she was my meant-to-be pet that fit perfectly into my heart. Her incontinence didn't change my mind and didn't bother my loved ones who would help me care for her."
The happy border collie mix puppy
Soon, Keel was on her way to Spokane, Washington, where she fit right in with Katianne and her family. There was only one tiny change that had to be made. Keel's name became Kena, a shortened version of KaKena, which means "the happy one" in Swahili. "I decided this would be a perfect name for her," explains Katianne, who has spent time volunteering in the African nation of Kenya.
Kena is certainly one happy dog — now that she's become Katianne's "favorite soul in the whole world." Katianne says, "Kena is a sweet, smart, cuddly puppy with a funny personality and a gentle, curious nature. She is a healthy, happy girl who is gentle with the kitties, playful with the dogs and snuggly with people."
Home for the holidays
Kena found the perfect home just in time for the holidays. Because her family was able to look past her medical issues, they've found a dog who's perfect for them and still has all the qualities that make puppies irresistible — and more.
Help more puppies like Kena get adopted. Here's how:
Looking for a holiday gift that gives back? The Best Friends Catalog of Kindness is the perfect place to find a truly meaningful gift for those who are most special to you.
Learn all about Dogtown at Best Friends, where dogs rule.
Photos by Molly Wald, Kurt Budde and Katianne Solin