Stories from first-time pet foster volunteers
Is cuddling the key to quarantine? Three people fostering pets for the first time learn that even in times of isolation, little heartbeats at night help us feel less alone.
By Celia Soudry
In the middle of a mass quarantine, thousands of people from around the country have stepped up to foster homeless pets. While it's a no-brainer these days for people with a lot of foster experience to say yes to a pet in need, many others are giving it a try for the first time.
Here's a peek into the homes of three first-time foster families and their surprises, lessons learned and unexpected joys of welcoming a furry, temporary guest (or two) to stay with them.
Cosmo the cat, aka the 'piece of fluffy moving furniture'
Emily took in a foster kitty named Cosmo from the Best Friends Lifesaving Center in New York City. "I've never had a cat before, so it's been really enjoyable to see how social and friendly they can be," Emily says.
Once he settled into his new surroundings, Cosmo's true personality began to shine. In addition to having his belly rubbed, he enjoys chasing feathers on sticks. Emily and her partner like to joke that Cosmo is mostly like a sleepy piece of fluffy, moving furniture. In between sleeping and sleeping, he loves to cuddle on the couch, get scratched and explore the apartment.
Spending weeks on end with Cosmo has been nothing but a joyful experience. "He warmed up to us and the apartment immediately and became a part of the family, for now," says Emily, who has a piece of advice for first-time fosters: Trust your instincts and welcome friendly energy into your home. It's a good, easy distraction.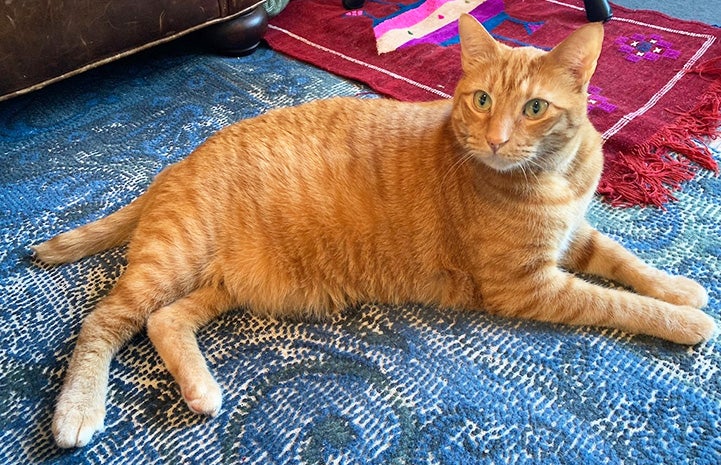 No longer alone, this Salt Lake City man finds a snuggly bedtime buddy
When he first heard about the need for foster homes, Andrew Besner knew he wanted to help. He had experience with border collies and English springer spaniels, and was hoping to find a medium-sized, working breed type of dog to train. After seeing pictures of Kennedy, a black Lab-mix on the Best Friends Lifesaving Center in Salt Lake City website, he took a chance.
Recently relocated to Salt Lake City from Europe while serving in the military, Andrew loves having Kennedy as his new companion ― especially during the COVID-19 isolation. "When I saw the call seeking fosters, it was a perfect opportunity to help save a dog, practice my dog training and get that companionship all at once."
Since Kennedy moved in, Andrew reports that his foster dog is friendly and happy to meet every person and dog ― from six feet away. He loves to chase birds and squirrels. And if Kennedy had a Tinder account, the headline would read: "Loves long walks, lying in bed, playing and wrestling."
In a short period of time, Andrew and Kennedy have built trust. Kennedy knows how to sit, shake and come. He goes potty outside, and he doesn't pull on the leash. Though they are still working on "stay" and "lie down," they are making great progress with treats and clicker training.
Andrew and Kennedy find the greatest joy after long walks at night followed by cuddle time in bed. Kennedy will say goodnight, stay by him for a few minutes and then move to the foot of the bed to sleep. "It's a perfect way to end the day," says Andrew.
Andrew's advice to others considering fostering for the first time: Don't be afraid to pick an easy dog the first time because they need help, too. Choosing a dog you can manage could make it a better experience for you and the dog.
Andrew wasn't expecting to get attached to a new dog so quickly. Though he can definitely picture life long-term with Kennedy, now is not the right time for him to adopt. Returning him will be bittersweet.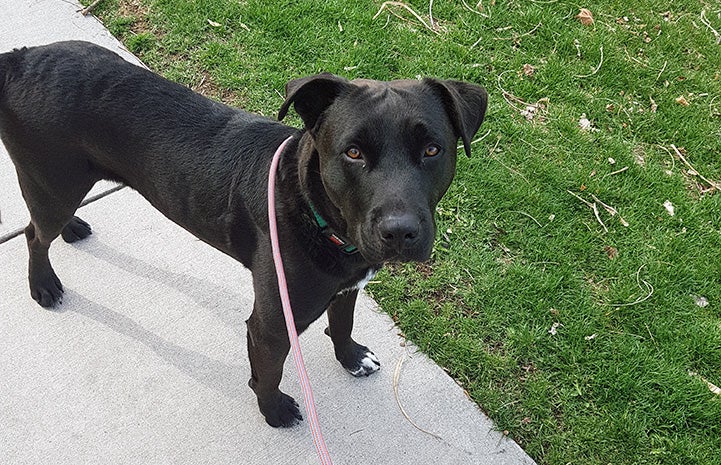 Caring for foster kittens
Anne-Solene Bregou agreed to foster Fate and Cypress, four-month-old kittens from the Best Friends Lifesaving Center in Salt Lake City. "Having them at my house has been amazing," she says. It was less work than she expected, because the team at the center prepared her by supplying everything, including cat food and litter.
Anne-Solene has learned that it's incredibly rewarding to take care of cats and prepare them for a permanent family. She was struck by her strong, unexpected instinct to care for a shy and sick kitten. Fate needs treatment for her eyes and respiratory infections. "I got attached very quickly, knowing that she's a bit more fragile than Cypress," Anne-Solene says.
She has enjoyed getting to know the kittens' different personalities and adding her own personal touch to make them comfortable. She picked up a little cozy kitty house for her charges as soon as she decided to foster.
Anne-Solene is grateful for her quarantine buddies, especially because they don't need to go outdoors. "Having foster pets made me see the bright side of staying in and taking care of myself while taking care of animals."
Even in times of isolation, it's the little heartbeats next to us at night that help us feel less alone.
Ways you can help during the COVID-19 pandemic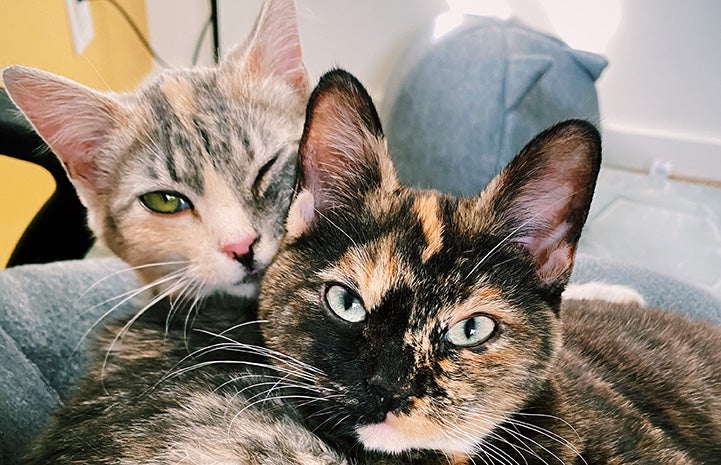 Photos courtesy of Emily, Anne-Solene Bergou and Andrew Besner