Streetwise cat adapts to a life of snuggles
Tough-looking cat named Marshmallow with FIV, kidney disease and an epic snaggletooth finds a loving home.
By Lindsay Hutton
Editor's note: We know the world is a scary place right now. If you're looking for information on pets and coronavirus, you can find that here. If you're looking for a break from serious news, we hope this pre-COVID-19 adoption story brightens your day!
Like a well-kept mustache or a goatee, the lone, ivory snaggletooth on the left side of the cat's mouth is a distinguishing feature. It both draws attention and casts other aspects of his features into relief: his handsome expression, the golden green eyes (serious but soft), and his dark, lush coat streaked with cinnamon except where a tiny spray of white-as-sugar fur sprouts on his chest.
When he first came to Best Friends in Los Angeles from Los Angeles Animal Services, caregivers gave him a new name: Marshmallow. Strangely, this was the "imperfectly perfect" name for him, according to Meredith Hazan, cat program coordinator.
At first blush, the word for a fluffy, light, sugary confection just doesn't seem to fit the cat that Meredith starkly describes as an Al Pacino-type character — a "serious, in-your-face big personality with a lot of presence and authority to him." But like all great characters, Marshmallow is also full of dimension.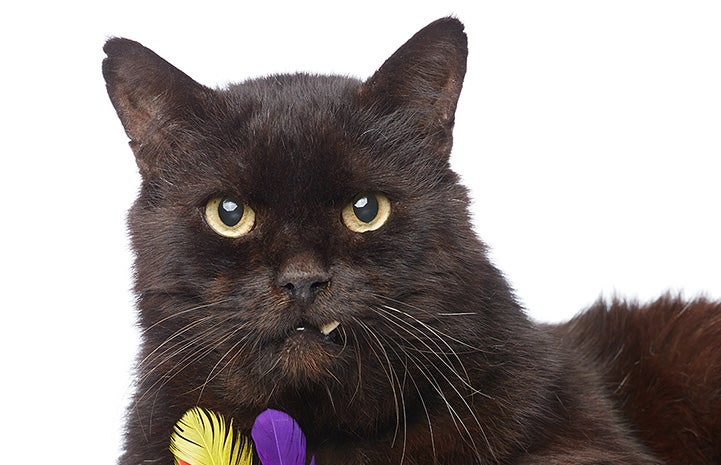 Snaggletoothed, serious, and sweet
The next order of business for Marshmallow was a medical workup, because the 11-year-old kitty appeared to need some extra care. He has feline immunodeficiency virus (FIV), early signs of kidney disease and a chronic upper respiratory issue that Meredith says always makes it seem like he has a cold.
At the Best Friends Animal Clinic, Marshmallow received supportive care, follow-up bloodwork and a badly needed full dental checkup. Six of his teeth were removed, leaving him with one prominent (snaggle) canine tooth. Meredith says she's glad the medical team saved his snaggletooth. "It didn't cause him any pain and it's just too cute," she says. By that time, Marshmallow (who Meredith calls Marshy) was already a staff and volunteer favorite.
To manage his kidney disease, Marshmallow was placed on a special diet. And because he was both treat-motivated and a charmer, it was a challenge to make sure that he ate only what he was supposed to.
Meredith says Marshmallow followed people around and fixed his serious stare on them, always waiting and persistent. "He'd be your little shadow," she says. "He was one of those big tom cats who was kind of a mess. He always had a runny nose. And everyone loved him so much."
He was fond of people, too, though he had his boundaries. According to Kylie Rose Melville, a lead adoption specialist, Marshmallow would occasionally become overstimulated and either retreat or send out a warning tap with his paw. He was never mean, but sometimes he just wanted more space. Overall, he was a people-oriented cat at heart. The longer he stayed at the lifesaving center, the more he grew into his new name. Serious and sweet and a big floof, he was an 11-pound sweetheart with a cute bad boy look and a penchant for treats.
Marshmallow went to a few different foster homes, which improved his respiratory condition, but no one stepped forward to adopt him permanently. Eleven months went by. What he needed, Kylie thought, were people who would understand his personality and medical conditions, who would understand cats and cat body language, and who would look at that face and fall in love.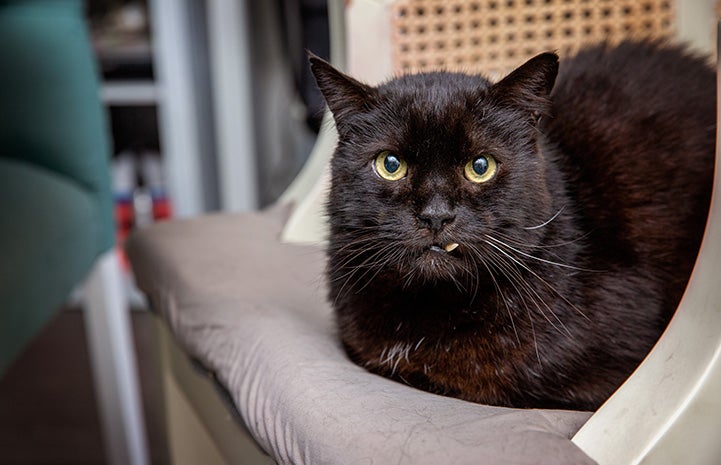 Adopting the cat most in need
Those people turned out to be Irati Santiago and her husband, a couple from the Basque region of Spain. Irati grew up with cats and had been looking for the right time to adopt. After she and her husband moved to L.A., she decided it was time. Since she had previously accompanied friends to the NKLA Pet Adoption Center looking for dogs to adopt, that's where she went in search of a cat.
Right from the start, the couple planned to adopt an older cat, with the goal of providing a home for a cat with a lesser chance of being adopted. With his snaggletooth and chronic runny nose, Marshmallow had been waiting a long time for a new home. "I knew it would be difficult for him to be adopted," Irati says.
During a visit, they found Marshmallow extremely affectionate — more than they expected. Plus, they learned that for one year Best Friends would cover the costs of his special kidney food. When they told the adoption team they wanted to adopt him, cheers went up. Marshmallow (Marshy) was finally going home.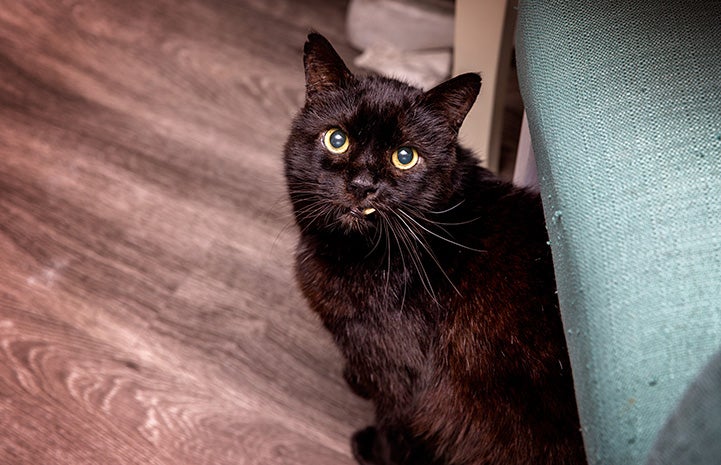 Marshmallow gets a new name
Adoption felt like a small miracle for the staff and volunteers who had loved and hoped for their sweet Marshmallow for so long to find a home. Maybe it was because Irati and her husband were just his people: a woman who grew up with cats as part of her family in Spain and couldn't live without one, and a man who had never lived with a cat but fell for Marshmallow. They recognized him for the character he was — a character who would live with them and share their lives. Since the adoption, every email the Santiagos send to the Best Friends team about Marshmallow is about how much they love him.
In Basque, the word for marshmallow is "mokordi," which has become his new name. Although the meaning is the same, the sound is less floofy, more serious. From his first day in their home, Mokordi laid claim to his space and his people. As he rubbed himself against Irati, her husband, their bed and the rest of the apartment, he seemed to be saying: "This is my house. This is my property."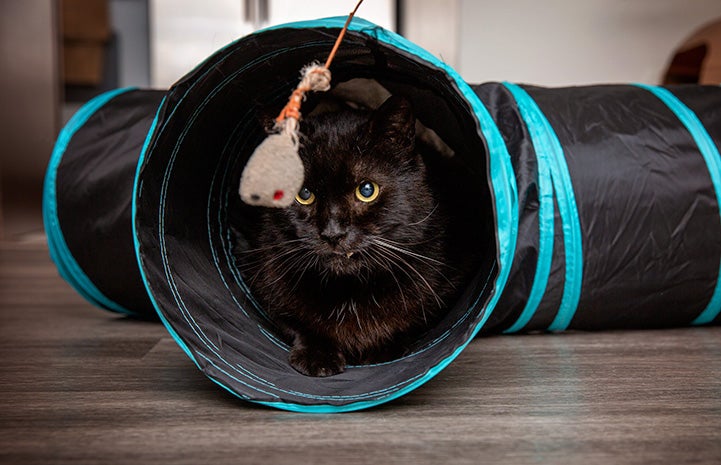 Spoiling a new cat
Irati says Mokordi was "instantly an alpha macho," but she also notes that his ongoing authoritative demeanor is endearing. "We spoil him so much," she says. For example, Mokordi has three water fountains because he needs to drink a lot due to his kidney condition. One is an elevated bowl (so that he won't have to bend his neck too far down to eat), and there is a cat staircase to help him step up to a faucet where he likes to get a drink when Irati is brushing her teeth.
While Irati expected Mokordi to be on the lazy side, she says he is very active, especially when the couple comes home from work. He has multiple fabric tube toys and toy mice. For those times when they are away and he is sleeping (confirmed by the camera installed so they can check on him), he has a cat bed; however, he doesn't use it because he favors their larger human bed.
For relaxing outdoors, Mokordi strolls out onto a balcony, enclosed with safety netting to keep him safe, and enjoys the California sunshine and fresh air.
The Santiagos learn more about his personality and character each day. And they just love that face.
Join Best Friends and save more pets like Marshmallow
Best Friends in Los Angeles works collaboratively with animal rescue groups, city shelters and passionate individuals, all dedicated to the mission of making Los Angeles a no-kill city. As part of this mission, Best Friends hosts adoption and fundraising events, manages two pet adoption centers, and leads the No-Kill Los Angeles (NKLA) initiative. Together, we will Save Them All.
Photos by Lori Fusaro