Summer recipes with Rescue Dog Wine pairings
Inspiration to eat, drink and be merry this Fourth of July with three vegan recipes and wine pairings from Rescue Dog Wines
By Best Friends staff
There's nothing like a summer celebration centered around food and wine, especially when the food is vegan and a portion of the wine purchase goes to the animals at Best Friends. Here's inspiration for a plant-based feast with recipes from Nichole Dandrea of Purely Planted, and wine pairings from Rescue Dog Wines.
Be sure to take advantage of a discount code that will also help the animals at Best Friends. Just go to the Rescue Dog Wines website and use the discount code BESTFRIENDS2020. You'll not only unlock a 10% discount on purchases, but you'll also trigger a 10% donation from Rescue Dog Wines to Best Friends.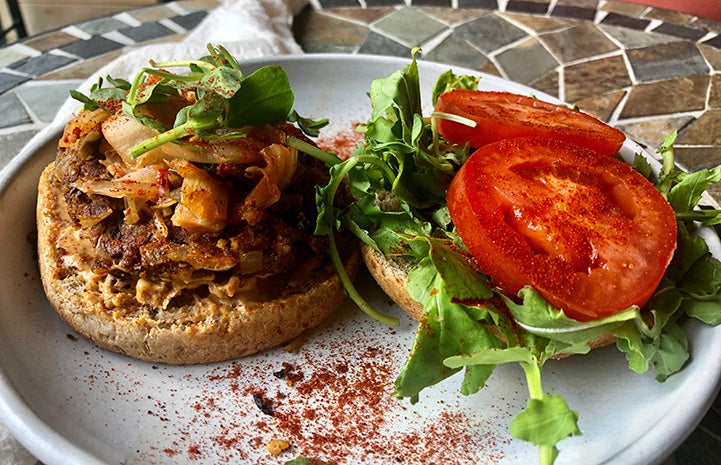 Better than your frozen black bean burgers
Wine pairing: Beloved Mixed Red Wine Blend
Ingredients (serves 6-8)
1 cup cooked short-grain brown rice* (follow package instructions)
1 cup raw walnuts
1 tablespoon avocado oil, plus more for cooking (alternatively you can use veggie broth or water)
1 medium yellow onion, diced
1 tablespoon chili powder
1 tablespoon cumin powder
2 teaspoon smoked paprika
1 teaspoon garlic
1 teaspoon turmeric
1/2 teaspoon sea salt
1/4 teaspoon black pepper
1 BPA-free 15-ounce can black beans, drained
1/3 cup almond or oat flour
*Short grain brown rice works better than long grain in helping the burgers form patties. If you find they aren't sticking together, fold 1 flax egg into step 7. (1 flax egg = 1 tablespoon flax meal + 3 tablespoons water) Let sit for 5 minutes before adding to step 7 below. I've also used millet and farro in place of brown rice and they both work well.
Preparation
Cook brown rice as instructed on the package and set aside. Time saver: Have rice ready to go ahead of time.
Heat a small skillet over medium heat.
Once hot, add raw walnuts and toast for 5-7 minutes, stirring frequently, until fragrant and golden brown. (Keep an eye on them to prevent burning. You just want them toasted.) Set aside and allow to cool.
In the meantime, heat another small to medium skillet over medium heat. Once hot, add 1/2 tablespoon oil (or veggie broth) and onion. Season with a bit of salt and pepper and sauté for 3-4 minutes or until onion is fragrant, soft and translucent. Remove from heat and set aside.
Once walnuts are cooled, add to blender or food processor with chili powder, cumin, smoked paprika, turmeric, salt and pepper and blend to a fine meal. Set aside.
Add drained black beans to a large mixing bowl and mash well with a fork or potato masher, leaving only a few whole beans.
Next add cooked rice, spiced walnut mixture, sautéed onion, flour and mix thoroughly with a wooden spoon for 1-2 minutes, or until a moldable dough forms. Taste and adjust seasonings as needed.
Form 6-8 burger patties (depending on preferred size) and set on a baking sheet or plate for grilling. If grilling, heat the grill and brush with oil to avoid sticking; otherwise, heat the same skillet used earlier to medium heat.
Once skillet is warm, lightly coat the bottom of your skillet with oil then add your burgers, about 1/2 inch apart. If there is not enough space for all of them to grill evenly, grill half of the mixture at a time then cook the other half. Cook for 3-4 minutes or until browned on one side, then flip (gently). Cook for 3-4 minutes on other side.
Serve burgers as they are, on toasted buns or as a lettuce wrap with added toppings.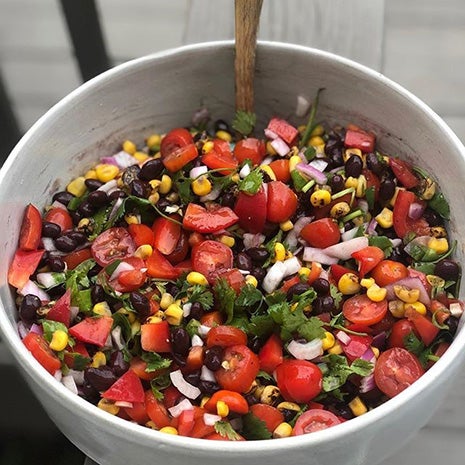 Black Bean and Corn Salsa
Wine pairing: Predominantly Poodle Sauvignon Blanc
Ingredients
1 BPA-free 15 ounce can black beans
1 1/2 cups corn (can be frozen)
1 cup cherry tomatoes, cut in half
1 medium red pepper, chopped
1 medium red onion, chopped
2 cloves garlic, minced
3/4 cup chopped cilantro
Juice from 1 lime
1/2 teaspoon salt
1/4 teaspoon pepper
Preparation
In a large bowl, mix everything together. Chill in the fridge for 30 minutes or longer (gets better the next day). Serve on tacos, in a salad, in a burrito, on top of a veggie burger or eat it plain.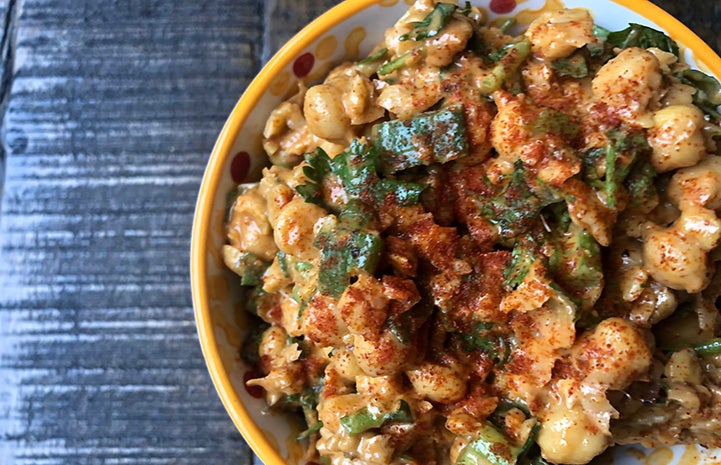 Chipotle Chickpea Salad
Wine pairing: Rose
Ingredients
1 15-ounce can chickpeas, rinsed and drained
1/4 cup slivered or sliced almonds (optional if you'd like more protein and crunch)
4 tablespoons vegan mayo of choice (I used Fabanaise for this recipe but Follow Your Heart is another great option) or for oil-free, use 1 whole avocado, smashed with a fork
1 tablespoon maple syrup or coconut nectar
1/4 cup chopped celery
1/2 cup chopped scallions
1/2 cup cilantro, minced
1 teaspoon smoked paprika powder
1 teaspoon cumin powder
1/2 teaspoon chili powder
1/4 teaspoon cayenne powder (optional if you like a little spice)
1/4 teaspoon sea salt (and more to taste)
Squeeze of one lime
Black pepper to taste
4-5 large washed collard green leaves or whole grain bread of choice
Preparation
Add chickpeas and almonds to a mixing bowl and lightly mash with a fork so that about half of the chickpeas and almonds are mashed and half are still whole.
To a separate small bowl, add the mayo (or avocado), maple syrup or coconut nectar, lime juice, smoked paprika, cumin, chili, and sea salt. Then mix with a spoon. Taste and adjust seasonings as needed.
Scoop the mayo (or avocado) mixture over top of the chickpeas and almonds and mix well so that all of the chickpeas and almonds are coated.
Add the celery, scallions and cilantro and once again mix well.
Wash and open collard green leaves or other leafy green like romaine (or make it into a hearty sandwich using a whole grain bread), add a healthy portion of the chickpea salad and any other toppings you love. We added avocado, radish, tomato and purple onion, but you can also add sprouts, hemp seeds or pumpkin seeds for more texture and flavor.
Find more plant-based recipes at PurelyPlanted.com
Photos by Nichole Dandrea