Sun blocked
White cats get special protection from potentially harmful sunbeams.
By Best Friends Animal Society
By Jennifer Hayes
Though time in the sun may be a summertime staple, we now know that too much exposure is unhealthy. And it can be just as harmful for our feline friends — particularly white cats.
Their beautiful alabaster exterior puts them at risk for sunburn, and subsequently cancer. And Kanab, Utah, where Best Friends is located, experiences over 300 days of sunshine a year.
Unfortunately, no sunscreen has been developed that has proven safe and effective for felines. So how to protect their sensitive skin?
Safety first
Tomato's "white collar" staff
Several rooms in Cat World are outfitted with closely woven shade cloth to protect the resident white cats. The first was Tomato's office, named in honor of the infamous cat who wrote a column in Best Friends magazine. Though he was not white, he had a "white collar" staff — six fair-haired cats who needed protection from the sun. As a result, Tomato lost his moment in the sun in two ways: protective screening went up and his room informally came to be known as the "white cat room."
For years, that one room was sufficient for the number of white cats coming to Best Friends. However, that all changed when Sydney came to town. The young whippersnapper just didn't get along with the older, more sedentary group in Tomato's office. So staff moved her to a room in another building, put up some screening, and she lived happily there until she was adopted.
All hail the queen
Sprite is one of the newer arrivals to Best Friends. Originally a stray, she was found on the University of Florida campus. However, when the group that had rescued her discovered she had feline leukemia, they were unable to find a home for her.
She came to live in Casa de Calmar, our building built specifically for cats with feline leukemia (they need to be separated from other felines without the virus since the disease spreads easily). She's so white that Joni Miller, one of Sprite's caregivers, describes her ears as almost albino, with virtually no pigment. That puts her at a higher risk for sunburn, so a third room in Cat World now sports solar screening.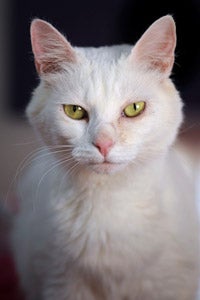 Queen Sprite rules with an iron paw.
Turns out this long-haired beauty is quite the diva, so a remodel of her new accommodations was par for the course. And she encourages people to pay homage by providing belly rubs when she rolls on her back.
Bringing her fellow felines into line took slightly more effort. Sprite gave "the look" or a well-timed growl, and within one week, they had all learned to stay at a proper five-paw distance.
"We don't often get white cats in Calmar, but now when we do, we've got a safe place for them to be," says Joni. "We don't need to be concerned about the sun coming in and causing sunburn or skin cancer down the road."
Now with a safely screened room, all that Sprite needs is a crown and throne to have a fabulous — and safe — summer. There is a new queen in town.
Adorable Adoptables
While there are not many pure white cats at Best Friends, there are plenty who sport white on their coats, and they would all love to be adopted.
Photos by Molly Wald and Best Friends staff