Survivor cat Poppy has a knack for helping foster other cats
Family adopts a survivor cat who now acts as a big brother to foster cats with special needs
By Diane Barber
It all started in May of 2016 when a two-year-old, fluffy, orange-and-white cat named Poppy arrived at Best Friends in Los Angeles as a medical transfer from Los Angeles Animal Services. He was lethargic and depressed, had pneumonia, and radiographs detected a large tear in his diaphragm that required surgery. Little did Poppy know that he was about to embark on a journey that would result in a new life and an opportunity to pay it forward by helping other cats in need.
Poppy took up residence in the critical care room at the Best Friends clinic, where he was put on a regimen of antibiotics and subcutaneous fluids to treat the pneumonia. Three weeks later with his health improved, veterinarians performed the surgery that saved his life.
Wendy Whitenburg, one of Poppy's caregivers during his time in the clinic, says Poppy helped her as much as she helped him. She had just begun working as a cat caregiver and he was one of the first cats she met. "He was the sweetest cat in the world and I immediately fell in love with him."
Poppy proved to be an excellent patient as Wendy gave medication, administered fluids and monitored his symptoms. "He was such a lovebug and I was never scared by how sick he was," she says. "I learned so much from him. He was easy to medicate, and he just wanted love ― from people, from animals. It didn't matter. He just wanted love."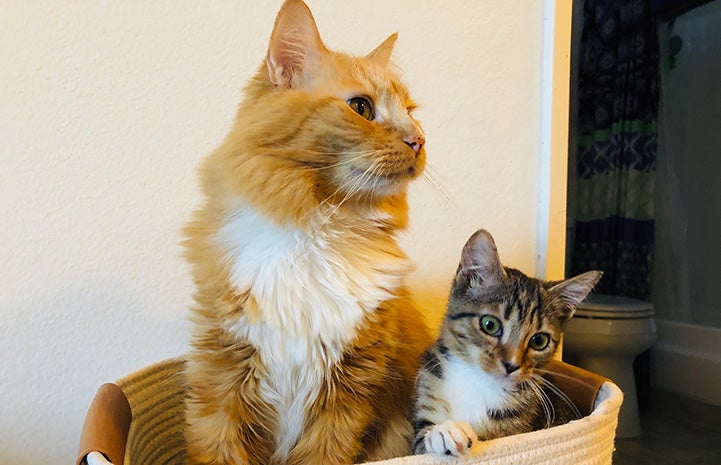 Survivor cat proves irresistible
When Poppy was healthy enough, the foster team began working on a plan to give him a much-needed break from the clinic. The first call was to Kelsey Nisbett and Brendan McNerney, a young couple living in Venice, California. Just two months prior, they had taken in their first foster pet, a three-year-old cat in need of hospice care named April, who was near the end of her life due to feline leukemia.
Although providing end-of-life care for April was an emotional experience for these first-time foster parents, when they got the call about Poppy they didn't hesitate to say yes. Poppy settled into their home quickly and it didn't take them long to see why the Best Friends staff said he had a fan club. Within a short time, they knew he was destined to be a permanent member of their household.
[Three tough tabbies survive a wildfire]
No one at Best Friends was surprised by the adoption. "Everyone loved him," says Wendy. "If he hadn't been snatched up by his foster family, I'm sure someone here would've taken him home."
Following the adoption, Kelsey and Brendan put fostering on hold. Their studio apartment was full, their family was complete and they decided to redirect their attention to building a happy life with their new four-legged companion.
Over time, they came to realize that Poppy was an extremely social boy who loved the company of other cats. When they traveled out of town, he went for sleepovers with their friend, and when they went to pick him up they could tell that he didn't want to leave his feline friend behind. They knew that if they ever decided to bring another cat into their home, Poppy would be all in.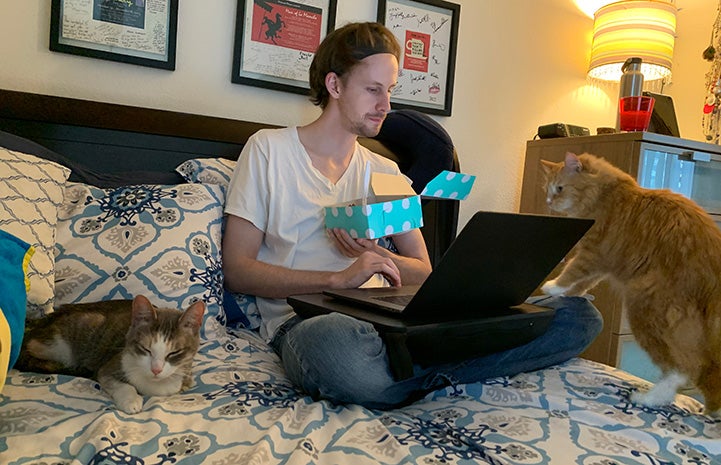 Poppy becomes a foster brother
In March of 2020 like so many people, Kelsey and Brendan found themselves working full time from home. In the three years since they adopted Poppy, they had toyed with the idea of fostering again, and they both viewed the stay-at-home order as the perfect opportunity to do it. By fostering, not only would they be helping a pet in need, but they would also be giving Poppy a playmate.
It turned out that soon after deciding to foster, they learned that an extremely shy, three-year-old tabby named Emily really needed them. Courtney Bean, a lifesaving and care specialist, had been searching for a foster home for Emily, who had spent months at Los Angeles Animal Services prior to coming to Best Friends.
"Emily was one of the most shut-down cats I've ever seen, and she needed to be in a home with people who would really work with her," says Courtney. Undaunted by the challenge of taking in a cat with acute emotional needs, Kelsey and Brendan decided to give it a go. Courtney agreed to personally deliver Emily to their home (along with her two-story tower, a safe enclosure that would help her acclimate to the new surroundings).
[Winning over an introverted cat, one step at a time]
When Emily arrived, Poppy wasn't sure what to make of things. Emily was scared, stayed in her tower and often huddled in the litter box. And she would react to the slightest thing. "If anybody moved too quickly past Emily, she would hiss," recalled Kelsey. "We would see Poppy moving very slowly past her tower in wide circles, with his body hunched low trying to figure out what was wrong."
Poppy seemed determined to convince Emily that she was safe. He spent a lot of time on the floor in front of her tower just looking at her or gently batting toys around. And after a few weeks, Emily started to come around.
"She was coming out of the cage and they would eat right next to each other. They even started playing with the same toys," says Kelsey. "I really think it was a good first experience for both of them. It was Poppy's first time having a cat in his house and I think a slow and steady first experience as a foster brother was good."
Under Poppy's tutelage, Emily had regained her confidence, and a month after her arrival, someone expressed interest in adopting her. So, they hosted a virtual meet-and-greet and soon Emily was moving on to her new home. When that happened, they immediately inquired about fostering another cat. They had only just begun hosting kitties in need.
Foster home specializes in helping shy cats
The trio had made such great strides with Emily that Courtney decided to send them home with another cat in need of socialization. The very next day, a kitten named Santa Fe moved in. "We were told that she was a very, very shy cat and that it would be hard to get her out of her shell," recalls Kelsey. But Poppy proved them wrong.
The orange cat instantly put the kitten at ease by calmly approaching her carrier and slowly circling it until Santa Fe moved to return the greeting. After that, the two cats were buddies. They ate together, napped together and played together constantly.
[Shy bunny finds a friend, all on her own]
Kelsey and Brendan noticed that with Santa Fe around, Poppy was becoming a chattier, more vocal cat. Just as Santa Fe was learning from Poppy, Poppy was learning from her. After Santa Fe was adopted four weeks later, two more cats came into the home and were quickly adopted. Then there was Cookie.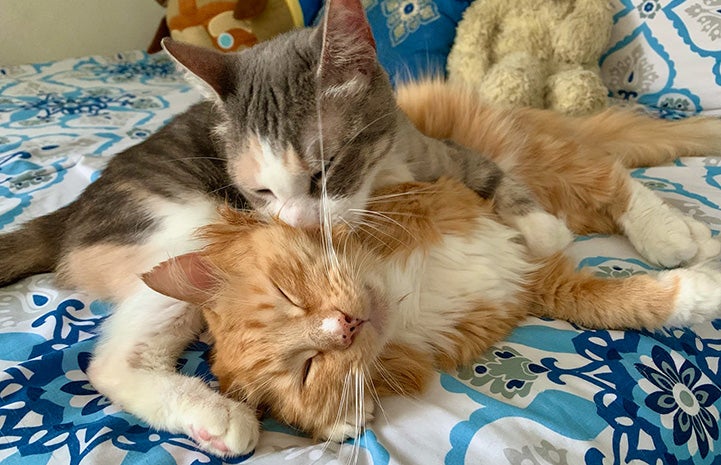 Poppy to the rescue ― again
Cookie had struggled in the shelter and because she wasn't eating, she ultimately needed a feeding tube. Two days after the tube was removed, the foster team handed Cookie over to Poppy, Kelsey, and Brendan, hoping they could get her comfortable and keep her calm and happy until they could place her in a permanent home.
Once again, they were cautioned that they would have to coax Cookie to eat, and once again Poppy worked his magic. Cookie immediately felt at ease with him. The stress shown at the shelter disappeared and Cookie remained glued to Poppy's side. She showed her trust by following his cues. As long as Poppy was around, she would be safe.
Four weeks after Cookie arrived in her foster home, Kelly Cormier saw her photo on Instagram, and soon arrangements were made for Cookie to move in with Kelly, who just happened to live close by. When Kelly came to pick up Cookie to take her home, it was evident that Poppy wasn't ready for Cookie to leave. "Poppy stood in front of Cookie's carrier and kept pawing at it as she pushed herself up against the carrier door. He was trying to get her out," Kelsey recalls. They agreed to make sure the two cats stayed connected through future play dates and sleepovers.
After Cookie's departure, Kelsey and Brendan again noticed that Poppy was emulating his former foster sister and it was clear he missed her company. "Cookie had this little mouse that she would carry around in her mouth and meow," says Brendan. "As soon as Cookie left, we started seeing Poppy do the same thing, and he had never done that before. He's a social sponge."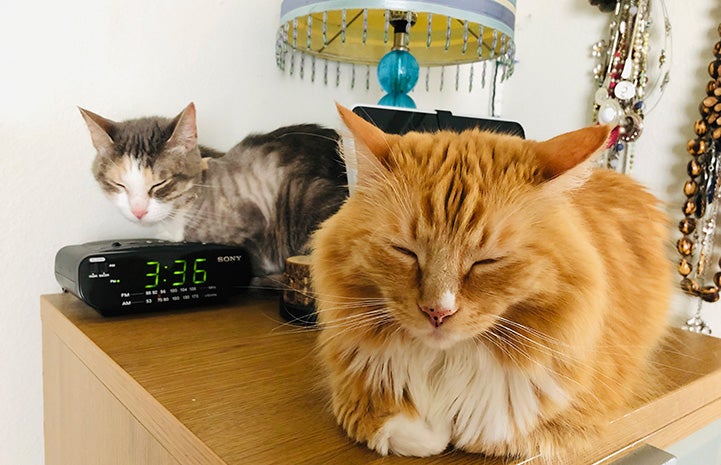 Poppy helps new friend adjust to life on three legs
Eager to keep Poppy happy in the meantime, they again let the Best Friends team know they were ready to foster another cat. Two days later, five-month-old Rapunzel entered the picture. She had arrived at Best Friends significantly underweight and with a severe intestinal condition that required immediate surgery. She was also missing one of her paws, the result of a previous injury that had since healed.
Best Friends vets did the surgery to repair her intestines, and the medical team recommended that she be moved into foster care so she could recover and gain weight. The team also needed to see how Rapunzel's missing paw impacted her mobility.
Once again, Kelsey and Brendan stepped up, and just as he had done with the others before, Poppy welcomed Rapunzel. In the days since, he's thrown himself into his role as mentor to his tiny friend. He's taught Rapunzel to wrestle and pounce. He's even begun grooming her, a behavior he learned from Cookie, who was known to groom Poppy for hours at a time.
As it turns out, Rapunzel and Poppy will be spending a lot of time together in the weeks to come. The medical team determined that Rapunzel would do better if they amputated the remaining portion of her back leg. That surgery was also a success, and now she's back with her foster brother to recuperate. According to Kelsey and Brendan, Rapunzel doesn't seem to know that anything has changed. She's still sprinting around the house with Poppy following close behind.
Poppy inspires good luck for other cats
It's safe to say that Kelsey, Brendan and Poppy have become the go-to foster family for cats with special needs. Courtney thinks of them first when a cat needs special foster care. "That's what makes them unique," she says. "And that's what makes it even more rewarding to put a cat in their home."
As for Poppy, he's proven himself to be somewhat of a good luck charm. This sweet survivor has managed to transfer his good fortune to everyone in his wake. In just five months, Poppy, his mom and dad have transformed the lives of six cats with special needs simply by opening up their home and providing the love and support needed to help them overcome challenges. For a cat who faced the odds himself and came out on top, that's quite a legacy.
Start building your own legacy of saving lives
You too can change the life of a cat or dog in your community by fostering a pet in need. Come on. Make Poppy proud!
Read more
Blind cat sees a world of good in everyone and everything
Big orange tabby cat from Los Angeles charms adopter in Texas, road trips home
Puppy beats distemper with the help of two determined foster moms
Photos courtesy of Kelsey Nisbett