Sweet and loving three-legged cat with FIV
Stray cat had a leg injury that required amputation and has FIV, but this three-legged cat doesn't let either make him any less affectionate.
By Christelle L. Del Prete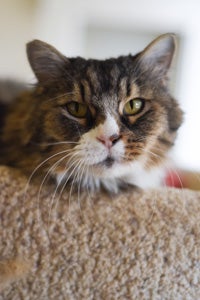 With his big green eyes, soft fur, and charming personality, five-year-old Drigger can win almost anyone over. But the former outdoor cat had hit some bumps in the road of life. Had he not come to Best Friends Animal Sanctuary, Drigger might not be alive, much less lounging in a loving forever home.
Community cat with leg injury requiring amputation
Last fall, Drigger was taken from a community cat (feral and stray) colony and rushed to the Sanctuary after suffering a painful injury that resulted in the loss of his front left leg. On top of that, Drigger has feline immunodeficiency virus (FIV), which weakens his immune system and makes him more susceptible to secondary infections and dental disease.
Aside from the leg injury, Drigger wasn't sick. The stigma attached to FIV is often worse than the symptoms, and many cats with the virus live perfectly normal, long and healthy lives. However, there was little chance he could return to his community once he'd healed.
"We really treat each cat as an individual in deciding what is best for them in their situation," explains Janice Dankert, community cat program supervisor. "We've found that, while missing a rear leg barely slows them down, cats don't do as well outdoors missing a front leg." That's why Drigger stayed at the Sanctuary rather than returning to the great outdoors.
Cat with FIV recovery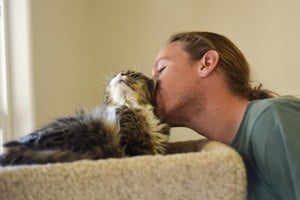 In Cat World, Drigger was completely safe and he could take as much time as he needed to recover and get to know his caregivers. He was so sweet and loving that they could lean into his tower (a tall cat cage with multiple shelves for eating and perching) and touch noses with him to reassure him that everything was going to be OK.
The only question was whether or not Drigger could get along with other cats. FIV isn't airborne, and it can't be transmitted through shared bowls or litter boxes, so spreading the virus is not easy. Kittens usually get it from an infected mother, and it is usually transmitted to adult cats through bite puncture wounds. So, as long as Drigger got along with other cats, he could live safely with them. And because many potential adopters already have cats at home, his chances of finding a forever home would increase.
Once he was fully healed and adjusted to life on three legs, Cat World caregivers put him in a room with other FIV cats. That way, they could see how Drigger acted around other felines without worrying about him spreading the virus if he got into a scuffle.
Good news times two
Although the safety precautions were necessary, Drigger turned out to be a dream. He was every bit as sweet and loving with other cats as he was with people. Soon, he was living in a room with other cats who didn't have FIV, and shortly thereafter someone fell in love with him and decided to take him home.
Drigger's adoption is good news times two. It means that, while he's busy charming his new family, a spot has opened up in Cat World for another cat who, like Drigger, deserves to have his or her dream of a great life and a wonderful home come true.
To help more animals like Drigger go from homeless to home, support the animals.
Learn more about the cats at Best Friends.
Photos by Molly Wald