Sweet senior cat beats the younger competition to score a wonderful new home
Longtime shelter resident, a senior black cat named Millie, finally got picked and adopted over the kitten competition she was up against.
By Chelsie Butler
Millie, a super sweet, black senior kitty reached a low point in her life when she lost her home and ended up at a Los Angeles Animal Services shelter. It can be especially tough for older cats to get adopted when the shelter is full of adorable, tiny kittens. But things looked up for Millie when she came to the Best Friends Lifesaving Center in L.A. There, she wouldn't be at risk simply because it might take longer for her to get adopted.
Once she got settled in at Best Friends, she soon became a favorite of the staff and volunteers and won the hearts of all who got to know her. According to volunteer Belle Henderson, Millie loved to be held like a baby, and she loved to climb kitty towers. Belle says that each time she arrived at the center to volunteer that Millie would always be her first stop to give and receive love in return.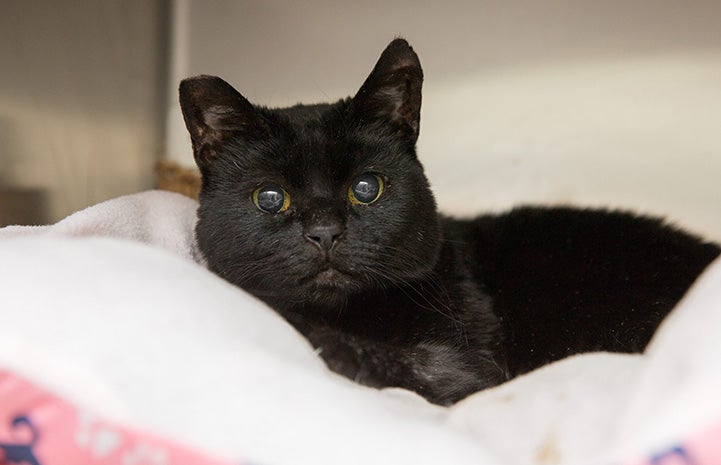 Millie waits her turn for adoption
As much as staff and volunteers made a special effort to point out Millie to potential adopters, in the end, people kept choosing other cats instead. As time passed, Millie remained content at the center, but everyone was pulling for her to finally be adopted. "Millie was a longtimer, and I have a special heart for them," says Belle. "She was always content and just wanted love."
Millie's life changed when Laurie Koerber and Jim Lee walked into the center one day. They had decided to add another cat to their household, they wanted one who would be a good match with their other two kitties. They felt that a smaller, older female would be the most compatible.
"When we met Millie, she was very insistent on having her nose and head scratched, and when my wife held her, she seemed to be completely at ease," says Jim. "There was something very Zen-like about her, and we decided because of her calm, easygoing nature that there would be a great chance she would get along with our other two cats."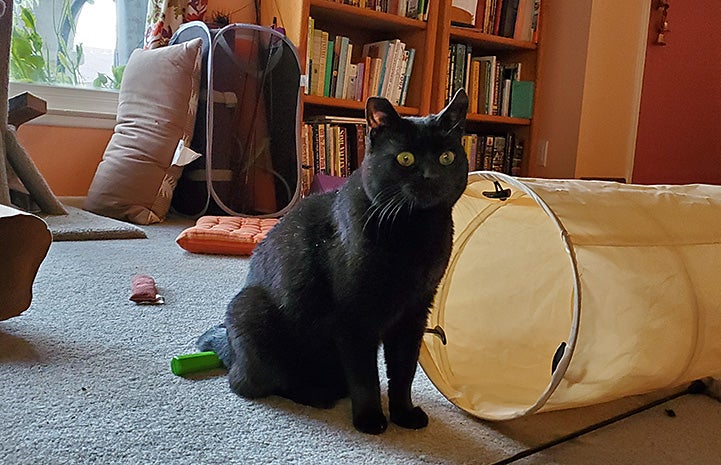 Senior black cat goes home
Jim and Laurie decided to give Millie the chance to thrive in a home full of love, plenty of food and treats and lots of affection. And they are just as lucky as Millie is: She has a new home, and they have that much more love in the household. They say the process of introducing Millie to their other cats lasted just about a week, and now all three get along well.
Even though she had to wait a long time before being adopted, through all of it Millie remained her calm, sweet self. "It's sad she was turned in to a shelter at age eight," says Jim. "We are thrilled to share our home with her. She truly is something special." And Belle says: "I miss Millie tremendously, yet I am elated she has found her new home. Senior cats make great pets."
Adopt a deserving kitty near you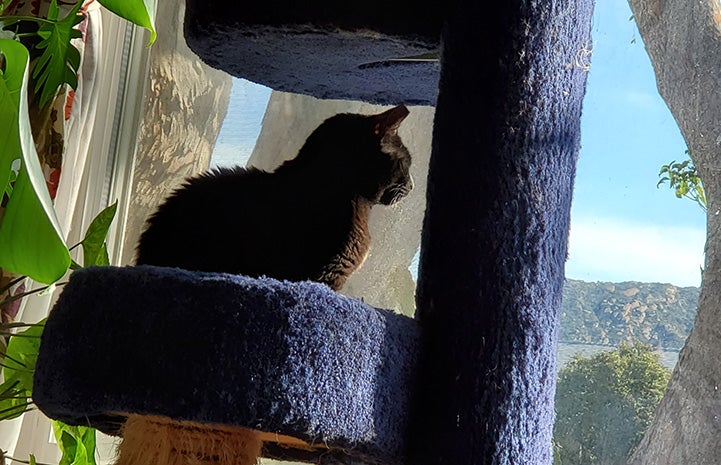 Los Angeles
Best Friends in Los Angeles works collaboratively with animal rescue groups, city shelters and passionate individuals, all dedicated to the mission of making Los Angeles a no-kill city. As part of this mission, Best Friends hosts adoption and fundraising events, manages two pet adoption centers, and leads the No-Kill Los Angeles (NKLA) initiative. Together, we will Save Them All.
Photos courtesy of Jim Lee and Lori Fusaro