Talking African gray parrot, 19 rabbits, one dog and two potbellied pigs
Image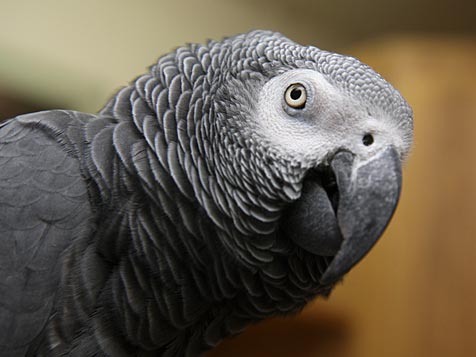 Read stories about the animals, including a talking African gray parrot, 19 rabbits from Las Vegas, and a dog and his two potbellied pig friends.
By David Dickson
Fall is a time for change, and not just for the leaves. It's when you lock up your swimming suit and pull out sweaters, when you trade in flip-flops for back to school pencils. Or, as in the case of Cody the African gray parrot, it's a handy time to consider new ways to amass fame and fortune. …
Talking African gray parrot
For years Cody has been a chatterbox at the Sanctuary. He has a string of phrases a mile long that can keep you guessing all day. He'll say anything from, "Tickle, tickle, tickle!" to "Do you want a beer?" He picks up new sayings all the time.
Visitors, however, don't often get to witness Cody in action. Like many parrots, he only speaks when the mood strikes him.
Parrot manager Jacque Johnson decided to try to get some footage of Cody saying some of his clever turns of phrase. She turned on a digital video camera, hid it, and scooted out of the room. (Cody slides into his chatter zone best when he doesn't think anybody is waiting for him to perform.) At that point, Cody took roughly ten seconds to find the hidden device.
Then, it was as if a whole new world of opportunity opened.
He'd seen countless cameras from a distance over the years but nobody had ever left one around for him to mess with before. He's no dummy. He knows that opportunity knocks only once!
Cody hopped over and switched off the camera, all the better to study it without incriminating evidence afterward, naturally. Then, right when one of his favorite caregivers walked into the kitchen, Cody snapped a picture before anybody could take it away. Had to find out what at least one of those buttons did, right?
Cody was thrilled with the results. The image might be a bit blurry, but when caregivers pasted it up on the Parrot Garden Facebook page, he received such an enthusiastic response that he's already dreaming up ways to fast-track a Pulitzer.
19 rabbits confiscated
Just down the road from parrots is another Sanctuary animal looking for a change this fall. Heathcliff, a rabbit with a criminal background he doesn't like to talk about, has decided to turn over a new leaf and give up his errant ways. No more running with the mafia. No more life of crime. He's walking the high road from here on out!
Okay, so maybe he's not exactly that notorious, but Heathcliff is probably the first animal to come to the Sanctuary with a mugshot from the police! Details of his past are sketchy. His police records indicate he had been "confiscated with 18 other rabbits." Hmm … a highly organized cilantro-thieving crew, perhaps? Heathcliff and his former gang of Vegas ruffians (i.e., the other rabbits involved in the confiscation) ended up at the Nevada SPCA. Turns out that Heathcliff had some special medical needs, however, so he came to Best Friends.
His top and bottom teeth don't line up properly. This is a big problem for rabbits, considering their teeth grow throughout their lifetime. Unless those never-ending teeth line up, and can thus grind against each other, they require regular medical care to make sure they don't grow out of control. That's the kind of special care he'll receive at Best Friends. In other words, Heathcliff now has the best of both worlds. A chance to make a clean break from his trouble with the law, and a cozy place to live where his needs will always be met until he can find a special home of his own.
Dog and two potbellied pigs
Finally, at the other end of the Sanctuary, there are a couple more characters changing along with the season. For the past few months, some of the biggest news down at Piggy Paradise —the pig part of the Sanctuary — has had nothing directly to do with pigs, but with Otis the dog. Otis came to Best Friends several months ago with his two pals, both potbellied pigs, and was allowed to live with them seeing how they were his only friends in the world.
Otis had been so scared of life at first that he'd stay in his dog igloo all day. Ever since arriving, however, he has found confidence bit by bit. In a few short months he has already turned into such a social butterfly that he is helping another animal overcome her fears. Daphne the pig has been terrified of dogs since being attacked by one before she came to live at Best Friends. Well, after spending enough time near gentle Otis, Daphne has finally found a dog she can trust. It's a great step forward. Not only is Otis finding his way in the world, he's helping others to do the same.
That's sure some crazy weather we're having.
Take a free tour of Best Friends Animal Sanctuary
Photos by Gary Kalpakoff and Sarah Ause