Three tough tabbies survive a wildfire
These three cats were caught in the flames of a wildfire, but they won't let burns stop them from looking for love.
By Sarah Thornton
With windy and dry conditions, a wildfire that started in Veyo, Utah, 20 miles north of St. George, quickly grew out of control and burned through approximately 3,000 acres as firefighters worked almost two weeks to contain it. In the midst of evacuations, three stray cats were scooped up by a good Samaritan and brought to the Best Friends Animal Clinic in Kanab.
Veterinarians quickly got to work treating Grace, Joan and James, who arrived with singed fur and burns. The cats needed to have their burns cleaned, debrided and bandaged, as well as receive medicine for pain. With time and care, the three wildfire survivors are recovering.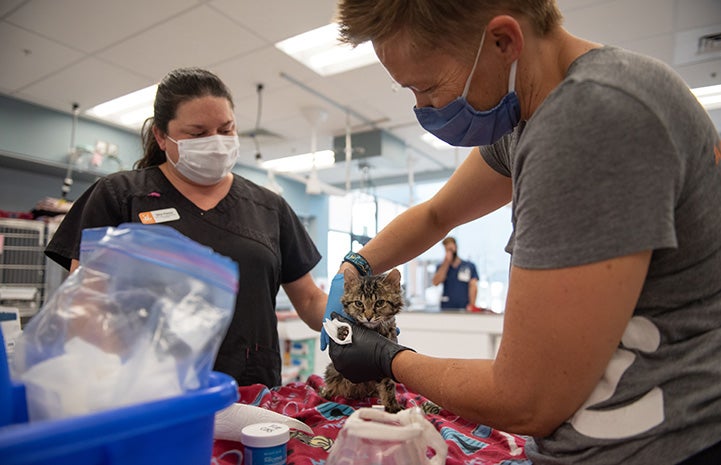 Keeping spirits up throughout treatment
Grace, the youngest, was the least injured of the three, who all had burned whiskers and singed fur. Grace had two burns on her legs and some damage to her ears, but James had the most severe burns, which covered much of his face and body.
Each day their wounds needed to be treated until they had healed well enough to relax a little. At first, Joan and James had to be sedated for treatment because of the extent of their injuries, and they were on multiple pain medications to keep them as comfortable as possible.
[Cat finds love after surviving snow, frostbite and a heart condition.]
Going through such a traumatic, sudden change in their daily lives, it wouldn't have been surprising if the three little survivors had become scared and withdrawn. But Grace, Joan and James didn't let anything dampen their spirits. All they could see were lots of new people to pet them and give them attention. Throughout their treatment, their priorities were making biscuits, purring up a storm and, whenever they had the chance, trying to climb into the laps and arms of clinic staff.
"They were all such troopers through it all," says Wesleigh Porter, one of the vet technicians who helped care for them. "And (they) loved being fed baby food during their bandage changes."
When James was feeling better, he even went on a harness walk through the clinic. Tail held high, he checked out every possible hallway and corner, surveying the new area with a single purpose ― satisfying his curiosity.
When the tough little tabbies healed to a point where they no longer needed constant veterinary care, one by one they moved out of the clinic and on to the next chapters of their lives.
[Medical challenges no match for this cat's happiness]
Moving out of the clinic
When Grace was settled in her new digs at Cat World, it was time to go make friends with other kittens her size. She took full advantage and kept up with them — tumbling, jumping and chasing after toys all day long. When there was a human friend around, she turned chatty and meowed for attention and snuggles.
When Grace went on a visit with several other cats and kittens to meet adopters at the Best Friends Lifesaving Center in Salt Lake City, no one was surprised when she was adopted just a few hours after arriving. Now the little survivor is safe and sound in her new home, where she gets all the love and attention she could ever want, as well as plenty of good places to nap after a hard day of playing.
[Ten things you can do to show your pets you love them]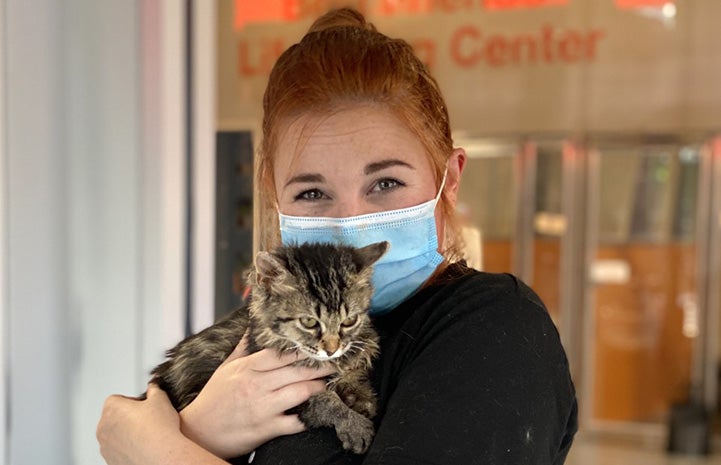 Though not fully recovered but well on his way, James has moved into a foster home, where he gets to explore under and around furniture, through new rooms and right up onto the lap of his foster mom. He's content to snuggle and be petted in this new, relaxed environment ― just what the doctor ordered to complete his healing. Soon, he'll be ready to be adopted and go to his own new home.
While Joan waits for her future family to find her, she's hanging out and making feline friends of her own at Cat World. Climbing over cat trees and through the rafters, stretching out in the sun or cooling off in the shade, Joan's one happy cat. Trotting up to people for attention and winding around ankles, she's always ready to make a good impression on new friends.
"One thing I always am amazed by and take inspiration from is how tough and resilient our feline friends can be," says Pat Banman, Cat World team lead. And after watching this trio survive a wildfire, purr their way through treatment and move on as happy, endlessly affectionate cats, the rest of us couldn't agree more.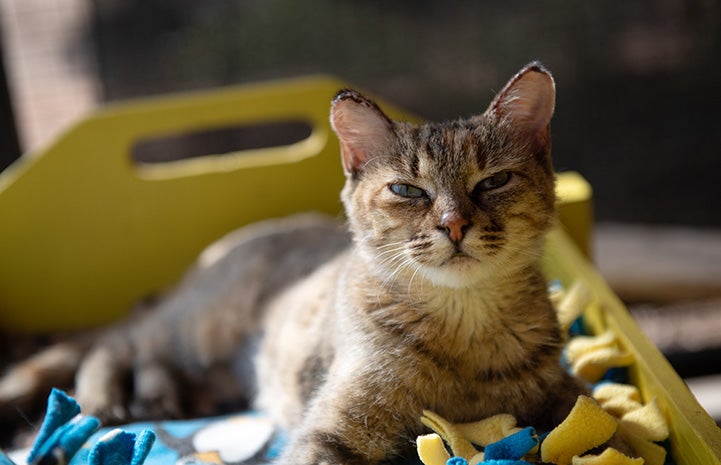 Help more survivor pets
They may be tough, but even the strongest of survivors still needs your help.
Read more:
7 ways that pets make home workouts more awesome
Hercules the therapy cat goes from zero to hero to help Alzheimer's patients
Photos by Molly Wald and Jaimi Haig