A timid dog finds confidence ─ and a home
Dog who used to be afraid of men has come a long way in overcoming her fear and has recently been adopted by two men.
By Nicole Hamilton
Her adventures were documented in diary entries posted on the Best Friends–New York Facebook page, and a celebrity shared photos of her on Twitter. Best Friends–New York volunteers would line up at pet adoption events just to keep her company, and she captured the hearts of just about everyone she met.
Now all Minnie needed was a home.
The Best Friends–New York adoption team had a good feeling that Minnie would finally get her chance at the recent super adoption in New York, and they had a pretty clear idea of who the adopter would be. Minnie had been a nervous and worried dog around men in the past, and although she had worked hard to get over this fear and was feeling good around almost anyone, they figured the most likely, lucky person to take Minnie home would be a woman who just happened to love 73-pound playful American bulldogs.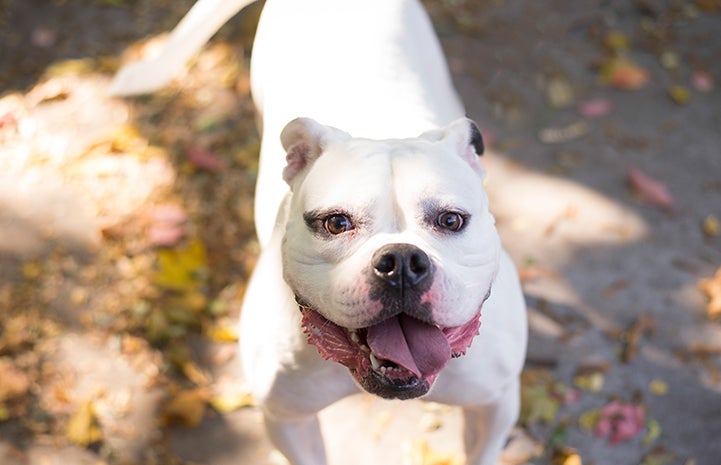 No longer a dog afraid of men
Nathan and his husband Luke had wanted to welcome a dog into their home for some time, but they were having a tough time finding one that fit their idea of the perfect match. The dog they had in mind was small and cute, and would fit comfortably in their cozy Long Island City, Queens apartment.
After hearing about the Best Friends Super Adoption, they set out to find the perfect little dog, walking down aisle after aisle at the event but having no luck finding the dog they had in mind. As they turned a corner toward the end of the adoption area, they spotted Minnie.
"She was this giant beast with enormous eyes, with one that looks like it's been made up like Cleopatra," said Nathan. "From the moment we saw her, we knew we had to know more about her."
They approached Minnie to get a closer look, and to the relief of the Best Friends team it was quickly clear that the sometimes-afraid-of-men Minnie had absolutely no reservations at all about Luke and Nathan. She greeted them with a playful wag of her tail. It was clear: Whatever anxiety she had in the past around men was gone.
Of course, Nathan and Luke had some reservations about adopting Minnie. Would this big bulldog feel comfortable living in a small apartment? And what about Minnie's past difficulties with men? Would she be all right around Nathan and Luke's friends, most of whom are men?
They decided to leave the event without Minnie and think about it overnight, to make sure it was the right decision for everyone. Back at home, they repeatedly watched a video of Minnie that they took at the super adoption, trying to make up their mind. Then, early the next morning they made their decision. It happened when Luke sat up in bed and turned to Nathan.
"I want to name her Mrs. Mary Todd Lincoln," he said.
As they made a beeline for Minnie later that day, they knew they were doing the right thing. And when Best Friends adoption specialist Kristi Adams saw them, her heart froze. It was Kristi who first saw Minnie nearly two years ago at Animal Control Centers of NYC and brought her into Best Friends' New York program.    
"Lots of people say they are going to come back with the best of intentions, but they don't always return," she said. "When I saw Nathan and his husband that morning, I couldn't believe it was really happening for Minnie."
Join Best Friends and help more pets find homes

A new home deserves a happy dance
Minnie, now renamed Mrs. Mary Todd Lincoln, lovingly drooled on Nathan and Luke during the adoption process. They began by agreeing to foster Mrs. Mary Todd, just to be certain she'll be happy in their home. But soon they will become her adopted family.
The couple didn't know until after they adopted Mrs. Mary Todd that they were in the presence of a local celebrity of sorts. "Here I find out that she had this diary that people followed, and that Bernadette Peters tweeted about her," said Nathan. "But we sort of aren't surprised. Mary Todd is larger than life."
Mrs. Mary Todd understood quickly when she walked into Nathan and Luke's home that it was her home, too. Nathan captured this great moment in a video that shows her running in circles, doing a happy dance, and then falling to the floor for belly rubs. Throughout the clip, she's flashing her famous ear-to-ear grin.
Watch Mrs. Mary Todd's joyous first moments at her new home.   
She hasn't stopped grinning. She enjoys taking long walks with the two men who gave her a second chance, hanging out on the patio at Nathan and Luke's favorite restaurant and bar along the water in Queens, and sitting on their feet when they're on the couch watching TV — a strategic move to get more pets.
Every day during walks people either smile or stop to pet Mrs. Mary Todd. She still gets recognized by people who followed her progress on the Best Friends–New York Facebook page, and by friends like Tony Award and Golden Globe Award-winning actress and singer Bernadette Peters. She immediately recognized Mrs. Mary Todd one day as she was leaving the veterinarian's office.
Today, for Mrs. Mary Todd and her new family, life is good.
"You know, sometimes you go looking for one thing and you wind up with something completely different and unexpected," said Nathan. "That's what happened when we met Mrs. Mary Todd Lincoln. She was perfectly imperfect. And we knew she was ours."
Learn more about our work in New York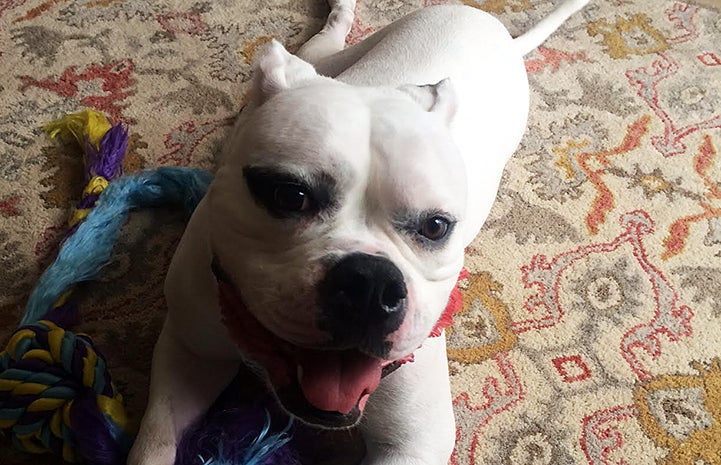 Photos by Shannon Kirkman, Michelle McLeod and courtesy of Nathan and Luke