Timing is everything
Longtime Best Friends volunteer goes from toiling behind a desk to working with animals.
By Best Friends Animal Society
By Cathy Scott
Opportunity knocked, and longtime Best Friends volunteer Tom Symczak answered. He became a Best Friends employee. It was, simply put, a matter of being at the right place at the right time.
Helping out with whatever was needed at Best Friends Los Angeles programs events is where Tom has spent a good part of his spare time over the last two decades. And even after he was laid off in 2011 from his actual job in post-production work in the film, TV and video industry — which he'd spent 16 years doing — Tom
continued volunteering.
New job opportunity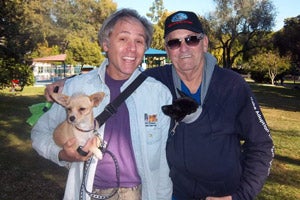 Tom is long time Best Friends volunteer.
But when new jobs were posted at the recently opened Best Friends Animal Adoption and Spay/Neuter Center in the Los Angeles suburb of Mission Hills, California, Tom was one of the first in line to apply to be an animal caregiver.
While he had to apply for the job like everyone else, the decision to hire him was easy. "Even though Tom did go through the interview process, he has been volunteering with us for 20 years," says Mike Harmon, adoption center manager in Los Angeles. "It was very clear long ago how great Tom's work ethic is and how dedicated he is to the movement."
It also doesn't hurt that Tom is as good with people as he is with animals. "Tom is great," Mike says. "He has an ability to talk with people and interact with the public."
For Tom, the new center is a chance to be a part of a positive change in L.A. — and also give back to the animals. "I saw it as an opportunity to be employed by an organization with which I shared a common goal and passion," Tom says. "And knowing that it was going to be a no-kill adoption center and the first of its kind in Los Angeles, I felt I would be getting in on the ground floor of something special and important."
Satisfying work with new 'clients'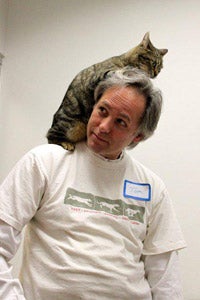 Tom with a new "client".
Transitioning from a full-time job in media, he says, has been different from what he expected. "Some of it was fun," he says of his previous job, "but mostly it was toiling for long hours for unappreciative clients."
Now, he says, "The biggest difference is my clients — the cats and dogs — really appreciate everything I do for them. They show abundant gratitude and unconditional love."
On top of that, he points out, "The fulfilling part is that I feel I am making a difference in this world instead of just being a cog in the corporate wheel whose end result adds little to no value to society."
And he doesn't mind at all going from a desk job to the physical daily work in the dog and cat areas at Best Friends' new center. Rather, he welcomes it. "Though the level of physical activity required is demanding, especially after having worked in the typical office environment, it will give me all the exercise I need to get into shape."
When Tom tells his former colleagues in the film industry that his passion for animals has become his full-time job, they're happy for him — and a little envious at the same time. "They all wish they could leave their jobs and do what I now do," he says.
Best Friends Pet Adoption and Spay/Neuter Center in L.A.
Learn more about the shelter run by Best Friends in Los Angeles, as well as