TNR competition between Stray Cat Alliance and Free Fix LA
Image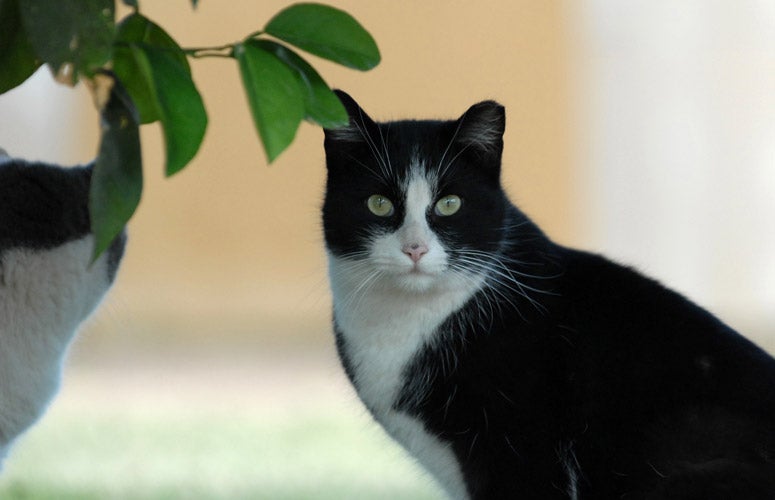 Trap neuter return (TNR) competition between Stray Cat Alliance and Free Fix LA results in over 100 stray Los Angeles cats being fixed.
By Denise LeBeau
At the height of kitten season in Los Angeles (with L.A.'s moderate climate, kitten season is most of the time), a gauntlet was thrown down between Stray Cat Alliance (SCA) and Free Fix LA (Best Friends trap/neuter/return (TNR) program in Los Angeles). Each group was equipped with humane traps and a small army of volunteers. SCA pounded the pavement in their target zip codes in South L.A. to find community (feral) felines, and Best Friends spied the shrubbery in the San Fernando Valley looking for free-roaming cats. The objective was to see which organization could trap 50 cats first during a night of TNR called the Big Fix. Best Friends shared resources with SCA to help them trap as many cats as possible.
Trap/neuter/return for stray cats of Los Angeles
This was Stray Cat Alliance's first foray into a mass-trapping endeavor, and while Best Friends was the first to trap 50 kitties, SCA ended up trapping 66 cats the first evening. But they didn't stop there; they trapped a total of 111 cats and kittens and got them ready for Pet Care Center in South Los Angeles to fix them. The challenge enabled SCA to pass their 2,500 spay/neuter mark for their target zip codes, and founder Christi Metropole is thrilled.
Christi says, "We are planning on making the South L.A. shelters no-kill in conjunction with the NKLA campaign. It also is great to see neighborhoods so happy with our work and saying that they see a difference. It gets volunteers motivated because it's quantifiable."
Free Fix LA was able to trap a total of 54 cats and had 50 cats in the bag, so to speak, by 11:40 p.m., officially winning the competition, but the cats were the real winners. In the two years of the Free Fix LA program, over 6,000 cats have been spayed or neutered. FixNation, as always, hustled to provide the surgeries.
"Officially we can call it a tie," shares Victoria Johnson, Free Fix L.A. supervisor.
Everyone felt the same happiness of shared success. "The fact that this was a competition is secondary to the fact that we trapped 50 feral cats who have been neutered," enthuses volunteer Kathi Hicker. "Several kittens were saved as well. I hope Stray Cat Alliance did well, too!"
TNR volunteers
Best Friends had over 30 volunteers, including 12 who were new to volunteering with the program. Among them was Kristi Schneider, with 20 years of TNR volunteering experience. She took in five abandoned "bottle baby" kittens her colleague found that night. "Fostering is very rewarding. It's the easiest way to save a life," says Kristi. "I liked the friendly competition aspect."
Volunteer and foster mom Beth Eilers found the kittens and shares, "My main reason for helping them is that I was on a daily basis deeply saddened by the numbers of beautiful, feral cats that were and are being put down every day. When I see my own cats and their happiness, I wish that for all homeless animals. I feel for those that don't have that chance and am reminded of how important TNR really is in so many ways."
SCA had a lot of great volunteers, including some ever-important bilingual animal lovers. Many people the group interacts with speak very little English, and many of their target cities are up to 95 percent Hispanic. "Spanish-speaking volunteers are key, but so are hard workers who speak the language of compassion," says Christi.
Get involved to help animals
For more ways you can help the companion animals in need of Los Angeles, go to the NKLA website.
Photos by Best Friends staff and courtesy of Stray Cat Alliance