Top 10 highlights of NKLA's first year of saving dogs and cats
Top 10 highlights from No-Kill Los Angeles' first year of saving the lives of dogs and cats.
By Denise LeBeau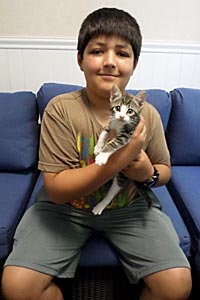 Last year, a new star was born in Los Angeles when the NKLA Pet Adoption Center opened August 1, 2013, to a rush of eager adopters. Funded and operated by Best Friends Animal Society with support from the Ronald and Catherine Gershman Foundation, the sparkling adoption center immediately became the pillar of Best Friends' No-Kill Los Angeles (NKLA) initiative.
NKLA brings together individuals, city shelters and a coalition of animal welfare organizations, all dedicated to ending the killing of pets in L.A. city shelters by 2017. With 75 (and counting) NKLA Coalition members, the center acts as a venue for adopting out homeless pets cared for by coalition member organizations, city shelters and Best Friends.
To celebrate the center's first anniversary, here are 10 highlights from the center's first year of operation — each important in helping Best Friends reach its overall goal to Save Them All.
10. First adoption: Irresistible kitten
Originally rescued from Los Angeles Animal Services, Clyde, an adorable kitten, was scooped up by a boy on the center's opening day, making him the first cat to be adopted.
9. Volunteer stop for the Do Good Bus
One volunteer is a gift, but a whole busload is a windfall. In December, the Do Good Bus pulled up to the NKLA Pet Adoption Center loaded with folks ready to walk dogs, socialize cats, help decorate the center and bring holiday cheer to pets and adopters.
8. "The One" Valentine's Day pet adoption promo
Around Valentine's Day, NKLA ran an adoption promotion called "The One." Having recently lost her dog named Valentine, Bonnie Whittaker met Bernardo, a scruffy black and white terrier, who she knew was "the one."
7. Star appeal: Actor Dermot Mulroney adopts a Chihuahua
Everyone cheered as Norman, a once-homeless dog from East Valley, was adopted by actor Dermot Mulroney. Even though brown Chihuahuas are ubiquitous in L.A. shelters, Norman, nevertheless, was a standout to this celebrity.
6. #BestGiftEver dog and cat adoption
Best Friends teamed up with RYOT.org for the #BestGiftEver adoption promotion, which helps get pets into homes during the holidays. RYOT donated $2,000 to help sponsor a stellar adoption day that included a party and produced 20 adoptions.
5. Los Angeles Kings ice hockey team partnership with Best Friends
The Los Angeles Kings professional ice hockey team, winner of the Stanley Cup for two of the past three years, partnered with Best Friends in March to promote pet adoption by allowing players to be photographed with dogs at the center and by putting on adoption events during team practice sessions.
4. A memorable month with cat adoptions
A total of 222 pet adoptions during a 9 Lives for $9 cat adoption promotion made June a month to remember. The promotion featured cats of every stripe for a $9 adoption fee. Bernie, a super-shy cat, was matched with his new mom, who loved him at first sight.
3. Lab and pit bull terrier mix adoption
Just three days after the center opened, Charlie, a Labrador and pit bull terrier mix from NKLA Coalition partner Labs and Friends, found his forever home. A once-emaciated stray, the lovable dog was the first coalition dog to be adopted at the center. "It was absolutely amazing to see a dog like Charlie find an amazing home so fast at NKLA," says Ania Tysarczyk of Labs and Friends.
2. 1,200 volunteers and counting
With more than 1,200 volunteers signed up to help out at the NKLA center, folks are attracted to the many different volunteer options. A favorite (for dogs and people) is hiking at a nearby park, where dogs get a taste of what life could be like when they find their forever homes.
1. Doberman is 1,000th center adoption
In early summer, the 1,000th center adoption was a Doberman named Frieda from Downtown Dog Rescue. Mia Gyzander of Downtown Dog Rescue says, "I thought she'd be there two weeks, but this superstar had other plans. She stuck it out for another week and became famous. Thank you a thousand times, NKLA."
Get involved with NKLA
Learn more about the NKLA adoption center in Los Angeles.
Photos courtesy of NKLA