Tortoiseshell cat finds that old familiar shoulder
Tortoiseshell cat enjoys sitting on people's shoulders, and her sweetness wins over a couple who adopts her.
By Nicole Hamilton
About a year ago, Emily and Brock Damjanovich visited Best Friends Animal Sanctuary for the first time to spend a weekend volunteering. One day while they were helping out in Cat World, a sweet tortoiseshell cat named Kendra jumped on Brock's shoulder and landed smack dab in the middle of his heart.
Emily and Brock weren't quite ready to adopt a cat back then, and once the weekend came to a close, they left the Sanctuary without Kendra. But for an entire year, the memory of that sweet cat who loved sitting on Brock's shoulder kept coming back.
Soon, the couple planned a return trip to the Sanctuary for another volunteer weekend, but this time, they decided they wouldn't leave without their special cat. They had plans to adopt Kendra, and they knew she was still looking for a home because it said so on the Best Friends website.

The cat who almost got away
Emily and Brock made a beeline to see Kendra again as soon as they arrived at the Sanctuary. But their special tortie wasn't there. As it turns out, Kendra had just been transferred to the Best Friends Pet Adoption Center in Salt Lake City.
Emily and Brock, who live just outside of Salt Lake City, sighed in relief and even laughed a little. What were the chances that the cat they wanted to adopt was even closer to them than they thought?
When they arrived home in northern Utah, the couple made a second beeline straight to the pet adoption center. They recognized Kendra right away, and she recognized them, too. In fact, as soon as she spotted Brock, she jumped up onto his shoulder and made herself comfortable, as if to say, "I'm finally home."
"It was such a sweet moment," says Samantha Nelson, adoption specialist at the center. "Emily and Brock were so excited and Kendra kept climbing on them and giving them hugs."
Learn how Best Friends is helping Utah become no-kill

Cat lends adopter a shoulder to lean on
It seems Kendra was meant to be with Emily and Brock right from the start. She settled into their home quickly, wasting no time before sitting on their laps, cuddling under the covers and eating cat grass.
For Emily especially, Kendra's presence in their home has been a calming one. Kendra helps ease Emily's anxiety, which can worsen at night when Brock leaves to work the graveyard shift. When Emily scratches Kendra under her chin ― something Kendra loves ― it's therapeutic for Emily, too.
"Her companionship has been such a comfort to me and has helped ease my symptoms that come from anxiety and stress," says Emily. "I have always known animals have healing powers, but have really learned firsthand from Kendra just how powerful they can be."
Emily likes to think that Kendra chose them the first time that they met, and then waited patiently until the time was right when they could meet again to finally bring her home ― proving that sometimes, timing really is everything.
Help save lives. Donate to Best Friends.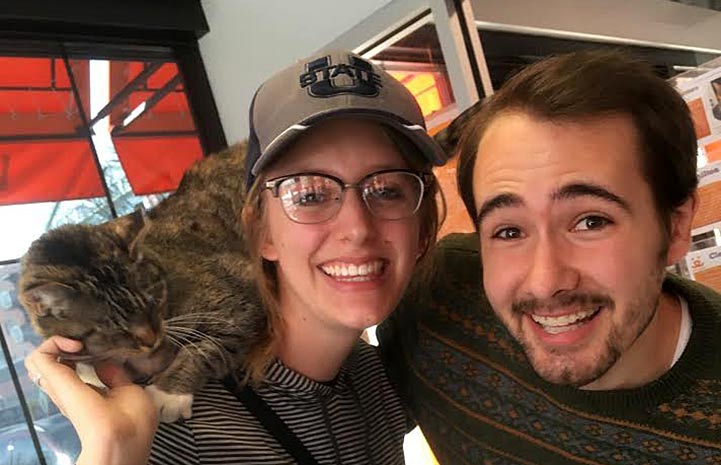 Photos by Sarah Ause Kichas and Emily and Brock Damjanovich