Training a pit bull who is a charmer
Pit bull dog, who can be picky about his dog friends, gets special training at Best Friends Animal Sanctuary.
By Aimee Larsen
Caregiver Kathy Moore says if Sherlock the dog, also known by a variety of nicknames, including Shirley and Shirl, were a person, he'd "wear polyester, drink piña coladas, drive a Camaro, and listen to Duran Duran."
In other words, Sherlock is Mr. Charisma.
Pit bull is a looker and a charmer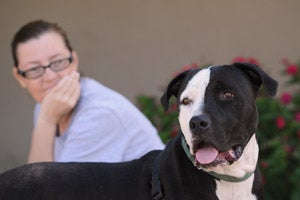 Kathy's one of Sherlock's biggest fans.
Sherlock would have fit in perfectly in, say, 1981. He's got it going on. Looks aren't everything, but he's undeniably an attractive canine with a strikingly dramatic half-black and half-white face, chestnut-colored eyes, and a svelte, athletic pit bull bod. To top off the package, he's got a self-assured and deep "woof" that he offers up as a greeting.
Shirley also has a repertoire of quirky mannerisms. For instance, he shrugs his shoulders when you walk away as if to say, "Really, you are going to leave moi?" He's also hesitant to turn his back on people. (Maybe he's afraid they'll want to give him a tap on his bum — he is a handsome fella.)
Dog is picky about other dogs
Undoubtedly, Shirl will be a catch for the right family. He is a gem of a dog. He does have some special challenges, however, for which he's receiving one-on-one training. He's even got his own detailed personal training plan.
His main issue? "He's picky with other dogs," says adoptions manager Kristi Littrell. He requires careful introductions to other dogs with the assistance of a trainer. Shirley is making steady progress in this arena.
A dog in training
The trainers at the Sanctuary are working with Sherlock on various skills and behaviors. The purpose of these efforts is to make it easier for him to succeed in a home.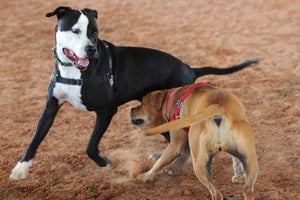 Meryl makes the perfect playmate for Sherlock.
Dog trainer Tim Molina explains what his socialization training will entail: "He should be having his first playdate sometime this week. We will find a real easygoing dog who loves to play, do a couple of playdates with that dog, and then start building on the group from there."
Kathy is working with Shirley using clicker training. With this type of training, when a dog performs a behavior the trainer wants him to, the trainer clicks a clicker to "mark" the desired behavior and then gives the dog a treat to reinforce that he did what he was asked to do.
Kathy has also been introducing Shirley to new objects, including bubbles and a hula hoop, to help him gain confidence and responsiveness to training. He's received agility training to help curb his high energy as well. "He goes from excited to over the top and grabbing your clothes quickly," explains Kathy. He also is quite the enthusiastic jumper – it seems as if he's got pogo sticks for legs when he lets his personality really shine through.
What can he say, he's in love with life and wants to share his joy.
A toast to Shirley
Here's to you, Shirl! Enjoy a piña colada, complete with pineapple, maraschino cherry, and umbrella garnish, on us, as we toast to a future for you with the loving forever family you so deserve.
Photos by Molly Wald