Transporting at-risk shelter dogs by plane
Pup My Ride L.A. transports Los Angeles at-risk shelter dogs by airplane to New York, where they will have a better chance of being adopted.
By Denise LeBeau
Jewel didn't know how lucky she was to be boarding American Airlines flight 118 to New York's JFK airport. As one of the 31 dogs on this trip, Jewel represents the quintessential Best Friends' Pup My Ride dog rescued from a Los Angeles shelter. Jewel's a sweet, loving Chihuahua who wound up in the L.A. shelter system. Small breed dogs in the City of Angels are ubiquitous, and the shelters are filled with them.
Air transport for shelter dogs
Since 2008, Pup My Ride L.A. has been transporting smaller dogs — just like Jewel — to places where the demand for them is high but their availability in shelters is low. This first air transport took place thanks to Shane Lachtman, founder of Los Angeles Animal Alliance, who was able to connect Best Friends' L.A. programs with American Airlines.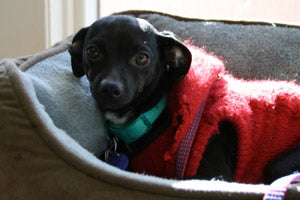 Jewel
Best Friends' New York programs rallied Kent Animal Shelter, Save-A-Pet, Animal Haven, Anarchy Animal Rescue, Ulster County SPCA, and Husky House to help find homes for these fortunate passengers. Almost all the groups are Best Friends' No More Homeless Pets Network partners, and they're all on board with the mission of saving as many lives as possible.
L.A. dogs finding homes in New York
At the end of her cross-country flight, Jewel, along with seven other dogs, found herself in eastern Long Island, where Kent Animal Shelter was waiting with open arms.
Pamela Green, executive director, explains why they were thrilled to be part of the receiving groups: "We've been partnering with Best Friends for a while, taking dogs from the puppy mill transports, which is a good fit for what our shelter does. We want to help save as many lives as possible, and when we got the call from Jamie Lynn Rubin (New York programs manager), we were excited to be a part of this rescue."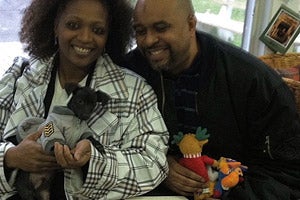 Mojo is now safe at home, too.
Pamela also mentioned one of her board members had recently brought the plight of the companion animals in the L.A. area to her attention. She was discussing how she wanted to be a part of the solution to the killing in L.A. but that she couldn't cover cross-country transport costs. Then Best Friends stepped in and made her day.
"We've been associates of Best Friends for years," says Pamela. "We participated in the Katrina rescue and had one dog, Vivian, that couldn't be reunited with her owner. She had a lot of issues, and didn't have a lot of options for placement. Best Friends took the dog, and we have staff that to this day, when they visit the Sanctuary, they visit her. So of course, when we found out that we could help by taking these small breed, adoptable dogs, we jumped at the chance."
Of the eight dogs they took from this transport, six are already snug in their new homes.
Jewel, the gem of the group, will need to go to a home without other canine brothers and sisters. However, thanks to a flight that transported her from an overcrowded shelter in L.A. to one where she stands a fighting chance at getting adopted, everyone's confident life for Jewel will really take off.
Check Kent Animal Shelter's website to see Jewel and other great dogs looking for loving homes. The shelter's got beautiful pets available year-round.
Helping homeless animals
You can help save more lives by donating to Best Friends. Your donations help us help homeless pets across the country.