Treating dog allergies and teaching good manners
Image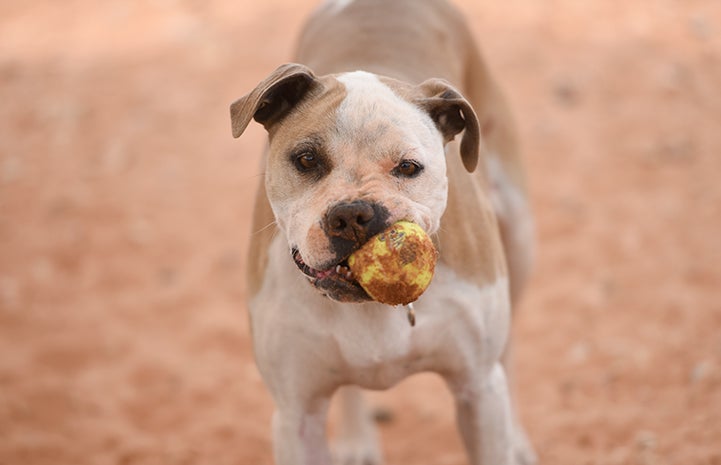 Do dogs get allergies? You bet, just like people. Read about one rescued dog who got help for her allergies at Best Friends Animal Sanctuary.
By Christelle L. Del Prete
Some dogs at the Sanctuary need only a little help before moving on to homes of their own. Others have more serious medical and behavioral issues to overcome before they are ready to take that next big step in life.
Ireland falls into the second category. When she came to the Dogtown last July, she was in terrible shape. Getting her healthy and happy again was no easy feat. But Ireland is a trooper, and today she's ready to take on the world and steal someone's heart.
Signs of dog allergies
Because she'd been picked up as a stray and brought to the Sanctuary from a local animal control department, Ireland's history was unknown. All the Best Friends vets and Dogtown caregivers knew was that she was miserable. Her skin was itchy and showed signs of damage, possibly from chemotherapy treatments she might have had in the past. She also had lumps and bumps all over her body. Even though her lumps didn't appear cancerous, some had to be removed before they could grow into anything troublesome. But that was just the beginning, because Ireland still had a long list of things she needed help with.
Once she recovered from surgery, the next step was treating her canine allergies. Her itchy skin and constant scratching were telltale signs of allergic reaction in dogs — so off she went to the Best Friends Animal Clinic for some allergy testing. As it turns out, poor Ireland suffers from both food and environmental allergies. She needed a special diet and some allergy medicine for dogs to get her itching under control.
Treatment plans
With the right medical treatment plan, it wasn't long before Ireland was feeling much better physically. But she still wasn't quite ready to "graduate" to a home of her own. She needed a treatment plan of a different type, one that would help her overcome some behavioral issues. Anything and everything was exciting to Ireland, and since there's always a lot going on in Dogtown, she found it hard to contain herself.
Her way of greeting people was jumping and mouthing ― leaping up on people and putting her teeth on their clothing or arms. She'd also take treats too roughly, nipping people's fingers in her hurry to gobble up the morsel. Finally, her social skills with other dogs were a little lacking.
Click here for dog care and training resources
Office days
And so Ireland moved in with a doggie roommate who could tolerate a little rudeness while showing her how to be a little more polite around her own kind. Meanwhile, her caregivers worked on helping her improve her relationships with people. She started spending some of her days in an office. Many offices at the Sanctuary host animals (usually a rabbit, dog or cat) for special attention and one-on-one time.
Ireland's office days gave her a break from the activity level in Dogtown, plus a chance to fully relax. And since she was spending her office time with Allie Bender, Dogtown's lead behavior consultant, she got the bonus of some extra training time.
Ireland quickly learned how to take treats softly, without using her teeth. She also learned that the more she jumped up on people and mouthed them, the less attention she would get. She could be happy and wiggly — she could even jump around. But the moment she put her paws or her mouth on someone, she'd stop getting attention until she could play or interact with them more gently.
Overcoming hurdles
Soon, the first thing people began to notice about Ireland is her sweet disposition, rather than her over-the-top excitement. She's come a long way.
Allergies under control? Check. Good manners? Also a check. And now that she's overcome these hurdles, Ireland is well on her way to the next milestone in her life: a home of her own.
Be a part of the good news by giving a gift to Best Friends
Note: Great news, Ireland was adopted and is flying to her new home today.
Photos by Molly Wald