Two kittens plus three boys equal a house full of love
Kitten siblings Charlie and Roxy landed a new home with a New York family that in-cluded a dad who never before had cats and three young boys who think the world of them.
By Drew Schott
Jasmine McClean knows all about the love and compassion that animals can bring into a home. But it had been quite some time since she lived with a pet because life became busy with three young children. Plus, her husband, Stephen, hadn't ever had a pet before. This spring, the time was right to embark on a new adventure. The family felt ready for not just one kitten, but two.
Meanwhile, there were two little kittens in a foster home who were a bit afraid of the world, but whose lives were about to get a lot better.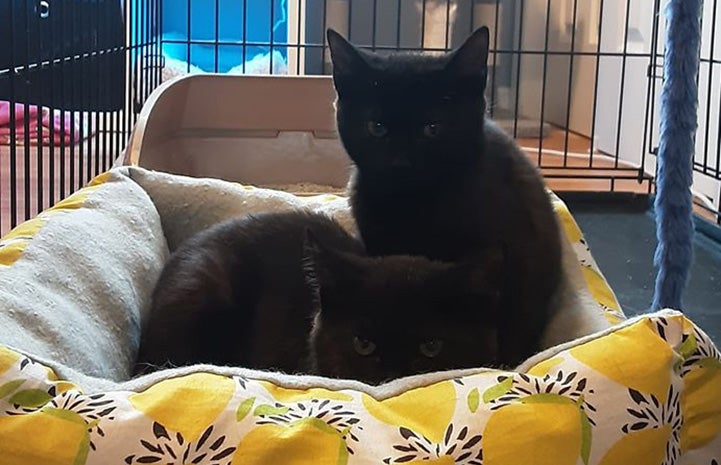 Resident pets show foster kittens the ropes
Charlie and Roxy were at the Town of Hempstead Animal Shelter on Long Island before coming to the Best Friends in New York City. With the lifesaving center closed due to the COVID-19 pandemic, Charlie and Roxy went to stay with Elysia Howard, a licensing and corporate development lead for Best Friends who lives in New York.
Since the virus hit, there's been a great need for foster homes and Elysia wanted to help, even though she already had both cats and dogs in her home. "I decided I'd put an animal in every room in my house if I have to," she says.
[Connect with Best Friends in New York]
Elysia says Charlie and Roxy felt right at home when they arrived in March. The kittens quickly befriended Elysia's cats, Jackson and Lucy, and could often be found snuggling with them. They especially loved spending time with eight-year-old Lucy, who Elysia says was a mother figure to the kittens. The two often followed her around the house and adopted her behavior into their daily routines.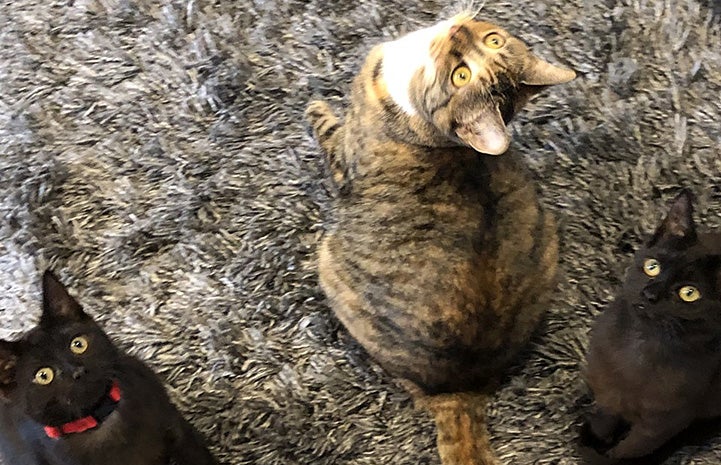 Charlie and Roxy also shared a special bond with Cooper, Elysia's 15-year-old cocker spaniel. According to Elysia, Cooper loved hanging out with the cats because he is "the most easygoing dog." And Charlie and Roxy reciprocated these feelings, whether it was them all chilling in the living room or the kittens climbing over Cooper.
[How a shy cat ended up with two feline brothers and a life fit for Instagram]
To tell the two kittens apart, Elysia placed a red collar on Charlie, who gradually revealed her outgoing and silly personality. For example, she loved to sleep in a cowboy hat.
Roxy was the shyer of the two, but eventually she came out of her shell. Elysia helped her by sitting on the floor and letting Roxy come up to her, and she also put treats out on the ground to help Roxy grow her confidence in trusting humans.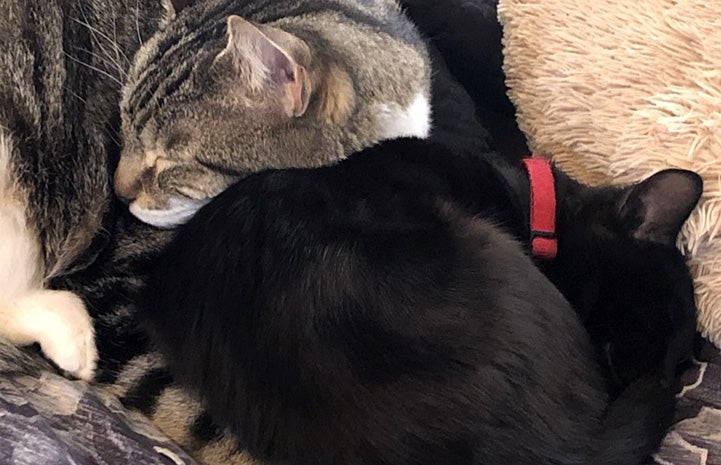 Virtual meet-and-greet with kittens
Elysia hoped that Charlie and Roxy could stay together, and that's exactly what happened, thanks to Jasmine and her family. In May, Jasmine saw the two black kittens with green eyes at Best Friends Animal Society's Find Love Online virtual adoption event. During a virtual meet-and-greet with the kittens, the family saw them for the first time on a video screen.
"We had a really good feeling about Jasmine and her family," says Elysia. "Just her energy and enthusiasm … We saw that she was going to be really good for them."
When it was time for the kittens to go to their new home, Elysia drove Charlie and Roxy to Queens, carrying with them a gift from her daughter — a care package with some of the kittens' favorite food and toys.
[Best Friends' Find Love Online virtual adoption event helped nearly 1,700 pets find homes.]
Keeping up with the McCleans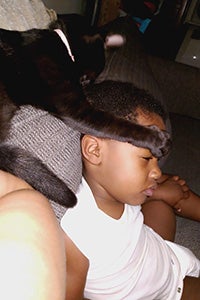 Since Stephen never had a pet before, the kittens wasted no time making sure he knew they were special. After calmly walking over to Stephen while he was lying on the floor pretending to be a cat, they waited a few seconds before jumping on him.
Charlie and Roxy are loving life in a big family, and they're especially fond of the youngest members: Stedan, Stephen Jr. and Samuel.
At first, two-year-old Stephen Jr. would call Roxy and say, "Kitty cat, kitty cat. I love you. Don't you want to love me? Come love me." Now, Roxy loves cuddling with him. Charlie loves little Stephen, too. To his parents' surprise, they found Charlie holding Stephen's head in her paws as she thoroughly groomed her new human friend.
Another time, Roxy hugged four-year-old Samuel and nudged her head on his chest. According to Jasmine, her son says Roxy's love for him makes his "heart so happy."
Like Elysia, Jasmine uses color-coded collars to tell her kittens apart. Charlie has a pale pink collar, while Roxy wears a dark pink collar. Additionally, Jasmine jokes that Charlie is a little bit chubbier than her sister.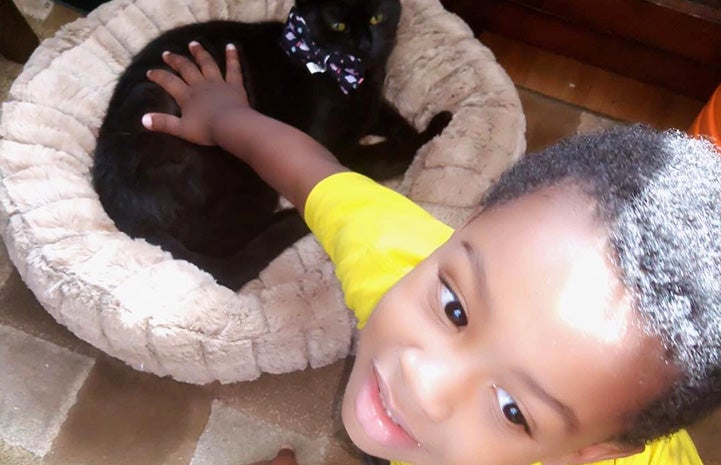 A kitten's to-do list: playtime and joy
Charlie and Roxy's days with their new family are full of energy, playtime and joy. If boys are running around, the kittens will roll around with them on the floor. Other times, Charlie and Roxy will hop up high to look out the window.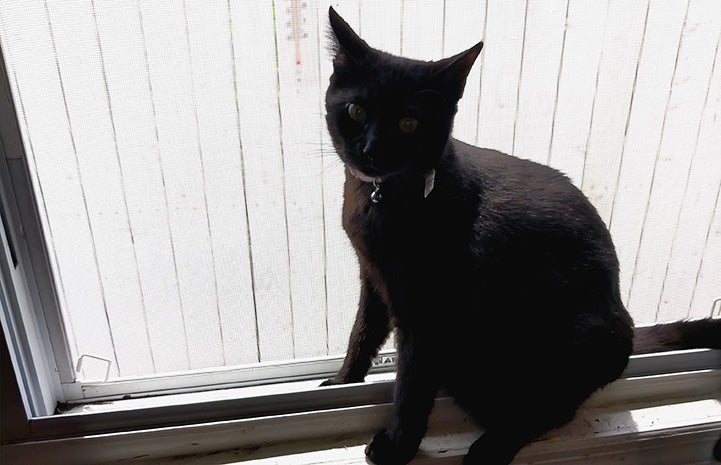 Roxy's favorite activity is playing with her stuffed brown mice. On any given day, the kitten will take the mice from her toy chest and leave them all around the house for Jasmine and her family to find.
Jasmine says it is the funniest thing to hear Roxy running around the house with the stuffed mouse's bell ringing. She also loves chasing balls around the house, and she's a little mischievous. One time, Roxy stole Jasmine's rubber page flipper and put it on her paw.
[Girl's toy cats come to life]
According to Jasmine, Charlie is more laid-back than her sister. She loves to explore the McClean residence and prefers playing with the cat feeder over her toys. But she is very attentive. Charlie tries to catch flies and sits at the window every morning to look for chirping birds.
Despite their different hobbies, the kittens still play with each other a lot. Roxy loves to chase Charlie around the house, especially when Charlie hides inside of recently opened boxes. Jasmine says the kittens sometimes play all night long.
Due to the COVID-19 pandemic, Jasmine spent some time working from home. Every morning and every night, she was on Zoom calls, and joining her was Roxy, who loved putting her whole face into the camera.
"I love having them. I'm so happy I made that decision to get two kittens," says Jasmine. "They're just awesome."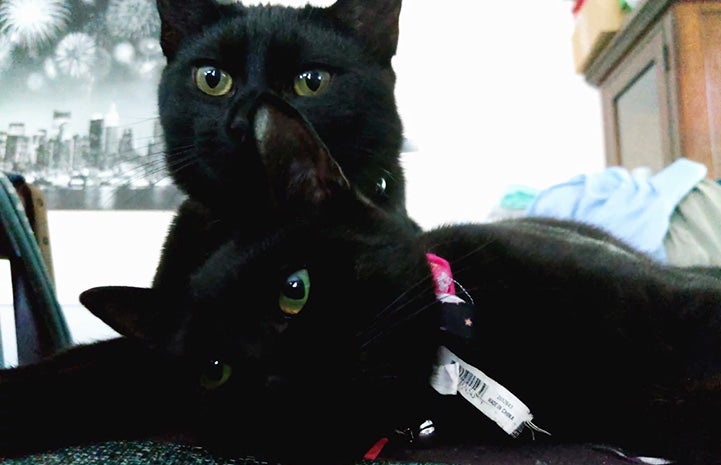 Now is the time to adopt a kitten (or two)
Kitten season is here, making now the "purr-fect" time to adopt a little bundle of joy from your local shelter.
Read more:
10 creative ways to promote your foster pet
Rescued cat helps homeless dogs get adopted
Photos courtesy of the McClean family