Two pit bull terriers adopted by one family
Two sweet and gentle pit bull terriers are adopted by one family at the NKLA Super Adoption event.
By Nicole Hamilton
When Victoria and Jeremy Greene stopped by last November's NKLA Super Adoption, presented by BOBS from Skechers, they were not intending to adopt a dog, and they didn't. They adopted two.
Soon after arriving at the event, which featured hundreds of pets available for adoption, the couple spotted two pit bull terriers — Mia and Bailey Bear — who had originally come from Los Angeles Animal Services before arriving at the Best Friends Pet Adoption and Spay/Neuter Center.
"They are both cuddle bugs," says Catalina Hernandez, a dog caregiver who remembers when they first came to the center.
"Mia was the outgoing social one and Bailey Bear was the shy and nervous one," says Catalina. "They were both different, which made them a perfect match. Mia is a great role model for Bailey. She helped him gain his confidence."
While the two dogs had many fans during their time at the center, neither had yet found a new home, so they joined other homeless pets at the NKLA Super Adoption, in hope of getting adopted.
After meeting the two dogs at the event, Victoria and Jeremy spent a few minutes getting to know Mia and Bailey Bear before moving on to meet more dogs. But they couldn't stop thinking about the sweet and gentle pair.
"We just came to look that day," says Victoria, who at the time was still grieving the recent loss of her dog Maggie. "But we could tell by how the Best Friends staff was with Mia and Bailey Bear that they were really loved. And we just fell in love with them, too."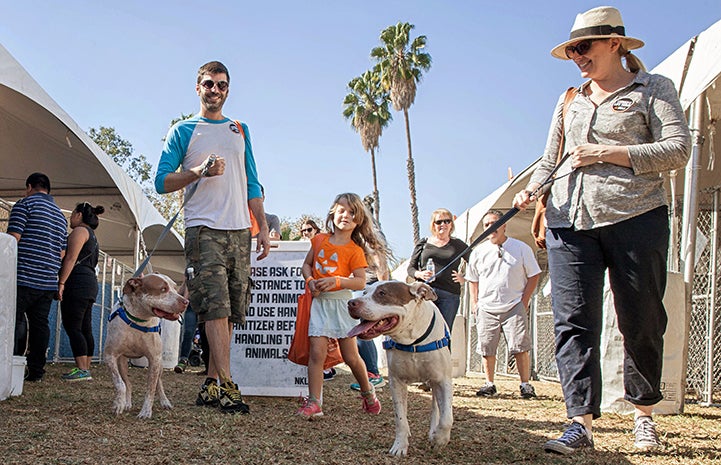 Once homeless dogs fill new home with love again
This wasn't the first time that Victoria and Jeremy had two rescue dogs that were best friends. About 18 years ago, Victoria adopted Maggie (her first dog) from Best Friends–Los Angeles. Then later, after she married Jeremy, he took in Maggie's playmate, a pit bull terrier named Stella, who had been abandoned at the doggie day care the two dogs attended.
Since both dogs passed away and they'd been grieving their loss, the family was especially happy to bring home Mia and Bailey Bear. "They are really good for us," says Victoria. "They've added a great dynamic to our home. We're able to take them on hikes, and they love being around others. They're really social."
Become a member of Best Friends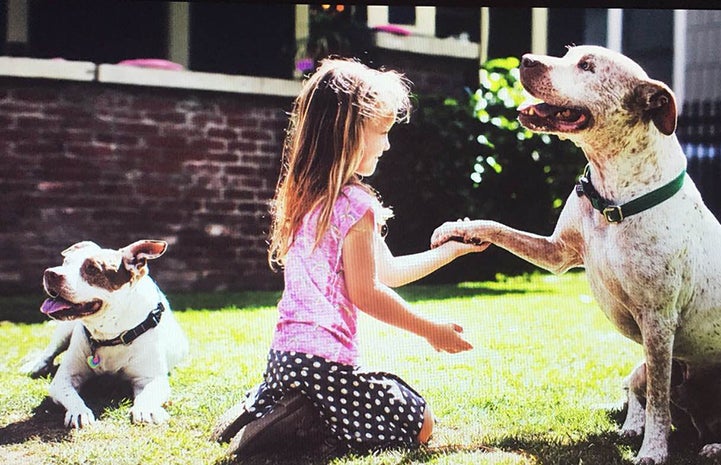 Dogs make themselves at home — together
Mia and Bailey Bear didn't waste any time settling in at Victoria and Jeremy's place. In fact, they started to unwind and relax as soon as they left the busy event and hopped into the couple's car. "Bailey was in the front seat in a flash," says Victoria.
Once in their new home, it didn't take long for them to lay claim to the bed. Now, they sleep together at the foot of the couple's bed every night. "This was really unexpected," says Victoria. "The first night they just hopped up like it's where they needed to be. We guess they used to sleep that way where they lived before. It's really sweet."
Most days you can find Bailey Bear and Mia on chairs watching out the window for Victoria or Jeremy to come home, or find them out playing together in the yard. "They have the run of the house," says Victoria.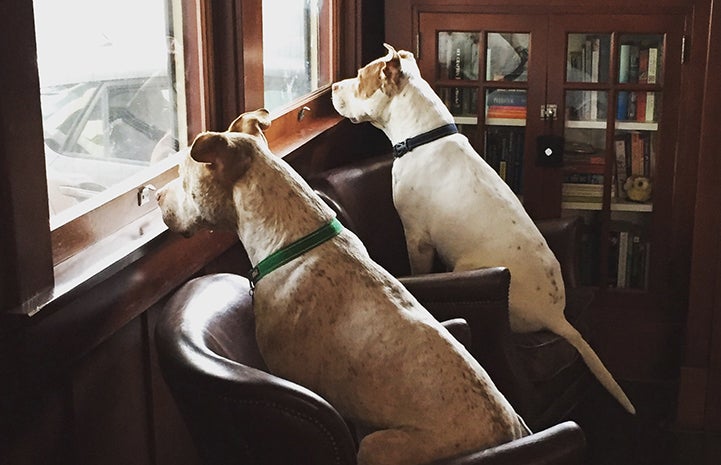 Opposites attract: Dogs bring out each other's personality
Even though the couple planned to adopt only one dog, they can't imagine life today without Mia and Bailey Bear. Mia is a little calmer than Bailey, who is a high-energy, playful guy and will come to a dead stop if Mia is out of his sight.
"They love each other in a distinctive way," says Victoria. And for this family, adopting two dogs was just what they needed to make their home feel complete again.
Help more Mias and Bailey Bears. Donate to Best Friends.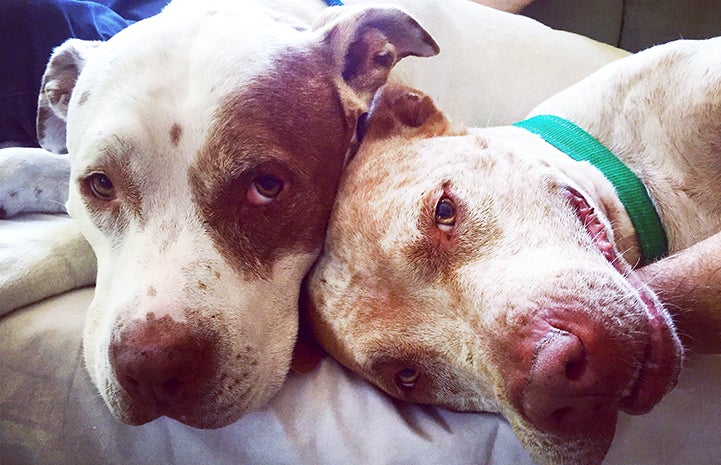 Photos by Lori Fusaro, Victoria Greene and Catalina Hernandez