'Undercats'
Image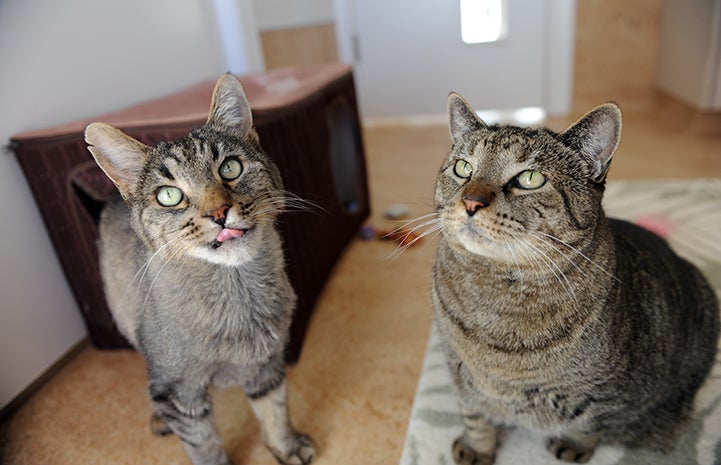 Two undercats (one has sore paws caused by feline plasma cell pododermatitis and the other is grieving the loss of another cat friend) become pals.
By Christelle L. Del Prete
If you look at Allen today, you'll see a comfortable and content cat. But he was neither of those things when he came to Best Friends last May. He was a true "undercat." Allen needed help with a medical issue that was causing him a lot of pain. As it turns out, he also needed a good friend.
Pododermatitis causes sore feet
When Allen arrived at the Sanctuary from a Best Friends No More Homeless Pets Network partner in Louisiana, he came with a scary-sounding diagnosis: feline plasma cell pododermatitis.
As Best Friends veterinarian Dr. Nova Reaves explains: "Pododermatitis is a disease that causes swelling and discomfort of a cat's paw pads. The disease seems to be caused by an overreaction of by the cat's immune system."
The fact that Allen has feline immunodeficiency virus (FIV) may or may not have put him at a higher risk of developing plasma cell pododermatitis. "One study showed that (cats with) FIV may have increased risk," Dr. Nova says, "But other studies have not supported this." Either way, Allen needed help quickly just to be able to walk comfortably again.
Learn more about cats with FIV
The rescue organization had already started him on a course of antibiotics. Best Friends vets also treated him with steroids, which worked with the antibiotics to settle down his immune system and give him some relief. There's no cure for pododermatitis, so treatment may be required again in the future. But his feet began healing and he started feeling better each day. Walking was no longer an ordeal. It became easy again.

Cat pairing
Even so, like a new kid in school Allen was having a hard time making new friends at the Sanctuary. The gentle giant was more likely to be picked on than befriended by his new roommates. They certainly didn't show him any respect, and Allen is too nice to demand it.
Meanwhile, a cat named Grey who lived in another area was mourning the loss of perhaps the only kitty friend he'd ever had. His roommate had recently passed away and Grey was taking it pretty hard. He wouldn't eat unless his caregivers sat with him, he meowed a lot more than usual and he stopped grooming himself.
His caregivers were concerned by his depression at losing his friend. Grey, who had once been picked on himself, hadn't always been so keen on other cats. But he'd clearly been attached to his roommate, and he needed some company. So caregivers introduced him to Allen, figuring the two underdogs — or "undercats" — might get along.
Learn more about introducing cats
Comfort and contentment
Grey took a liking to Allen right away and was determined to be his new best buddy. Allen wasn't so sure. He may have felt a little lonely, but Grey was the first cat at the Sanctuary to offer Allen his friendship. It might have seemed a little strange to him.
But it didn't take Grey long to win him over.
Allen needed a good kitty friend more than he'd realized. With Grey, he's found an older brother figure, too. Allen is only three years old, so now that he's back on his feet and pain-free, he loves to play. Grey is 10, and while many older cats still love to play, he isn't one of them. But he takes it all in stride, because having a new friend has made him happy again. And Allen does like his downtime. On chilly days he'll curl up and sleep beside Grey in a heated cat bed.
When Allen came to the Sanctuary for relief from his sore paws, he got that and so much more.
Photos by Molly Wald