Veterinary ophthalmologist volunteers at Best Friends
Image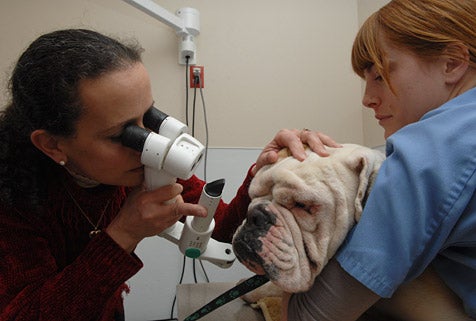 Dr. Susan Kirschner, a veterinary ophthalmologist, volunteers at the Sanctuary, performing animal eye surgeries and providing staff training.
By David Dickson
Dr. Susan Kirschner, a veterinary ophthalmologist from Beaverton, Oregon, is no stranger to volunteering. Once a month, she takes a day off work from her private veterinary practice, the Animal Eye Doctor, and spends the day volunteering her services to the local National Audubon Society. As a volunteer, Dr. Kirschner performs eye exams and offers advice about whether birds are ready to be released into the wild.
Dr. Kirschner and Marti
She also links arms, so to speak, with veterinary ophthalmologists across the nation during the month of May each year and provides free eye exams to service dogs and therapy dogs. Clearly, here's a woman who knows how to give of her time and talents to the animals. She wanted to pass that torch down to her 11-year-old daughter, Isabel, by starting her volunteering process off on the right foot.
Vet ophthalmologist and her family at Best Friends Animal Sanctuary
"I wanted her first experience with volunteering to be a good one," says Dr. Kirschner. Accordingly, she picked Best Friends Animal Sanctuary as the trial run. Dr. Kirschner notified the Best Friends medical team ahead of time to tell them she was coming, as well as to offer her services if they had use for her. At the same time, her daughter would be able to work with animals in her own way, as would the grandparents who would also be visiting.
The whole family had a fabulous week, and the daughter's first volunteering experience was the smash hit Mom had hoped for all along. "She just loved being there!" Dr. Kirschner said. "She'd rather do this than Disney." Dr. Kirschner even jokes that Isabel had so much fun at Best Friends, she's now afraid nothing else may ever measure up!
Volunteering with different species of animals
And as for Dr. Kirschner, the medical team at Best Friends did indeed want to accept her generous offer to help. She was kept hopping every hour of her weeklong stay, whisking back and forth from animal to animal all over the Sanctuary. In the week, she worked with ducks, geese, rabbits, parrots, a red-tailed hawk, pigs, horses, donkeys, dogs, cats, goats and more. After returning home and telling her friends and colleagues about the many different species she visited, they have all been amazed. "To look at such a variety of animals in a short period of time was fun," said Dr. Kirschner.
Dog eye surgery
It's incredible how much she accomplished in that single week. She performed not just exams and simple procedures, but surgeries. One such surgery was on a loveable dog named Flossy. "She's a darling dog," says Dr. Kirschner. Flossy came to Best Friends last year with her eyes essentially pinned open as a result of what Dr. Kirschner speculates was an overly aggressive eye surgery in the past. The bottom line was Flossy couldn't blink. Not a fun way to live.
Walking was not comfortable for Flossy, either, as the sun hurt her eyes. Caregivers gave Flossy some "doggles" (dog goggles) that allowed her to go out for walks, yet Dr. Kirschner wanted to give Flossy some function back to her eyes. She wanted to make sure the poor girl could blink again.
Dr. Kirschner used a personal surgical technique that has proved to be very effective in the past. It's also something she has pioneered. "I think I'm the only one who does it like this," she says.
Helping out with a variety of animals
The technique involves surgically removing a piece of tissue from the upper lip and then grafting it on the upper eyelid. (The upper lip heals quickly.) The surgery was a resounding success. For the first time since living at Best Friends, Flossy can blink! Dr. Kirschner also has another hope for Flossy after the surgery. When her eyes were pinned open before, potential adopters sometimes thought she looked a little scary with that perpetual wide-eyed stare. "Hopefully somebody will now think she looks adorable," she says, and then that somebody will decide to adopt!
Dr. Kirschner repeated the same surgical technique on other animals at Best Friends who also had difficulty closing their eyes.
Flushing out a rabbit's infected tear ducts
In another case, she helped flush out a rabbit's infected tear ducts, teaching caregivers and the medical team some techniques and tips for how to do the same after she left. They had not been able to fully access the infected area before, despite numerous attempts, but after Dr. Kirschner shared her expertise, they're good to go.
Teaching techniques to various treat eye problems
She spent a great deal of time teaching additional techniques and procedures throughout her stay. "A lot of what I saw my role was, was to teach," adds Dr. Kirschner. And teach she did. She left the staffers at Best Friends with a whole slew of ideas and solutions for various eye problems down the road. "I was very impressed with the staff," says Dr. Kirschner. "Their knowledge base is really incredible."
Maurice gets an eye exam
As far as her daughter's volunteering experience, the funny thing is they hardly saw each other during the week. No worries, though, Isabel had a wonderful time volunteering with her grandparents. She wanted to hit every single animal area she could. Safe to say, this was a highly successful venture, top to bottom. Both mother and daughter hope to return some day.
"I really enjoyed my time there, and felt inspired by Best Friends," says Dr. Kirschner.
The animals of the Sanctuary benefit from volunteers and visitors every day. Learn more about volunteer opportunities from Best Friends Animal Society.
Photos by Gary Kalpakoff