Vicktory dog Layla has passed away, but her memory lives on
Vicktory dog Layla, rescued from Michael Vick's dogfighting ring, died in June 2019. Her forgiving spirit lives on in all who knew and loved her.
By Christelle L. Del Prete
Like all 22 Michael Vick dogs who arrived at Best Friends Animal Sanctuary in January of 2008, Layla's story is full of hope and the incredible, transformative power of love.
Time has taken its toll on all the Vicktory dogs. Three of the 22 (Mya, Curly and Meryl) still call the Sanctuary home and four others are still living in loving adoptive homes. Sadly, on June 22, 2019, Layla's Facebook page (@VicktoryForLayla) announced that she has joined the 14 who have passed away or "found their wings."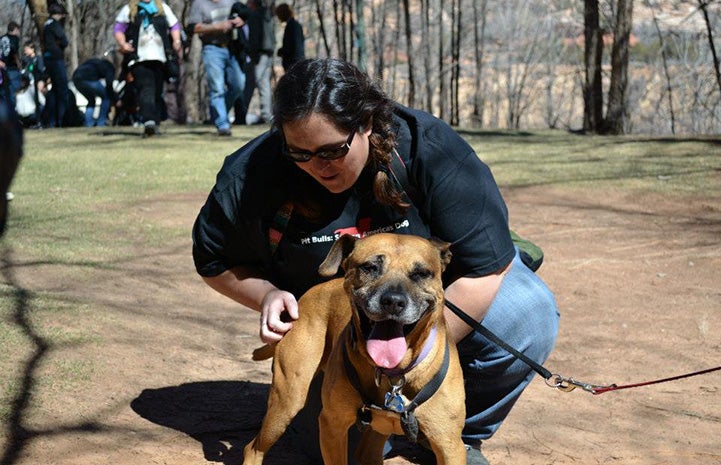 The rise of a Vicktory dog
Though Layla is gone, no one who knows her story will ever forget her strength, courage and resiliency. Despite coming to the Sanctuary with severe fear issues, she had the heart to forgive and to rise far above her traumatic past. In February of 2013, Layla passed her Canine Good Citizen (CGC) test, which all the Vicktory dogs were court-ordered to pass before they could be adopted.
The very next month, Layla met Tess at a Best Friends-hosted reunion for six of the Vicktory dogs who had been adopted. Although Tess, a certified dog trainer, hadn't planned on adopting one of the dogs, her plans changed the instant she met Layla. Soon, Layla was home with Tess, where she would happily live out the rest of her life enjoying walks in the desert, trips to a cabin and having her own person to love and lean on.
Layla's passing is felt deeply by all the people who adopted a Vicktory dog from Best Friends, as well as those who knew and loved her at the Sanctuary. Here, some of them share their memories of Layla and how she and the other dogs brought them together and changed their lives forever.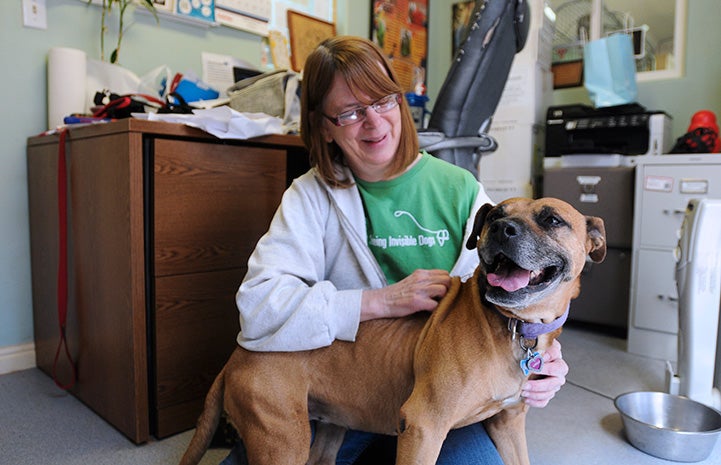 Turning strangers into lifelong friends
"We can never know for certain, but we (the adopters) considered Oscar, Ray and Layla to be siblings. Layla's passing rings painfully close to home, echoing the loss of our own pups," said Rachel who adopted Oscar (@VicktoryforOscar).
Richard, who adopted Mel (@VicktoryDogMel), said: "The Vicktory dogs will forever be known to the world for having changed society's perception of dog fighting victims. But to a small collection of people who were once strangers, they will also be remembered for turning us into a circle of lasting friendships. Through their healing and redemption, these dogs have bonded their adopters together to share so many happy moments, including reunions, breakthroughs and triumphs.
"The Vicktory dog parents have suffered a number of losses, as the years have reminded us that time catches up with every one of these loving animals. When it comes to this inevitably heartbreaking day for each of us, I do think the dogs bringing their families together has also given us slight comfort in knowing that we won't go through it alone. I'm fortunate to still have Mel, but I know that he too will one day pass, and I will be the one to feel this unimaginable loss.
"As we continue on, our Vicktory dogs inspire us to keep rescuing to provide the next shelter animal with a much-deserved forever home. There'll be a little bit of our Vicktory dog unmistakably present in the love we show for that next furry face with a wagging tail."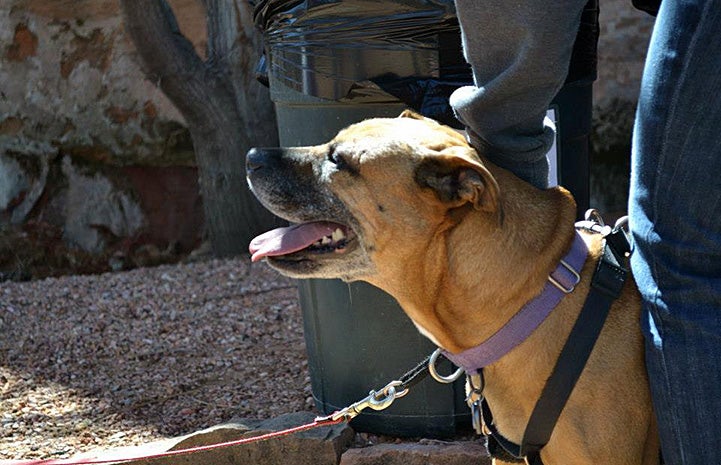 Love from across the miles
"I met Layla for the first time when I went back to the Sanctuary for the Vicktory dog reunion, and I was excited to see her out and about," says Heather, who adopted Handsome Dan (@handsomedan10). "While I was focused on Handsome Dan, and chasing my daughter Josephine around, I could see Layla meeting people back to the left of the stage. Little did I know that she was meeting her adopter, Tessa, that day.
"Each time we lose another, it brings back the raw pain in my chest and the heat of tears forming. It's coming up on a year since Dan left. Sadly, I do know Tess' pain, and I am so sorry. Tess, I am sending you love from across the miles."
Susan, who adopted Little Red (@LittleRedVicktoryDog), said: "Hearing the news that another Vicktory dog has passed is always difficult. We all feel it so deeply. My heart goes out to Layla's mom, Tess, on the passing of her beloved friend. I remember so well the agonizing sense of loss I felt when Little Red passed just two years ago.
"Layla, like Little, was a survivor. She had great strength of spirit. Her joy was having a safe and loving home with Tess. In that safe space, she was able to move beyond her past and live a happy life. She had many adventures and so much love. I visited with Layla and Tess last year, and it was a time of celebration for all the years Layla spent as a cherished family member.
"Even though she was in the twilight of her life, her eyes sparkled and she enjoyed the attention from so many friends. I will always remember that beautiful face and those vivid eyes. She is gone now, but her legacy is the same as all the Vicktory dogs. They showed the world that the victims of dog fighting deserve to have full and happy lives, and they must be given that chance. Goodbye, sweet Layla. You will always have a piece of my heart."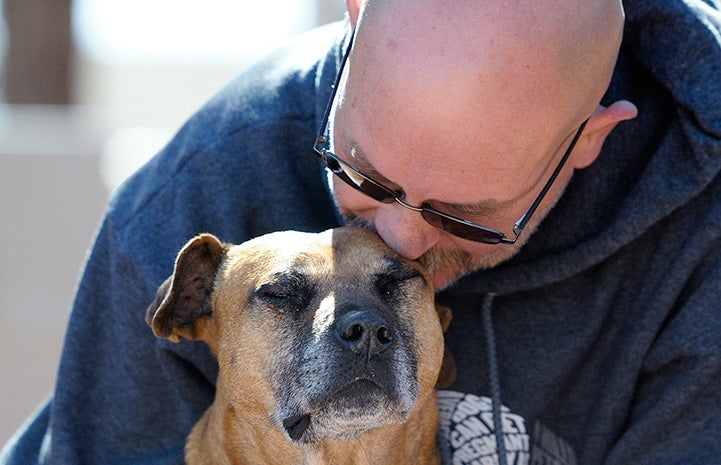 Love and acceptance
"Layla was actually the first of the Vicktory dogs I met nine years ago when I started as a caregiver," says Dogtown team lead Erin Menard. "She had such a zest for life and always wore a permanent smile on her face. I know we're not supposed to have favorites, but she was mine. Whether it was zooming around as fast as she could or snuggling up close on a golf cart ride, all my memories of Layla are perfect. I think my favorite day was the moment she earned her purple collar, which meant that she was finally able to meet all of these amazing volunteers who had been admiring her from afar all these years. She just couldn't believe it."
"Layla had spunk and sass," says Dogtown medical lead Betsy Kidder. "She may not have wanted doggie companionship, but she loved people. She hit the big time when she got her forever home. I'm so glad to know that at the end she was surrounded by love and acceptance."
This is Layla's legacy. It's what she and all the other Vicktory dogs showed the people who knew and loved them, as well as everyone who followed their story around the world. From the moment she came to Best Friends, Layla was surrounded by love and acceptance, and she had the courage to give it back to the world.
Learn more about the Vicktory dogs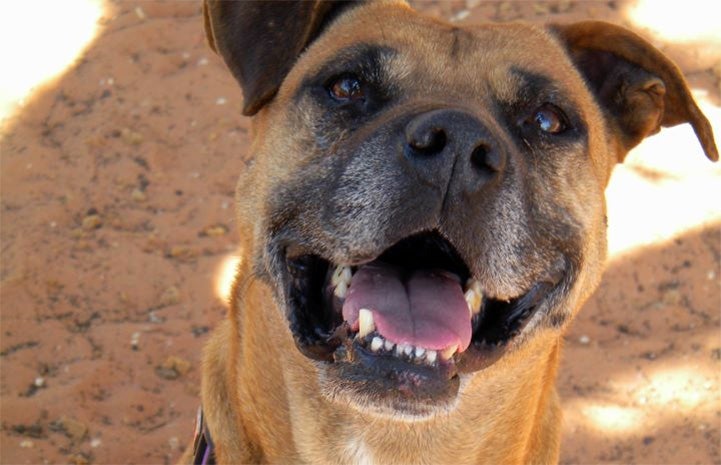 Photos by Best Friends staff and Heather, Handsome Dan's adopter