The Vicktory dogs: Nine years later
Where are the Michael Vick dogfighting dogs nearly 10 years later? Read updates on what is happening with these courageous, resilient canines today.
By Christelle L. Del Prete
January 2, 2008, was the day that changed everything for the 22 dogs known as the Vicktory dogs. That day — nine years ago now — they arrived at Best Friends Animal Society's Utah sanctuary.
Of the 51 dogs rescued from Michael Vick's property, these 22 brave survivors needed Best Friends the most. They'd suffered the worst possible abuse and faced the most challenges. When they came to the Sanctuary, their healing and recovery truly began.
Best and richest life possible for dogs rescued from Michael Vick's dog fighting ring
Since their arrival, 13 of the Vicktory dogs have been adopted into loving homes. Ten of the 22 have passed away. Four still live at the Sanctuary.
Because the dogs were all at least a year or two old when they came to Best Friends, time has taken its toll. The Vicktory dogs who are still with us are getting older. Many have health issues and have slowed down in recent months and years.
But all have overcome so much. And all have gone on to live happy, fulfilling lives, whether they are home with their families or they still call the Sanctuary home.
The dogs' inspiring story was chronicled in The Champions, the award-winning documentary that followed five of these dogs from the time they were rescued from Michael Vick's Bad Newz Kennels through their adoption and adjustment to loving homes.
It was nine years ago that the 22 Vicktory dogs arrived at Best Friends, with the promise that from that point on, their lives would be wonderful. In honor of this anniversary, here's a little update on where nine of the Vicktory dogs are today.
Little Red
For the past five years, Little Red has lived a quiet, peaceful life in Wyoming with her person, Susan Weidel, and the household's several other dogs who are now her friends.
Little's sweet face is mostly white, her eyes are cloudy and her health is more fragile these days. But her transformation, as Susan describes it, has been every bit as beautiful as she is, both inside and out.
"In the nine years since Little Red first arrived at Best Friends," Susan says, "she has been through enormous changes in her life. She has learned that it feels very good to be rocked like a baby, that she can run and play, that treats are a marvelous thing, that other dogs bring her tremendous joy, and — above all — that she is safe and loved.
"She has grown from a young and badly abused dog to a graceful and quiet senior. She is now 14 years old and her remaining days will be filled with peace and all the things she loves. She has taught me the virtues of forgiveness and redemption, and that love is earned through the small acts of kindness that can touch and heal a broken heart — both hers and mine."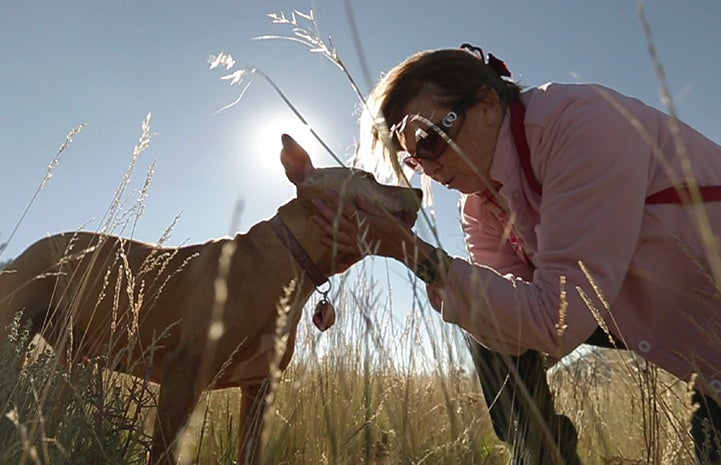 Cherry
Cherry was one of the first of the dogs to be adopted. When he went home in 2009, he became the "heartbeat" of Paul and Melissa Fiaccone's growing family.
Cherry's family now includes two young children, a dog who is his best buddy and two cats. Surrounded by their love, Cherry has come so far that he's become a well-known ambassador who changes hearts and minds wherever he goes. He loves being around children, and he shares his inspiring story with them through community outreach programs.
"Regardless of Cherry's history and background, he has changed my life and our family's life forever," says Paul. "He is a special little guy who brings an incredible amount of love into the world. We are so fortunate to have been able to adopt him. He really has changed our lives forever and has made me a better person."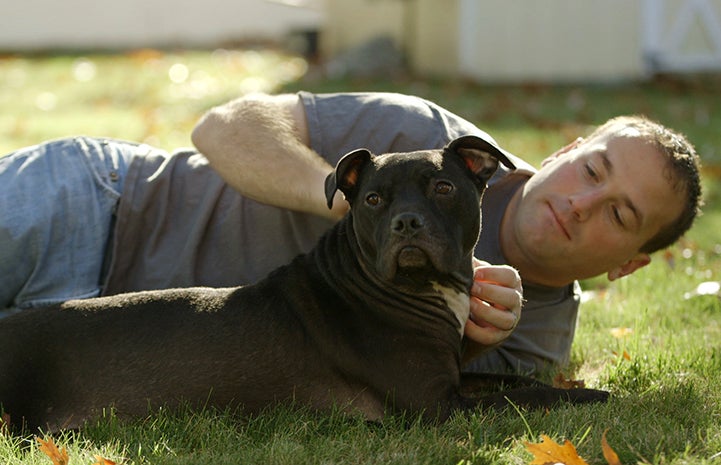 Mya and Curly
Mya and Curly, now 10 and 11 years old, are still living at the Sanctuary. Shy, with lingering fears, they haven't yet been able to complete successfully the behavioral test that is legally required for all Vicktory dogs to be eligible for adoption. So for these two, the Sanctuary is home. Here, they live together and pal around in the Dogtown offices most days.
Those who know Curly say he is a first-class clown when strangers aren't around. He loves to be dressed up, and is irresistible in his favorite red "jammies." Matt Fisher, manager of animal care operations at Best Friends, laughs at Curly's antics: "He gets up on my desk to look out the window every time he hears a noise outside. He knocks everything onto the floor — even my phone." Matt says there's a "Curly-free zone" sign hanging above the desk, "which he doesn't abide."
Mya might not clown around as much as Curly, but she loves treats and food puzzles like her purple bottle-shaped Tug-a-Jug toy. On a recent office visit, she nosed her Tug-a-Jug around the carpeted room, snatching up treats as she shook them loose.
While Curly is loving to people he's known for a long time and trusts, Mya is more reserved. She'll ask for pets when she wants them, though she never lingers too long. It's enough for those who love her to share those brief, precious moments of gratitude and trust.
"I am lucky to be able to spend time each week with Curly and Mya," says Michelle Weaver, who is now Best Friends' director of animal care, and was manager of Dogtown when the Vicktory dogs arrived nine years ago. "Knowing that they are getting older just makes me cherish our time together even more."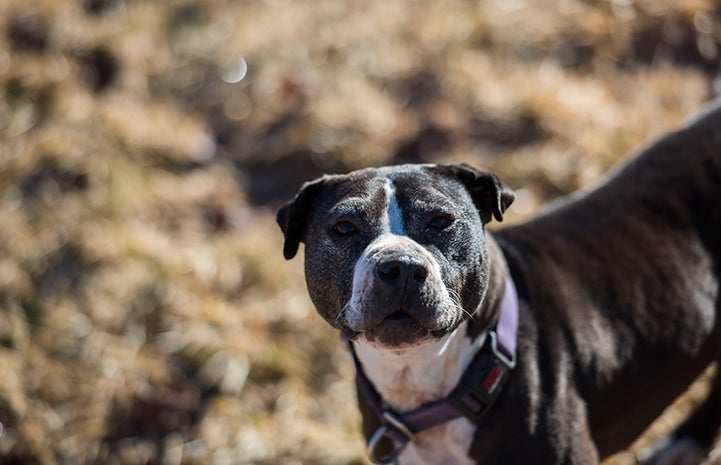 Handsome Dan
Since Handsome Dan was adopted by a Rhode Island family on January 1, 2010, he's had a huge impact on the lives of both people and other dogs.
He's inseparable from Josephine, his human little sister, and he has a dog best friend named Minnie. Dan has also inspired his person, Heather Gutshall, to devote herself to training dogs and rescuing pit bill terriers. She's now a professional dog trainer and behavior consultant, and co-founder of Handsome Dan's Rescue for Pit Bull Type Dogs. Dan is the rescue group's CCO (chief canine officer) and has helped Heather save many at-risk dogs.
"Dan is my best friend, my constant companion, and the heart behind the work we do at Handsome Dan's Rescue," says Heather. "His presence in my life is what pushed me to learn more and be better in my profession as a dog trainer and behavior consultant. At its core, everything I have learned I have learned for Dan, in an effort to be better for him and dogs like him, to be worthy of him. He is not only an inspiration to me, but to a very dedicated army of his friends on social media. All of us are better for having him in our lives."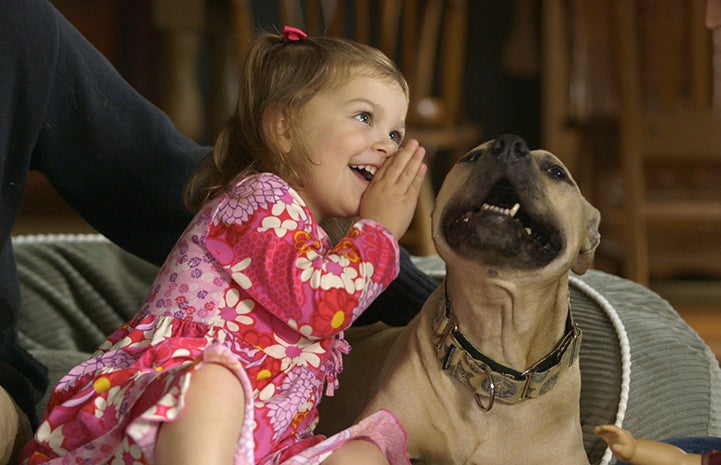 Meryl
A court order requires Meryl to spend the rest of her life at the Sanctuary, which is both her happy place and her home. Here, she has lived with her best friend, a Hurricane Katrina survivor named Buddy Arnold, for nearly seven years. When it's warm out, she sunbathes on a special platform in her yard.
Meryl's favorite thing of all might be what her caregivers call "pillow time." That's when Meryl's favorite people place a big pillow on the kitchen floor, and two or three of them sit and hang out and cuddle with her. Meryl often falls asleep, but not before she makes sure that at least one part of her — a head or a paw — is touching each person. The contact seems to comfort and reassure her.
Though meeting new people used to be a significant challenge for Meryl, she's mellowed over the years. At 13, "Mama Meryl," as she is lovingly called, doesn't mind at all when her caregivers scoop her up in their arms and carry her around "like a big baby dog," says Dogtown caregiver Samantha Woyak.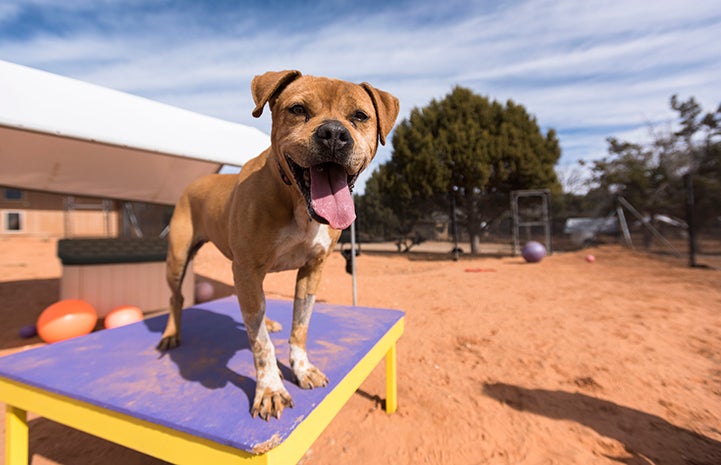 Denzel
Ten-year-old Denzel was a fighter all his life — but not the kind Michael Vick wanted him to be. Instead, Denzel fought against the trauma of his past to find happiness and friendship at Best Friends Animal Sanctuary. He also fought against serious health issues that threatened to take him down time and time again. With help from the Best Friends vets and his small but very tight-knit circle of friends, Denzel kept fighting right until the very recent end.
Denzel's struggles with babesia, a blood-borne illness common in dogs who have lived in fighting situations, often made him feel sick. And as the years passed, this once-friendly and fun-loving guy became less and less interested in meeting new people.
But Denzel was known for keeping a close circle of friends that included caregivers and a vet who were there for him from the start. Once Denzel opened his heart to someone, he loved that person fully. Forever. "He had his core group of people with him always," says Dogtown caregiver Paul Lindley. "Once you're were in with Denzel, it was for life."
Denzel's friends rallied around him one last time on January 10, 2017. His health had declined during the previous few months and his body was tired. Surrounded by the Best Friends caregivers and vets who loved him and fought for him until the end, Denzel took his last breath and left this world.
There were no dry eyes in the house. But the love Denzel's friends have for him will never fade. Even though he crossed, Denzel triumphed in the end, because he'd found happiness and had refused to let his past define him.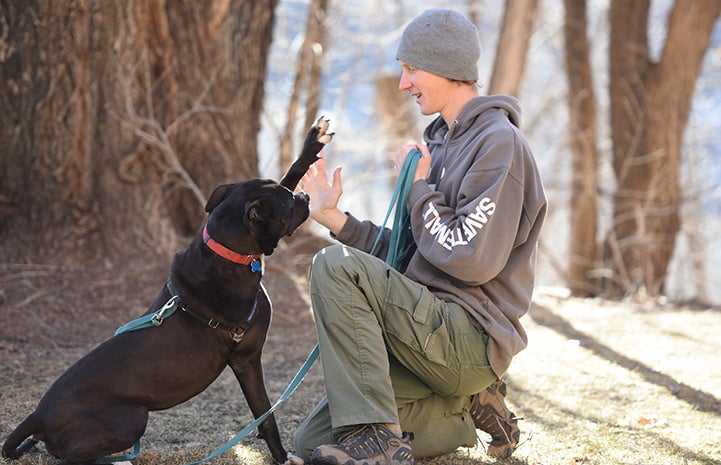 Willie
Like Denzel, Willie prefers a small circle of familiar friends, and that's why he has remained at the Sanctuary. Those friends, his caregivers, help him stick to a set daily routine, which reduces his stress and helps to keep him feeling his best.
While he can't live with other dogs, Willie enjoys going on walks alongside certain other dogs at a safe but companionable distance. These dogs, in addition to his caregivers, have become Willie's friends.
Now 12 years old, Willie has been struggling for years with babesia. He also has a protein imbalance that requires him to eat a special diet with carefully measured portions. That's no problem for Willie's caregivers. They love him so much that they get together outside of Dogtown every other week to do something special for him. They cook Willie a huge batch of specially prepared protein and rice, which they portion out carefully according to doctors' orders.
Getting the exact nutrition his body needs (with some extra love baked in) is a big part of what's making Willie feel great these days. When his body is feeling more balanced, Willie is happier and more carefree. That means he can concentrate on the fun things in his life.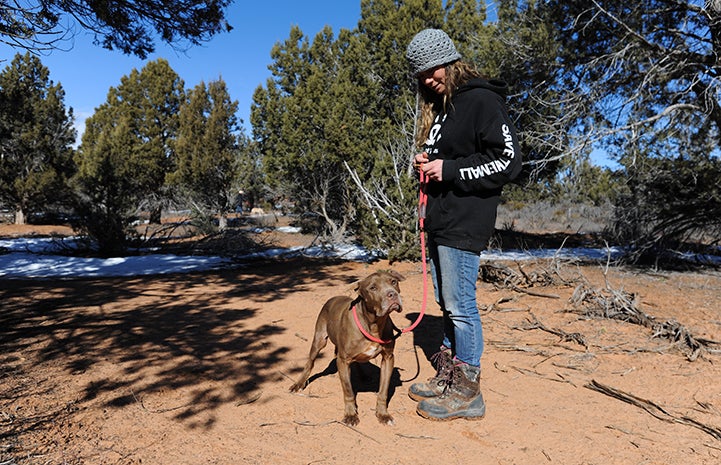 Mel
Mel went home with radio host Richard Hunter in 2010. Like all of the Vicktory dogs, he's had challenges, but has the love and support he needs to help him overcome them.
At home, Mel lives with two dogs and five cats, and gets along great with everyone. His favorite thing in the world is to go for car rides. The car is his safe place; he feels more at ease having that barrier (even if it's just window glass) between him and the world. But at night, he forgets about barriers when he falls asleep, snoring loudly, beside Richard, with his head right on the pillow.
To this day, Mel is still nervous with new people. When he's in a room with people he doesn't know, he'll go to a corner and sit with his back up to it so no one can sneak up on him. He'll probably never be a dog who hangs out in the center of a crowded room, but he will let people come over and pet him. Mel seems to have learned that people, like dogs, deserve a second chance.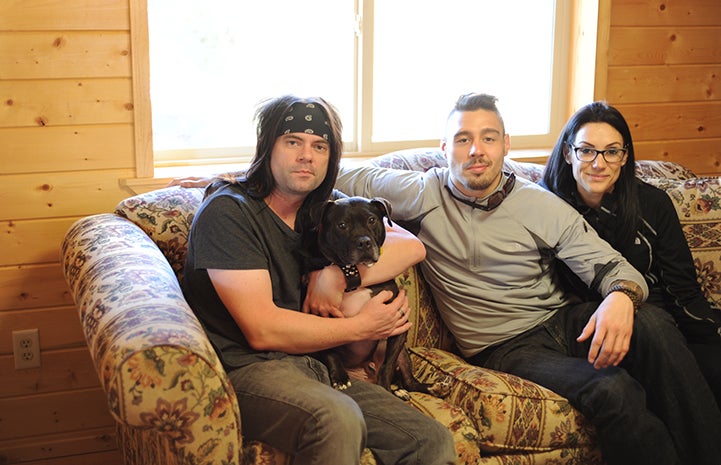 Champions
The Vicktory dogs have left a lasting legacy. These former victims of dog fighting have changed people's minds, touched their hearts and proven that something beautiful can rise out of even the darkest of situations.
Michelle Weaver says, "They continue to teach us lessons every day. It's hard to believe that nine years have gone by since we met these dogs. I know we've changed their lives. They certainly have changed ours. It has been an honor to go through this journey with them. They have not only had an impact on those of us fortunate enough to work with them, but have made a difference to so many dogs who are now being given a chance regardless of the situation they came from."
January 11, 2017: Portions of this article have been edited, following yesterday's crossing of Denzel. Please see our video tribute below to a one-of-a-kind dog who was beloved by many.
Photos by Best Friends staff and courtesy of adopters, main photo features Lucas, a beloved canine ambassador who we remember so fondly