Volunteer learns powerful lessons in love from animals
A volunteer who works with homeless dogs and cats at Best Friends in L.A. learns powerful lessons in love and compassion from them.
By Nicole Hamilton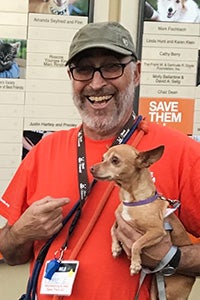 Ask anyone who volunteers at their local shelter if they have a favorite moment and you're bound to get inspiring stories of how they helped a pet. David Glazer, a volunteer at the Best Friends Lifesaving Center in Los Angeles, has a few of those himself, including one where a pet helped him and forever changed the way he sees dogs.
Last year, David was walking March, a pit bull terrier he'd just met. During their walk, David tripped and fell on a patch of uneven sidewalk, which caused his glasses to fly off. Sitting there on the ground for a moment, he worried that March might take off without him. Instead, she walked over and waited patiently until he stood up.
Then, he walked March over to a park bench to rest for a few minutes. That's when the dog came close, stood on her rear legs and gave David a hug and gentle kisses. "Her ability to show compassion to a stranger on their first walk was remarkable," says David. "It cemented my understanding that there's more going on in a dog's mind than we may think."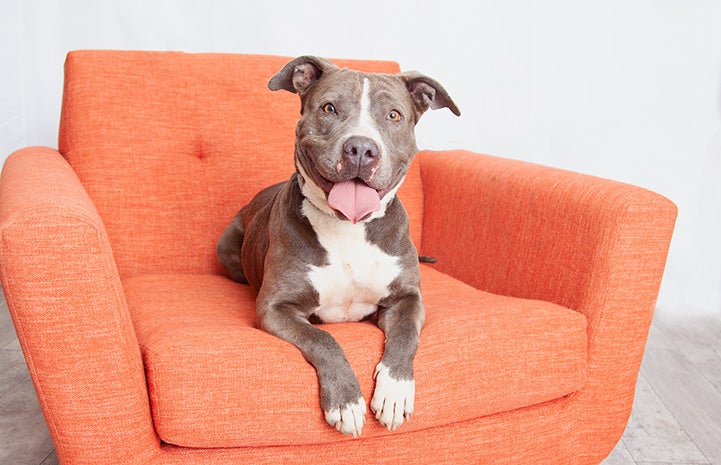 When the animals need him, he's always there
David began volunteering at the center in 2015 after his wife, Lyle Ann, who volunteered there with cats, asked him to join her at an adoption event. "I always loved animals but had no experience with rescue or shelters," says David. "Once I saw the great need and the dedication of the staff and other volunteers, I was motivated to participate."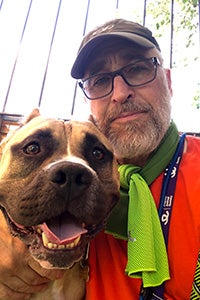 A retired motion picture prop master, David volunteers three to four days every week. "I'm motivated by the animals," he says. "Each one is an individual and dogs and cats are emotional beings. When I see a dog's excitement to get out of the kennel or joy to see me, I am reminded how little I am giving to them. I'm giving compassion, kindness, love, discipline and concern, and none of that costs me anything."
David is also inspired by the center's staff and says they are some of the most dedicated and caring people he's ever met. "I know that every dog I walk, visit or train takes a little burden off the staff who work so hard. They are an inspiration to me."
The staff feels the same about David. "He's one of the most thoughtful people I have met," says Michelle Flitcraft, lifesaving manager at the center. "He is always there when you need help, even without asking for it."
One particular word comes to mind when Michelle thinks of David — dedication. "If he sees a problem, he doesn't just bring it up — he provides solutions," says Michelle. "He organizes monthly cleanups to the dog walking path to minimize the risk of dogs ingesting anything dangerous. When the animals need him, he's always there."
A promoter of no-kill
Back before David and his wife began volunteering at Best Friends, he saw shelters as grim, sad places. But just as March changed his way of thinking about dogs, Best Friends changed his thinking about shelters and deepened his knowledge of animal welfare and the no-kill movement in particular.
"I'm a big promoter of no-kill now and although shelter life is not ideal, our centers and affiliates are doing all they can to make the dogs' lives fulfilling through walks, play groups, hikes, sleepovers and fostering," he says.
He's also no longer afraid of large dogs, especially pit bulls and other pit-bull-terrier-like dogs. Now, thanks to March and her fellow pitties, he knows they're not scary at all.
How Best Friends is helping L.A. reach no-kill
Switching gears to help all pets
While David has an affinity for helping dogs at the center, he's known for his ability to switch gears to help out in a variety of ways, sometimes drawing on his career in the motion picture industry. (Fun fact: David's most popular prop is the sandwich Meg Ryan ate in When Harry Met Sally.) He pitches in to help Lori Fusaro, Best Friends' Los Angeles photographer, and has also helped out as a dog handler for the marketing team on various productions like Animal Planet's "Give a Dog a Home: Live!"
David also enjoys meeting potential adopters, introducing them to pets and helping them through the adoption process. He's also worked at a number of Best Friends events, including super adoptions, Strut Your Mutt and other outreach activities.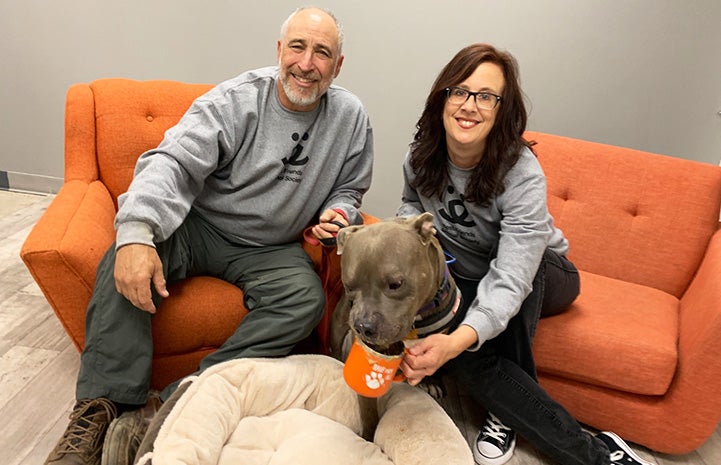 Making a world of difference
David's love of animals doesn't stop when he leaves Best Friends. At home, he and his wife have two little terriers, Pebbles and Lola, who are inseparable. "If one goes to the vet, the other must accompany and worry about the other," he says. They also have two 14-year-old cats, Ace and Sasha, who sleep in each other's arms, and a 40-gallon freshwater tank containing two catfish and two eels, who according to David have lived together happily for about 14 years.
When he isn't walking gentle pitties, working behind the camera on Best Friends productions, helping an adopter meet the perfect pet or taking care of his own cats and dogs, you'll find David and Lyle at their synagogue, where they sing in the vocal ensemble. They also love to travel, and since retiring they have visited Israel, Jordan, and England, as well as many places in California.
Wherever David goes, he carries with him memories of the pets and people he's met at Best Friends, because they've helped him see life through a new lens. Says David, "I cannot personally change the world and how animals are treated, but I can make a world of difference for one dog when I interact one-on-one."
Volunteer and make a world of difference for pets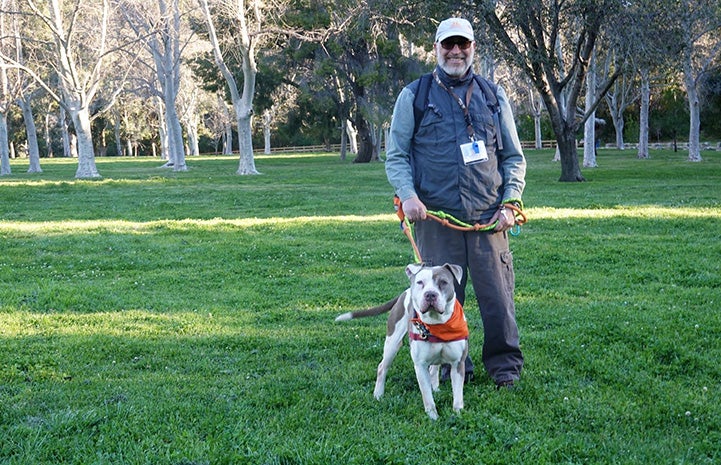 Best Friends in Los Angeles works collaboratively with animal rescue groups, city shelters and passionate individuals, all dedicated to the mission of making Los Angeles a no-kill city. As part of this mission, Best Friends hosts adoption and fundraising events, manages two pet adoption centers, and leads the No-Kill Los Angeles (NKLA) initiative. Together, we will Save Them All.
Photos courtesy of David Glazer, Todd Roisman and Lori Fusaro