Volunteer matching programs
Image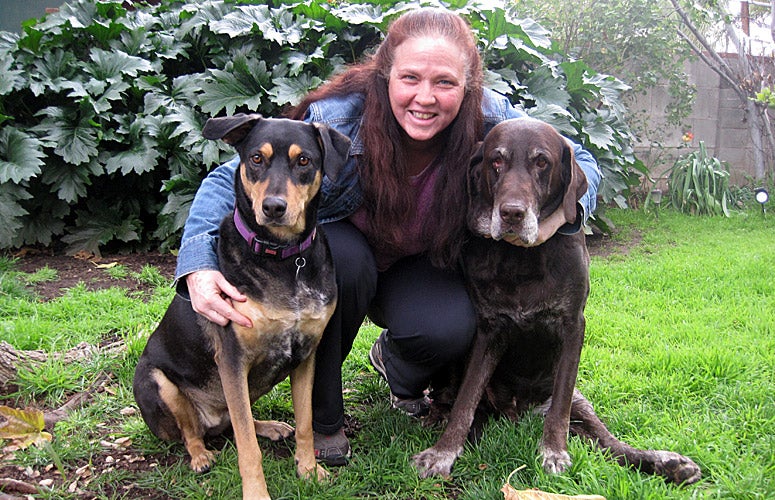 Volunteer matching programs, aka Dollars for Doers, are offered by companies to promote volunteerism. Read how a Verizon employee helped the animals.
By Jennifer Hayes
Many of us dream of pursuing our animal welfare passion while getting paid to do it. Well, Laura Collins has found a way to do that: volunteering with animals while animals at Best Friends Animal Sanctuary get paid. And there's a possibility that you can too.
Corporate matching: Volunteer grant programs
Laura began volunteering at the Best Friends Animal Society Pet Adoption and Spay/Neuter Center in Mission Hills, California, early last year. Conveniently located a few miles from home and mere blocks from where she worked, she took the plunge and began volunteering within weeks of the center's grand opening in 2012.
She then realized that Verizon, where she's worked for the past 33 years, offers a volunteer matching gift program. Employees sign up, volunteer a minimum of 50 hours in a calendar year on their own time at an eligible organization, report their hours, and, voilà, Verizon sends a $750 donation to the organization.
"Volunteer matching programs, also known as volunteer grant programs or Dollars for Doers, are offered by employers to match employee volunteerism with corporate donations," says Myla Burns, Best Friends manager of workplace giving campaigns. "For these programs, when an employee volunteers with an eligible nonprofit, the company will often match their volunteer hours with a financial donation to that nonprofit."
Laura says she is among over 6,800 Verizon employees worldwide participating in the program and that the Verizon Foundation has donated $6.8 million to qualified organizations, like Best Friends, since the year 2000.
"It was really simple," says Laura who feels it's a win-win for everyone and is logging volunteer hours for this year's donation.
Valuable animal volunteer
Like many volunteers, Laura is a jack-of-all-trades. However, she specializes in grooming. She worked as a groomer as a teenager, and she loves the opportunity to give the shelter dogs their spa day.
"It's really rewarding because you make a difference," says Laura. "You're helping them to feel better, to look better, and to get used to being handled more." She gives each dog some extra TLC and enjoys showing the dogs, who may have had a rough life before arriving, that people can be good.
When she's not grooming, she's doing everything from inputting data, to dog walking, to helping out at mobile adoptions. Perhaps that's why she was honored with the Volunteer of the Week title in March.
Laura is such a dedicated volunteer. She has even brought some of her work home. She is fostering Big Harry, a 12-year-old Labrador mix.
"Laura is a triple crown volunteer - she's a rock star foster to one of the biggest and goofiest dogs around, a fearless grooming volunteer who can clip nails and clean up the most in-need dogs with the best of them, and she's come to our rescue many times to keep the volunteer data afloat," says Kaylee Hawkins, volunteer coordinator of Best Friends' Los Angeles programs. "She's a fun gal to work alongside, and we're so thankful to have her energy and compassion on our team!"
Laura takes it all in stride and encourages everyone who loves animals to volunteer. She notes that even those who don't have much time can still make an impact and be a part of the bigger picture in helping achieve No More Homeless Pets.
"Volunteering for this organization really makes me feel like I'm contributing to the community - the animal community and the human community," says Laura. "It gives me a lot of gratification."
Learn more about the Best Friends Animal Society Pet Adoption and Spay/Neuter Center.
Visit the Workplace Giving page to see if your employer offers a volunteer matching gift program for your volunteer hours at Best Friends Animal Society. For more information on volunteer matches, matching gifts, and/or workplace giving programs, email mylab@bestfriends.org.
Photos by Frank Wisneski and courtesy of Laura Collins