Volunteer pampers parrot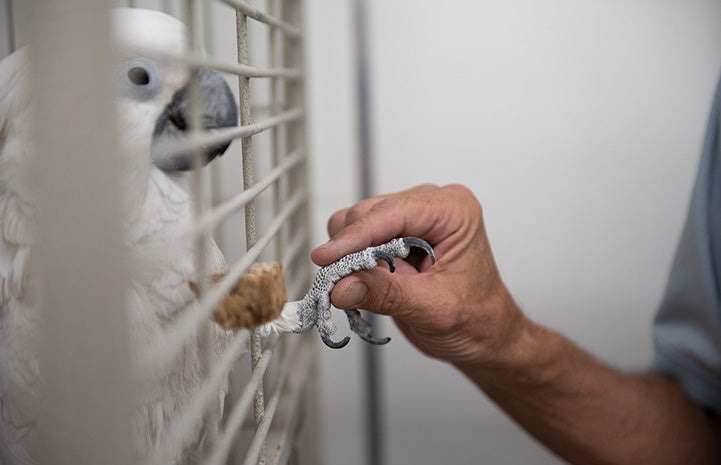 Volunteer Rick Eddy has been practicing a new form of therapy on one lucky cockatoo, and his feathery friend is loving it.
By Sarah Thornton
When Rick Eddy sought a solution for a painful knee that had been troubling him for years, he was probably not expecting it to lead him into a second profession ― much less a return trip to Best Friends Animal Sanctuary where he got up close and personal with a large cockatoo named Lollipop. But that's where Rick saw an opportunity to practice his new trade while also forming a bond with a special feathery friend. And he ran with it.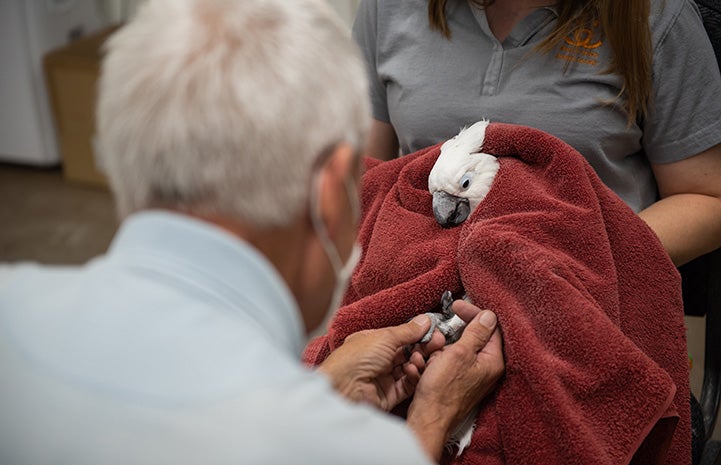 Muscle relief and a new passion
In his search for nonsurgical knee pain relief for himself, Rick found a muscle specialist named Jared Gough, who developed a technique called muscle alignment and restoration (MART). The technique uses steady, subtle pressure to relieve muscle knots and restrictions, and in the process removes pain and restores range of motion. Rick says that within 20 minutes his knee was feeling back to normal again. He was fascinated.
He took courses to learn the technique for himself and develop it into a second profession. But it wasn't until he was on vacation volunteering at a zoo that he saw the potential for putting it to work for animals ― parrots, specifically.
[Military macaw gets relief for sore feet]
"The staff was grooming a hyacinth macaw and a large cockatoo," Rick recalls. "And at one point they allowed the birds to walk over to me." With the caregivers' go-ahead, Rick reached out to the birds and applied careful pressure to the back of their necks where he thought it looked like they were likely to be sore. "And both birds, one after the other, accepted the touch as safe and good," he says. "They both relaxed and leaned into it, just like people do."
Feeling the muscles of these amazing birds loosen up and seeing them relax made him want to explore how to further help them. "I was really impressed with the intelligence in the parrots and their comfort with people," he says. "That's what made it attractive to me." And so, when he got home from his trip, he turned to Best Friends.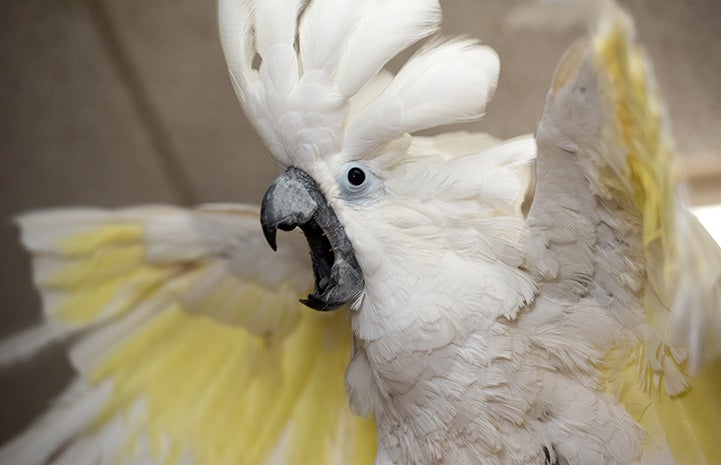 Volunteering at Best Friends Animal Sanctuary
"I think my first visit to Best Friends was in the mid-90s, and I've had a variety of friends who've worked and volunteered there," says Rick. But this would be his first time volunteering. He signed up for several shifts at Parrot Garden and, after a few days, caregivers set up his first session with Lollipop.
[Three (million) cheers for Best Friends volunteers]
Parrot Garden staff decided that Lollipop, a stunning white cockatoo, would be the perfect first patient for Rick. Wrapped up in a towel and held by a caregiver, Lollipop dozed right off under Rick's careful hands. While the big bird slept, he worked out the tight spots in Lollipop's head, neck and legs.
"I could tell that I was able to loosen and adjust some of the muscles in Lollipop's dominant left leg," he explains. "But that only takes a few minutes and once the muscles are in a good spot, then the treatment is over. This is not like a massage. I've checked the muscles on a couple other visits, and they haven't been tightening up again."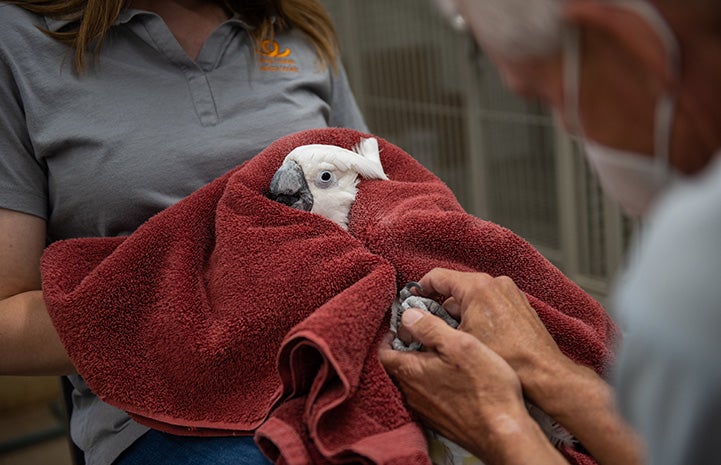 Making friends with a cockatoo
Now, Rick's weekly visits with Lollipop are mostly spent playing and spending time with him. Since Lollipop loves being held and having his foot held, Rick is happy to oblige. "Clearly, Lollipop has benefitted more from my friendship and willingness to connect than relaxing some sore muscles."
Rick also finds time for the smaller birds at Parrot Garden. When he's cleaning, he makes sure to have a few grapes on hand as tasty treats for those bold enough to flutter over to him.
"There's a lot for me to learn," says Rick. "I've got a lot of questions for the Parrot Garden staff when I go over every week ― about why they do it this way or that way. It's things they've all understood for years."
People first come to Best Friends for all sorts of reasons, whether it's to offer a skill or because they just happen to be driving by and see the sign by the road. No matter how it happens, there are always new friends to make ― furred, feathered or otherwise.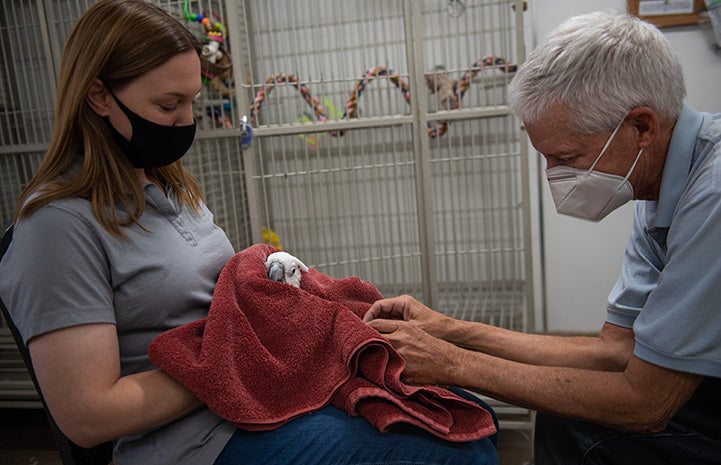 Work your magic on animals in need
Whether you've got a special skill you want to try out or just want to snuggle some animals, volunteering will help them all.
Read more:
Overweight parrot plays foraging games
Fresh start for friendly conure parrots
Photos by Molly Wald